Ground Rod Installation for Electric Fence
The Importance of Grounding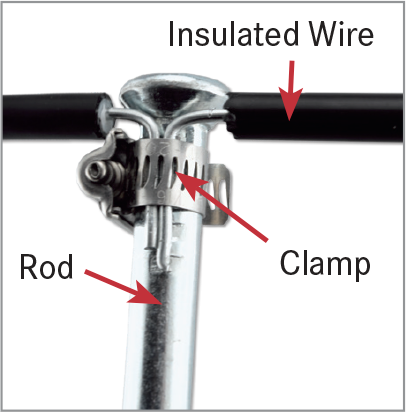 Grounding is an essential component of any electric fence. When an animal comes in contact with an electric fence, a pulse travels from the fence, through the animal and into the soil. Via the soil moisture, this pulse is captured by the ground system and returned to the energizer.
Without proper grounding, the fence's electrical circuit can not be completed. As a result, it will not be an effective pain barrier to animals.
How much grounding do I need?
As a rule of thumb, ground rod length is dependent on energizer's joules of output. Higher output means more ground rod(s). Our standard recommendation is 3 ft of ground rod per joule of output from the energizer. If not enough ground is used, only a partial amount (not full strength) of the pulse will be returned to the energizer.
Ground rods with a galvanized coating are better than copper because copper is more likely to corrode, resulting in poor connections.
When the soil is dry, sandy or rocky, fewer electrons are able to be received by the ground rod, thus pulse strength is diminished. Here are three techniques that can be used to ensure your electric fence has adequate grounding.
Fencing solutions for dry soils:
When you add more grounding, the amount of electron receptors are increased. This can be accomplished by connecting multiple ground rods in a series, or by using longer ground rods.

Use insulated wire to connect multiple ground rods together. 3 ft ground rods (shown above) should be placed at least 5 ft apart.

Tip: Premier's "T" Ground Rod can be grasped by hand and twisted, making it easier to remove from the soil. Available in 18" and 3' lengths.

Longer ground rods have the potential to reach moisture further down in the sub-soil, but are more difficult to drive into the ground.
Grounding Tips
Allow 3 ft of ground rod per joule of energy output
Space 3 ft rods at least 5 ft apart
Space 6 ft rods at least 10 ft apart
In dry/sandy soils, use ground rods long enough to reach moisture
Increase soil moisture with extra water

Add a pinhole to the bottom of a 5 gal bucket and fill with water. This will allow a slow trickle of water to soak the ground rod. The extra moisture increases the conductivity around the ground rod and will help boost pulse strength (but not to the extent of naturally moist soils).

Pos/Neg fences are wired to use every other horizontal strand as an extension of the grounding system. A Pos/Neg fence is the best solution for very dry or sandy soils and rocky terrain.

In order to receive a shock from a Pos/Neg fence, the animal must touch both a positive (hot) and negative (grounded) strand at the same time. This will deliver more pain to the animal than an all hot net (Pos/Pos) because moisture in the soil is not required to complete the circuit. (Pos/Neg fences can be converted to Pos/Pos in moist conditions.)