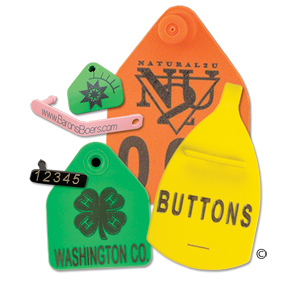 Ear Tags
Why folks like our tags…
Low prices.
For some sizes our tags cost half as much as other brands. How are we able to do this? Most tag sales occur during our slower winter months—so we prefer to sell as many tags as possible to keep our staff busy. It's a "win" both for you and us.
We specialize in custom imprinting.
Your cost to have us imprint consecutive tags with or without repeating farm names or numbers is very low—often less than 5¢/tag. We also imprint tags with brands or logos (one-time $15 setup fee per design) as well as tags with individual names or numbers.
Very fast service.
Most of our tag orders, including those custom-imprinted for you,

ship within 2 business days of receiving the order.
We also provide ear tags that meet the USDA Scrapie Eradication Program requirements.
How to order customized ear tags:
Choose style and quantity of tags. Add to shopping cart.
Determine imprint.

Numbers must be consecutive with or without repeating farm/ranch names. Up to 15 characters and 3 lines per side.
Logos/Brands have a one-time setup fee of $15 per design.
Imprint location—indicate male side, female side or both. We will print both sides (male and female) unless otherwise specified.

Enter tag numbers/letters in the Customization Instructions box on the shopping cart page or in the Comments box on the Payment Options page during checkout.
Note: Custom-imprinted tags are not returnable.
Ear Tag Comparison Chart
* Price per imprinted tag if purchased as a package. Call Premier at 800-282-6631 for individual replacement tags.
Name
Size
Cost,
ea.*
# per
Package
# of
Colors
Scrapie
Approved
Imprint
Area
Applicator
Qwik Tag
1.5" x 0.38"
30¢
20
9
no
9 chars
1 line
Qwik Tag
Q-flex 1.2
.625" x 0.44"
47.5¢
20
14
no
9 chars
1 line
Q-flex
MiniTags
1.1" x 1.1"
55¢
20
6
yes
9 chars
2 lines
MiniTag
Q-flex 1.5
1.88" x 0.56"
55¢
20
14
yes
13 chars
2 lines
Q-flex
Q-flex 3
1.63" x 1.5"
75¢
20
14
yes
13 chars
3 lines
Q-flex
Q-flex 5
1.63" x 1.88"
82.5¢
20
14
yes
15 chars
3 lines
Q-flex
7X
2.2" x 2.9" - F
2.2" x 2.5" - M
$1.00
20
7
yes
15 chars
3 lines
X Tag
Long Neck Calf
2.5" x 3.75"
$1.16
25
8
no
15 chars
3 lines
Z Tag
One-Piece Cow
3" x 4.5"
$1.40
25
9
no
15 chars
3 lines
Z Tag
One-Piece Calf
2.5" x 3.25"
$1.08
25
9
no
15 chars
3 lines
Z Tag