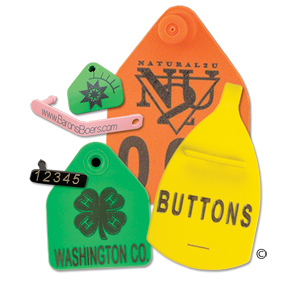 Ear Tags Compared
Ear tags are an essential tool in livestock management. They provide a visual aid for unique identification (such as a flock or premise number) and can help to identify sex, year of birth, sire, dam and much more. Learn how Premier uses ear tags on our experimental farm.
Why folks like our ear tags…
Low prices
For some sizes our tags cost half as much as other brands. How are we able to do this? Most tag sales occur during our slower winter months—so we prefer to sell as many tags as possible to keep our staff busy. It's a "win" both for you and us.
Customized for you…
Our customized laser-imprinted tags with your choice of consecutive numbers and your premise number/name are the same price as blank tags. We also imprint tags with brands or logos (one-time $25 setup fee per design) as well as tags with individual names or numbers.
Very fast service—it's who we are!
Most of our tag orders, including those custom-imprinted for you, generally

ship within 2–3 business days

of receiving the order.
We also provide ear tags that meet the USDA Scrapie Eradication Program requirements. Effective October 1, 2017, the USDA Animal and Plant Health Inspection Service (APHIS) will no longer provide free plastic ear tags and applicators as part of the National Scrapie Eradication Program.
How to order customized ear tags:
For most tag styles, we have upgraded our website to make ear tags easier to order. While we now show a sample of your customized tags, please be aware that final imprinting may vary. For other styles,
enter tag numbers/letters in the Customization Instructions box
on the Shopping Cart page, or in the Comments box on the Payment Options page during checkout.
Tags with custom Logos/Brands have a one-time setup fee of $25 per design.
Note: Custom-imprinted tags are not returnable.

Plastic tags (all brands) are much easier to install if they are warm. Why? As the temperature drops below freezing plastic becomes less flexible (more stiff) and forcing the male point of a tag through the female takes many more lbs. of pressure (because the female must expand).
So if you care about your hands it's a good idea to keep the tags above freezing in very cold weather. It takes very little to do this. One method is to simply store them while tagging in a small bucket, cardboard box or tool box with a lid alongside a sealed pop bottle full of warm water. The warm water will keep both the air and the tags warmer in the container.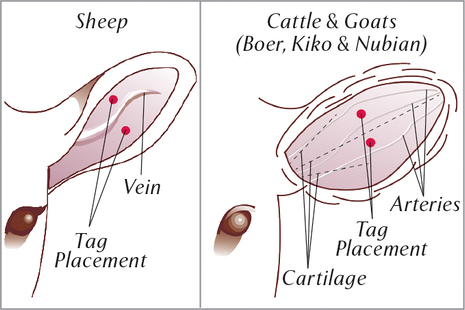 Don't place tags close to the skull. Doing so will increase both infection and losses. Why?

The tissue may become too thick for the space between male and female tag parts.
The wound is less able to heal (not enough air). Try to insert tags midway between the skull and the outer end of the ear. Note: One-piece loop tags for sheep/goats only fit in the lower red spot.

Avoid the large veins in the ear. Why? Tissue around damaged veins heals slowly—so it's prone to infection.
Don't use cheap tags as long-term tags. Why? They're often made of inferior plastic that may become brittle from UV light.
Avoid double-button round tags. Why? They're more likely to snag and rip free on vines, fences and feeders.
Avoid low-fiber diets. Why? Sheep on these diets are desperate to chew on anything. When one lamb starts chewing tags, its pen-mates will copy the behavior.