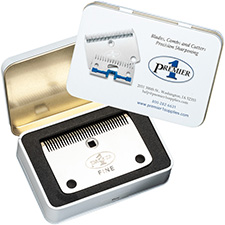 Choosing Large Clipper Blades for Sheep, Goats, Horses & Cattle
The best for less!
History...
Years ago most large clipper blades were frustrating to use. They cut hair poorly and wool not at all (not even washed wool). Resharpening failed so often that many used them only once.
Since then, Premier has introduced:
Superior blade quality…

lades hold a cutting edge longer than competitors' blades.
Teeth enter and push easily through clean wool and fiber.
Leave an even, attractive finish.
Custom laser imprinting available.

Lower prices…


Many similar quality large blades cost roughly $50 or more. Premier's custom-made blades are offered for much less.
Sharpening that works…
Our blades arrive to you factory sharp and ready to use. We also sharpen Premier and competitors' blade sets. Our industrial lapping machine (not a grinding wheel!) removes very little steel—so a blade set can be resharpened more than 10 times. We provide rapid turnaround and a precision finish at a low cost per blade set.
Choosing the right clipping blade for each situation:
 
Sheep



(slick shear)

Goats

Cattle



(peeling)

Cattle



(shaving)

Camelids

Horses

Pigs

Dogs

Super Surgical
✔
 
 
 
 
 
 
 
Surgical
✔
 
 
 
 
 
 
 
Fine
✔
✔
 
✔
 
✔
 
 
Medium
✔
✔
✔
✔
 
✔
 
 
Coarse
 
 
✔
 
✔
 
 
✔
XtraCover
 
✔
 
 
 
 
✔
 
Premier Top Blade—It is the upper and moving portion of Premier's blade sets. Also available as a replacement. The top blade is included with every Premier Super Surgical, Surgical, Fine, Medium and Coarse blade set.
Premier Super Surgical Blade Set—35 teeth. 0.02 normal cutting depth. Trims the closest of any blade available. It can give thin skinned animals the appearance of razor burn if not used by an experienced clipper. This blade can only be sharpened 1 to 3 times in its lifetime.
For slick shearing lambs
For surgical procedures
Premier Surgical Blade Set—35 teeth. 0.04 normal cutting depth. Surgical blades shave the fiber right down to the skin. Very smooth result.
For slick shearing lambs
For surgical procedures
Premier Fine Blade Set—35 teeth. 0.06 normal cutting depth.
For slick shearing sheep
For clipping heads and bellies of cattle
For body clipping performance horses
Premier Medium Blade Set—35 teeth. 0.08 cutting depth (twice a surgical blade set).
For body clipping horses
For slick shearing pink-skinned sheep
Premier Coarse Blade Set—18 teeth. 0.12 in. cutting depth. Half as many teeth as Fine/Medium's. Leaves more fiber, but a less even finish.
For clipping llamas/alpacas
For body clipping dirty, dense, matted hair on dogs and horses
Premier XtraCover Blade Set—24 lower teeth; 22 upper teeth. 0.25 in. cutting depth. Leaves 300% more fiber depth than a "Premier Fine". Make sure to follow your local or state rules for appropriate length of hair to be left on pigs.
For clipping show pigs and goats
Leaves smooth, even high fiber finish on cattle and sheep for production sales
Premier Blade Exchange
Our offer—exchange a used, dull or rusted Lister® blade set for a new Premier blade set for only $33 (plus shipping). You save $17! Complete our "Resharpening Form" to get started.
How do you save $17 a set?

You save $10 off a new blade set from Premier (they retail for $43) plus the $7 resharpening fee on the used blades.

Must it be an exact upgrade?

Fine blades for fine blades? No. Any Lister® blade may be exchanged for any Premier Surgical, Fine, Medium or Coarse blade in any combination (i.e. a Premier Fine for a Lister Medium). Note: Super Surgical and XtraCover blade sets can be included in the offer. Super Surgicals will be $47 and XtraCovers will be $35.

Why only Lister® blades?

Because they are the only blades that interchange (fit the same machines) with Premier blades.
We will not ship new blades until we receive your old Lister® set(s). Reshipping cost still applies.

Premier blade sets fit:

Premier Clippers: 1000c, 3000c and 4000c
Lister® Clippers: Laser, Liberty, Legend, Showman, Stablemate and Star