Getting Started with Egg Incubators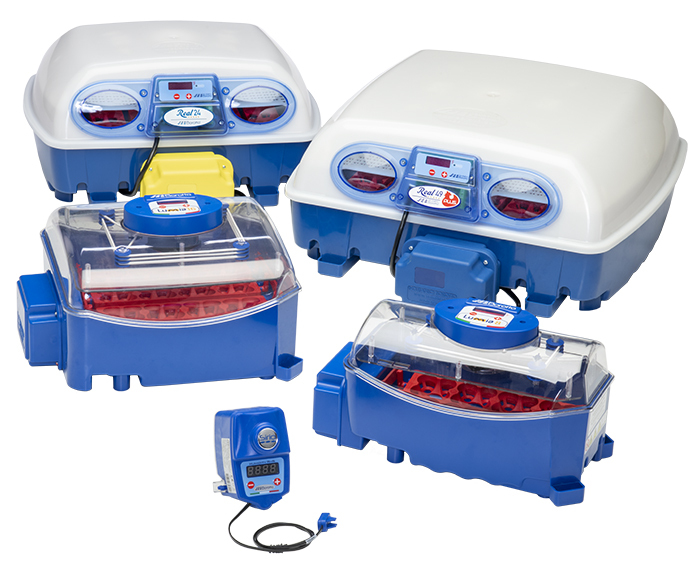 Hatching poultry from eggs is a fun, rewarding experience. If you have a broody hen, you can use a simple nesting box for incubation. Otherwise, all you need is an incubator and a little perseverance. You can build your own, or opt for an "automatic" incubator that controls the temperature, humidity and the turning of the eggs.
Premier is pleased to offer Borotto® egg incubators for small-to-medium hatches (8–49 chicken eggs). Made in Italy and known worldwide for their superior performance and high reliability, these machines deliver excellent hatch rates at an affordable price.
1. Selection and preservation of eggs
A successful hatch depends on many factors. Choose eggs from breeders that are well developed, well fed and healthy. Consider heritage breeds to ensure broad genetic diversity.
If possible, choose eggs that have

not

traveled by mail. Why? Because eggs that are closed inside packaging do not breathe and may have experienced excessive travel stress, vibration, and temperature changes.
Do

NOT

incubate eggs dirty with fecal material, as during incubation the temperature and humidity will lead to the establishment of bacterial flora. This can contaminate all the eggs, causing infections to the embryos and resulting in premature death during hatching.
Choose eggs of normal shape (they must not be elongated, spherical, undulated or with any other malformation).
2. Set up the incubator
Find a suitable location for your incubator. The room should be free from drafts and have an ambient temperature between 68°F–77°F. Do NOT operate the incubator in direct sunlight or near heat sources such as radiators, stoves or fireplaces. The room's relative humidity must be between 50% and 75%.
To ensure the unit is working properly, operate the incubator while it's empty for at least 2–3 hours before putting any eggs in.
3. Incubate
Once the environment inside of the incubator has stabilized, it's a simple process to maintain until the chicks hatch. Keep these four important factors in mind:
Temperature — The most important factor influencing the development of the embryo. Maintain a consistent optimum incubating temperature. Just one degree higher or lower can have a major impact on the hatch rate and the chick's health.
Humidity — Check the water level daily and add water as needed. Humidity should be 40% during the first phase of incubation, and 60% in the final days before hatching. For precise control of relative humidity, use a Borotto® Sirio Humidity Pump.
Egg Turning — At least three times per day, gently reposition the eggs, varying the position of the embryo as much as possible. With an automated machine, movement is managed by a microprocessor, imitating a mother hen rotating her eggs in the nest.
Ventilation — Do

NOT

cover or enclose the incubator for any reason. Most incubators are designed to exchange the inside air through built-in vents.
The typical incubation period of most chickens is 21 days. (Normal incubation times for other birds are shown below.)
Species
Incubation Period

*

Temperature
Stop Turning Eggs

*

Hatching Temperature
Hens (Chickens)
21 days
99.5°F
Day 18
98.8°F
Pheasants
23–25 days
Day 20
Quail
22–23 days
Day 19
Guinea Fowl
26–28 days
Day 23
Turkeys
28 days
Day 25
Peacocks
28 days
Day 25
Geese
30 days
Day 27
Common/Wild Ducks
27–28 days
Day 24
Muscovy Ducks
35 days
Day 30
Parrots
28 days
98.5°F
Day 26
97.7°F
* Incubation time may vary according to a host of factors including weather, size of incubator, size of egg, fertility of egg and vigor of the embryo.
4. Hatching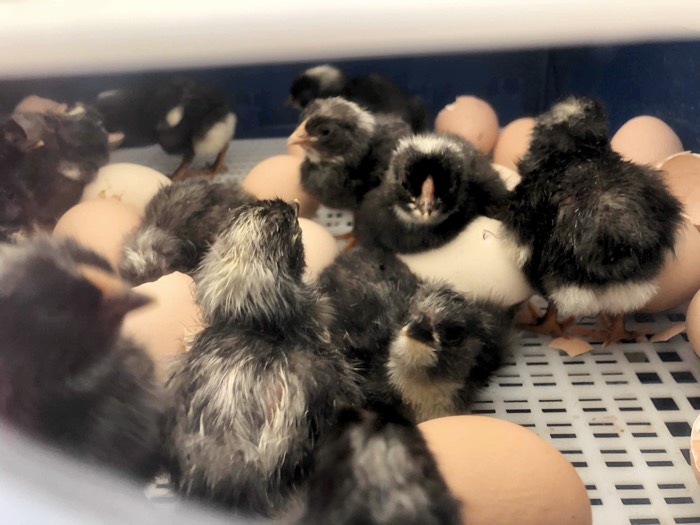 Prepare the incubator approximately 3 to 4 days before hatching. This process must be carried out quickly to prevent the eggs from cooling too much.
Stop the egg turning motor and gently remove the eggs from the plastic cradle.
Handle the eggs carefully while checking them with a candling lamp. Remove eggs that appear to be infertile or contain dead embryos.
Replace the egg cradle trays with the plastic hatching grate. Distribute the eggs on top of the grate and close the cover.
Maintain a temperature of 98.8°F for most poultry species. (97.7°F for exotic birds.)
Increase the relative humidity to 70%.
Open your incubator as little as possible, especially during hatching! Improper temperature and low humidity may result in premature death due to dehydration and desiccation.
When chicks begin to pip—peck through their shell, do NOT try to help! Don't worry if it takes the chick several hours to come out of their shell. Chicks should be removed from the incubator when they have dried and their down becomes fluffed. This drying normally takes about 12 hours. Leave the incubator on for a few days after the initial hatches to allow time for laggards.
Once dry, move the chicks to a poultry brooder, where they will spend the first few weeks of life.