Heavy Duty Extension Cord
Read reviews »
All-purpose extension cord for indoor and outdoor use. Extends power to high-amperage tools and equipment. Heavy duty 12-gauge wire.
15 amp rating at 125 volts (1875 watts)
Weather resistant vinyl jacket remains flexible even in extreme cold (-4°F)
Bright yellow color for increased visibility
Lighted female receptacle shows when power is connected

California Residents: Proposition 65 Information
Data
---
Common Uses
When extending power to high-current tools and equipment, you
MUST
use a heavy-duty outdoor extension cord that
meets or exceeds
the current you need to draw.
---
Specs
Length: 25 feet
12-gauge copper wire extension cord
15 amp rating at 125 volts (1875 watts)
Hard service, thermoplastic cable (SJTW) for indoor and outdoor use
Weather resistant vinyl jacket provides protection against moisture, abrasion and sunlight
Lighted end shows when power is on
Usable range: -4˚F to 140˚F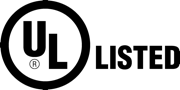 ---
Tips
Don't use a long extension cable if you have a short one handy.
When using any extension cord, unroll it fully so it is NOT coiled during use. If the wire is kept in a coil, this will create resistance and a magnetic field that heats up.
Caution! Common household extension cords will heat up over time if undersized for the energy draw required by your tool or appliance. Use it in that state for too long, and the wire insulation could melt, creating a potentially dangerous situation.