Marksman Sheep Marking Paste
(9) Read reviews »
Our shepherd's preferred marking compound for the breeding season. This premixed sheep and goat raddle leaves long lasting and unmistakable marks on ewes.
Applies easily to the ram or buck's brisket without the hassle of premixing. Makes touching up on the go a quick task.
Update – October 2021
This marking paste was previously sold under the brand "Flockmaster". The manufacturer has changed the name to "Marksman".
Several customers have indicated recent batches of blue and green paste seem to be more liquid than before. Our supplier suggests leaving the lid off of the paste to firm it up. Mixing in
Raddle Powder
may also produce the desired result.
We will continue to push for improvements to this product. —Premier
Data
---
Benefits
Premixed
Leaves long lasting and easily readable identification
Applies to either wet or dry fleece
---
Specs
2.5 liter/2.6 quarts
Contains: Hydrocarbons C9-C12, n-alkanes, cyclics, aromatics (2-25%)
Made in the United Kingdom
---
How to apply
By suitable applicator i.e. brush, stick or
gloved
hand.
Reapply every 2-3 days.
---
Precautions
Do not freeze. Use only outdoors or in well-ventilated areas.
May cause drowsiness or dizziness. Causes damage to organs (CNS) through prolonged or repeated contact. Harmful to aquatic life with long lasting effects. Do not breathe fumes. Wash contaminated skin thoroughly after handling. Avoid release to the environment. Please read all warnings and cautions on label.
Reviews

(9)
Write a Review
You must be logged in to leave a review. Please sign in.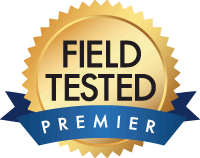 Out on the farm, we have switched to using the Flockmaster marking paste as our form of marking agent during breeding season. The picture above was taken Nov. 22nd, and the breed mark was from Sept. 19-Oct. 2. She was one of the more heavily marked does, so it is still vibrant and noticeable to this day. Even those animals that were lightly marked still show some trace of coloring from the breeding. A majority of our sheep that were bred in AUGUST still have their marks (now Nov. 27th)! This is a very solid product. Our sheep and goats have been outside in the heat, rain, wind and mud and the marks are still present.

We like using this marking paste better than even the harness and crayon set up - no worries about harness rubbing or irritation on the rams/bucks, no need to worry about straps becoming loose, and the marks even stay longer than that of the crayons (from our experience). Crayons seemed to wear off/fade within 2-3 weeks after exposure to males. For best results we recommend reapplying Flockmaster once every 4-5 days (depending on how many animals are being bred). We apply a heavy first layer, and that usually lasts just the right amount of time.

The consistency of the product is very smooth and easy to apply. Customers should definitely be mindful when applying that it will stain clothing and the smell of it will remain in clothes for some time.

One thing that I have noticed is the orange and red color are very similar and can be difficult to distinguish. Orange turned out to be more of a burnt color, resembling red. While the blue and green also appear to be similar, the green has more of a teal tint to it, making it stand out from the blue.

—Becca, Premier Shepherd
Marksman Sheep Marking Paste
Nicole S from Pennsylvania
I like the spray paint better. This paste seems to stay on longer than the spray paint, but it is very messy.
Marksman Sheep Marking Paste
Bobbie C from Oklahoma
Gets soupy if it gets a tad warm in the bucket.
Marksman Sheep Marking Paste
Edward M from Alabama
Works as it says.
Marksman Sheep Marking Paste
Chrishanthi S from New York
Over the past 20 years I've used raddle powders mixed with mineral or vegetable oil, and I have used harnesses with crayons of various sorts on my rams. This year I tried a tub of your Flockmaster premixed raddle marker. This is great stuff!

The consistency at room temperature is between paint and putty. I took the tub outside at 40deg F, put on some disposable gloves and used one hand to slather it on the ram's brisket from belly to base of neck. I thought I used too much, just to be sure, and expected some to fall off the ram, but it stayed put. Think of hair-setting gel or a soft putty.

I did get some on myself above the wrist-line of my glove — figured I would have a green wrist for a while.

Platinum Dawn (the 4X strength of Dawn dishwashing soap) used straight on a piece of paper towel, easily removed the raddle-paint from my wrist and silicone bracelet. I used three pieces of paper towel so as not to just spread it around. Afterwards, the slight residue on my skin washed right off. (I still prefer obstetrics gloves for applying raddle paint to rams.)

I am very pleased with the application of this product. It is quick, easy, and appears to get the job done with minimal fuss. I think the sheep might agree.
Marksman Sheep Marking Paste
Frank V from Iowa
Great stuff! No mixing! I no longer have to hear my wife laughing when I attempt to put on marking harnesses. My rams are not tame or halter broke. She said she could do the marking paste next time. Very fast service and packaged well. Life is good on the "little Bohemia" sheep farm. Thanks to the folks at Premier!