Neck Tags
(44) Read reviews »
Impressively tough. This polyurethane tag withstands abuse from goats, sheep, guard dogs and world travel.
Customize your tags! We can customize your neck tag with consecutive numbers or farm/ranch name. Usually shipped within 2 business days.
Use on the farm
This tag loops onto collars or polychains of sheep, goats or cattle.
Attach a neck tag to a Guard Dog Collar for guard dogs.
Additional placement on equipment and tractors for ease of identification for maintenance purposes.
Use off the farm:
Many of our employees use these as luggage tags, as they are very durable and often outlast checked luggage.
Identify tree or shrub variety for new plantings around the yard.
Data
---
Specs
3-1/2"L x 2-1/4"W
Stem: 5"L
Sold per tag
Polyurethane (so they take years of abuse and sunlight exposure)

Tag colors are in order of visibility and contrast of the printed numbers:

Yellow, White, Pink, Green and Blue
---
Customization
Custom printing details…
Order tags above
Determine imprint

Numbers

must be consecutive with or without repeating farm/ranch names. Up to 15 characters and 3 lines.

Logos/Brands

a one-time $25 setup fee per design.

Imprint location: Front side of tag only

Enter tag numbers/letters either in the "Customization Instructions" box

in the Shopping Cart or the "Comments and/or Special Instructions" box at the bottom of the Review Your Order screen.
If you are ordering Blank Tags—Enter quantity of tags above and type "blank" in the Customization Instructions box in the shopping cart.
---
Installation
Insert tab through ring of collar
Insert tab into the slot of the tag
Pull the tab the rest of the way through with pliers. The tab will hold tag in place and will not come out
---
Precautions
Custom imprinted ear tags are not returnable.
If using the Polychain, be cautious of entanglement.
Accessories
Listed below are recommended optional components or related items. Your particular situation may require alternative recommendations. Please call and talk to our consultants if there are any questions at 800-282-6631.
Reviews

(44)
Write a Review
You must be logged in to leave a review. Please sign in.
Neck Tags
Lee B from Idaho
I really have liked these name tags all the many years that I have used them. They are so very sturdy and last for so many years, don't tear off, are easy to read from a distance and hang nicely on the webbed collars all of my ewes wear. In fact, the ewes like the collars so much, when they are in their lambing jugs, I remove the collars and tags to wash them and the ewes protest reaching with their mouths to take THEIR collar back. It is a comfort thing to them and makes them so easy to lead and handle. I would NEVER use a halter for it hurts their nose bridge/turbinates and they fight the halter, but being led with a rope attached to their collar is like taking your dog for a walk. The way to go!
Neck Tags
Tam I from West Virginia
These are by far the best tags. They lay flat and are highly visible. This is my 3rd order! I purchased one for each of my horses as well. They are attached to the halter. The fact that they are "soft" is a plus. My dairy goats are all in one color and my sheep are in another. I loop the "tail" around from the back to the front and then thru the "eye", down the back and then thru the "eye" so the end is finished in the front. They lay flat, and can be used this way to hang shorter. They don't catch on things this way!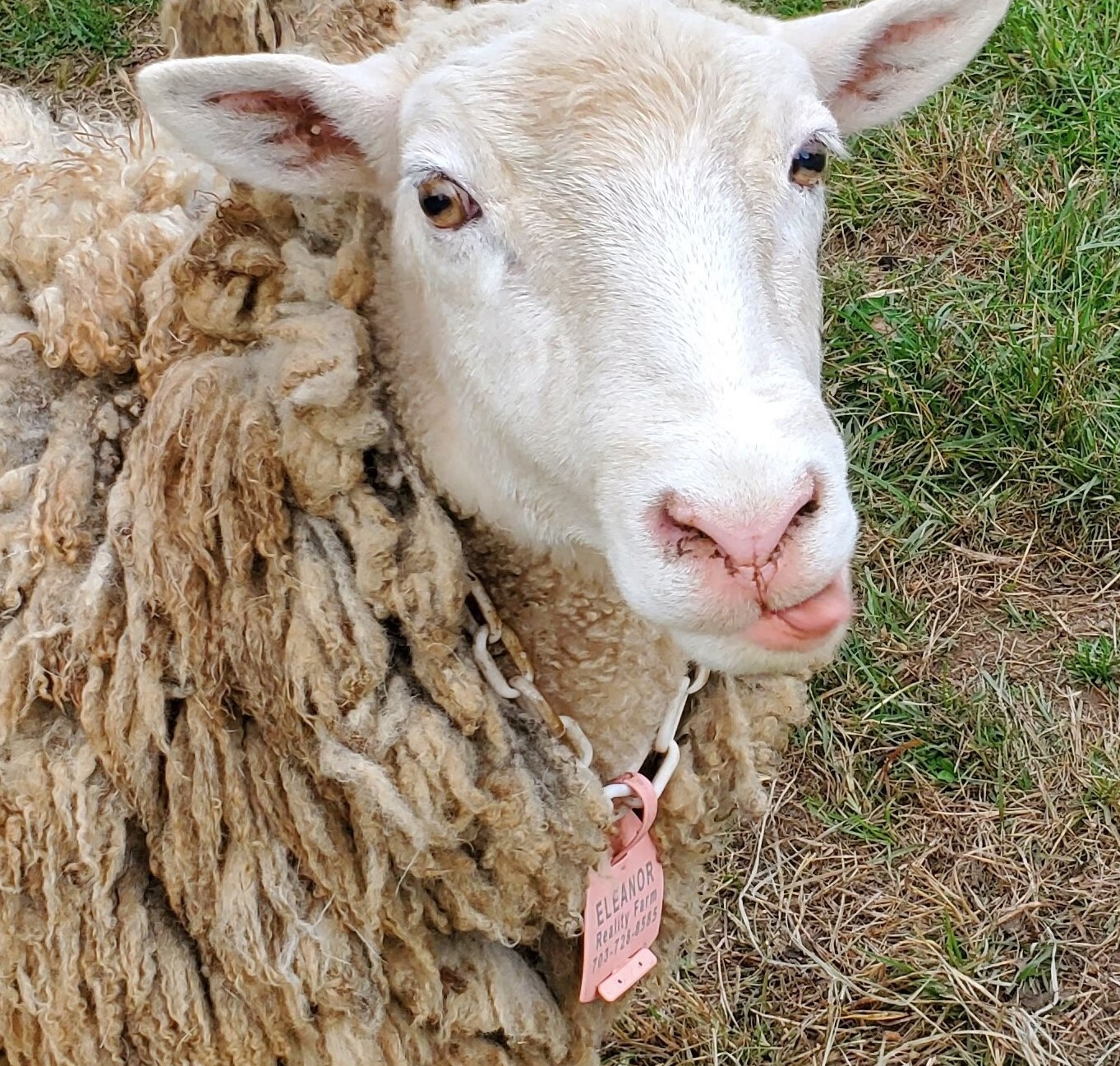 Neck Tags
Donna M from California
Love my sheep/dog tags. Easy to identify my Great Pyrenees from a distance.
Neck Tags
Crystal C from Wyoming
Got this for my LGD and it works great! Very visible and I won't worry so much if they get out from their boundaries.
Neck Tags
Carolyn D from California
This is the second batch of name tags I've had made and once again all were perfect! I put them on all my sheep and goats because they are fun and if something should happen to me others will know who is who, since not all are ear tagged or tattooed!

Just noticed Roberta in Vermont's review about tags falling off. Obviously she is not putting them on correctly. I have a collection of tags from my dearly departed who wore them their entire lives. I put them on breakaway plastic chains, so occasionally one gets caught and breaks away but when I find it the tag is still there!