PortaTrough™ 3
(18) Read reviews »
Heavy-duty 3 ft feeder used to provide grain, minerals, salt or water to animals. Portable for easy movement and stackable for storage.
Need a larger trough? See PortaTrough™ 5.
Data
---
Shipping
Please contact us for a shipping quote to AK, HI, Canada or Mexico.
---
Common Uses
Used to provide feed to a ram or two on pasture or to feed a small pen of show lambs or goat kids.
Excellent all-purpose trough for birds and small animals works well for providing feed or water to waterfowl (which consume case quantities of water!)
Feed livestock protection dogs and puppies without worrying about the feeder being tipped over by a playful puppy (or ewe).
---
Specs
Made of Polypropylene
Measures 34" long by 12.25" wide at bottom
Measures 32.25" long by 10" wide at top
Depth is 5.25"
4.5 gallon capacity
---
Benefits
Difficult for animals to tip over.
Stackable for easy movement and storage.
Side handle allows it to be inverted with a toe to tip out water or ice.
High sides prevent feed from being knocked out and wasted.
Won't break if water freezes in it.
Rounded inner base is slick so sheep and goats dislike stepping in them.
Depth of water allows waterfowl to bathe their heads to their eyes and nostrils.
Accessories
Listed below are recommended optional components or related items. Your particular situation may require alternative recommendations. Please call and talk to our consultants if there are any questions at 800-282-6631.
Reviews

(18)
Write a Review
You must be logged in to leave a review. Please sign in.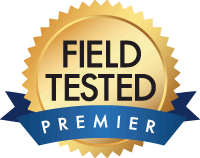 PortaTroughs fit in the back of an ATV so they are very portable. Lighter than a wood trough and they won't rot. The times we've managed to break one of these was after driving over it with our tractor (not advised). We've used these to provide feed/water for ducks, geese, puppies, sheep, goats and chickens.
PortaTrough™ 3
Maria M from North Carolina
A good option for watering critters outside…heavy weight enough to stay put, but easy to grab to wash.
PortaTrough™ 3
Kristin S from Tennessee
Indestructable! I bought these to use as feeding troughs for our pastured pigs. Pigs are good at destroying things. Not these. I think we have been using them for 3 years now. Well worth the money. Easy to clean too since there are no rolled seams and the surface is smooth.
PortaTrough™ 3
Valerie H from Ohio
Nothing like this durable trough was available at my local feed supply store, I have a 4 month old German shepherd pup that loves water. She would dig at the water bowl until it was empty and dry leaving nothing for herself, or for any of the other dogs. This got old really quickly. So my search began for something rugged/durable not equine sized… this hit all the check marks and has lessened the fun water digging. So very cool product which I highly recommend.
PortaTrough™ 3
Lauren A from Tennessee
I actually purchased this for my many dogs. We all love it. It doesn't move around on the floor while they eat, which they love. 10/10
PortaTrough™ 3
Robert M from Florida
Bought the PortaTrough as a trial pig feeder, since they have been able to break everything else. These work great. Will be buying more.