Premier Hot Top Insulator
Read reviews »
For attaching and insulating low-tension fences to top of in-line steel T posts. Can also be used as a cover for tops of steel T posts anywhere along fence line.
Will fit on T posts facing either way.
Data
---
Specs
Fits all sizes of steel T posts
10 per package, but sold individually
Plastic
UV resistant
3" tall
2" wide
Available in black or white
Holds twine, rope, braid, wire and 1/2" tape
---
Benefits
All sharp edges of the topper have been rounded to reduce the risk of injury.
---
How to Use
Line up the grooves on inside of insulator with top of T post.
Tap the insulator down into place.
If using a conductor, thread conductor through hole.
Accessories
Listed below are recommended optional components or related items. Your particular situation may require alternative recommendations. Please call and talk to our consultants if there are any questions at 800-282-6631.
Reviews
Write a Review
You must be logged in to leave a review. Please sign in.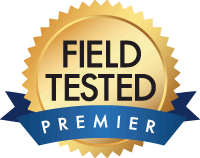 Takes a few seconds to line the internal guides over the T-Post but that is the only hassle with this insulator. T-Posts vary in size to the top may fit on with ease or it might require an extra push with wider posts. We like that the nifty top allows you to squeeze an extra conductor onto the post. used these on our horse fences
Premier Hot Top Insulator
Detlef V from Florida
Excellent T post top insulator, takes a bit maneuvering at first to figure out how they fit once figured out its easy, hot wire easy to install, these are used in our horse pasture on a newly installed field fence.
Premier Hot Top Insulator
Robert B from South Carolina
This is the best t-post top insulator. Very good durability. Extremely easy to install and work with.