Premier UltraScreen™
(10) Read reviews »
Attractive, long lasting, breathable, proven screen for barns, sheds, chicken tractors and so much more. Also useful for barn doors, windows and deck screens. Provides exceptional ventilation while keeping out the elements. Stops most wind, rain and snow from covering livestock or covered equipment.
PVC coated polyester has lasted 20 years (so far) on Premier's sheep barns—maintenance free! We add it to every new barn and use it to upgrade old barns.
Note: Sold by the linear foot. When ordering UltraScreen, please enter the length (in feet) in the QTY box.

California Residents: Proposition 65 Information
Data
---
Shipping
Lengths over 150 ft may require an additional handling charge. Please call 800-282-6631 or contact us online to request a shipping quote.
---
Specs
Stops 80% of wind and 90% of rain and snow.
Allows about 20% of light through. Shady but not dark.
PVC coated polyester (has lasted 20 years so far on Premier's Sheep barns).
Sold by the linear foot in 4 widths. For example a piece 100 ft long by 6.56 ft wide would cost $350—$3.50 times 100 ft. Puzzled by the unusual widths? It's actually 1, 2, 3, and 3.2 meters. If stretching and tensioning this material, order an additional 4-5 feet.
---
Benefits
Can be used for a multitude of applications (sheds, barns, chicken tractors, barn doors, windows and deck screens)
Stops most wind, rain and snow
Provides exceptional ventilation
Rot proof
3.6 tons tensile strength
Tear resistant
UV stabilized
---
How to Use
UltraScreen needs to be stretched (tensioned) from end to end.
First sandwich and roll two feet of it between two 2x4s. The roll is then screwed together. Firmly secure that to the building at one end with lag screws.
Attach the other end of UltraScreen (in a similar sandwich roll) to a tractor loader and use that to pull the screen tight (UltraScreen is very strong!). Once the screen is leveled, lag screw the loose end to the barn.
Finally, secure it with treated wood and screws to the top, the bottom and interim wooden uprights.
---
Precautions
Not intended to withstand side pressure from goats or sheep (i.e. it's not a wall at floor/animal height).
Rodents can chew through the mesh.
Reviews

(10)
Write a Review
You must be logged in to leave a review. Please sign in.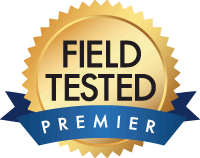 PVC coated polyester has lasted 20 years (so far) on Premier's sheep barns—maintenance free! We add it to every new barn and use it to upgrade old barns. It's far superior to anything similar that we have tried.
Premier UltraScreen™
Anthony P from Georgia
When I compare this screen to the standard screen that was there before. The appearance of this screen is much better. It's many times stronger and more durable. It blocks out more sunlight.

These are all positives but they are not the reason why I bought this screen. I purchased this screen because it's advertised to "stop most wind, rain, and snow". This is absolutely not true. When it rains, I'm getting almost as much rain as the previous screen and it absolutely doesn't block out most of the rain. This is a huge disappointment considering the time and sweat equity put into re-screening 17 windows. I would not recommend this screen if it's bought with the purpose of being a rain deterrent. It will not do that.
Premier UltraScreen™
Gypsy B from Washington
Not exactly what I was looking for. The material is soft.
Premier UltraScreen™
Robert W from Mississippi
Great product. Wrapped a corn crib style farmer's market (2500 sq ft) that has 10 ft tall sides. Love the visibility looking out and in. Recommend anyone to use this product for any screening needs. You will be very happy with it I assure you.
Premier UltraScreen™
Kevin M from New Jersey
Really great for my chicken and duck runs. Keeps most rain out and blocks the wind. Holds up well after several years.
Premier UltraScreen™
Steve D from Maryland
Just finished the install on a 108 foot winter feeding shed. It went up really well and so far we are very pleased. I did call for more details on installation (the explanation on the web site left some questions). It certainly appears to be superior to solid siding for ventilation and much more economical than conventional curtain systems. We installed it on the Northwest side of our winter feeding shed along with some heavy duty polyester canvas tarps on the end and side opening. We're amazed at how well it blocks the elements!