Solar Panels
(6) Read reviews »
Premier offers a wide range of DIY solar panels. We prefer glass panels (vs. plastic film) in high-output solar fence systems, but they are also useful for any application when charging a 12V battery is needed.
Key features:
Monocrystalline photovoltaic cells—convert more of the sun's energy than polycrystalline cells, which means they can produce more kilowatt hours of electricity
Tempered glass surface—is more durable than thin-film and can last more than 20 years, even in inclement weather
Corrosion-resistant aluminum frame—helps protect the glass panel from accidental damage
Easy to install—use the pre-drilled holes for attaching to mounting brackets

(sold separately)
Note: These solar panels are NOT direct replacements for SolarStop and Solar IntelliShock energizers. Please contact us for replacement components.
Videos & Data
---
Benefits
The rapid increase in solar panel manufacturing capacity has forced down prices and pushed up power efficiency. Solar panels are ideal for off-grid setups, or for those looking to "go green" and save money on electricity.
Common uses:
Attach a solar panel to a 12V battery to recharge and increase its usable life. Or, build-your-own electric fence system.

✔ Chicken Coops

Provide supplemental lighting, or power a fan to ventilate stuffy poultry buildings. Use a programmable timer to save energy.

✔ Around The Farm

Power remote water pumps, or use solar panels to maintain batteries for tractors, snowmobiles and other utility vehicles that are stored for long periods of time.

✔ RVs, Cabins and more!

Ideal for outdoor and winter use. Panels are lightweight and can be quickly attached to other surfaces using pre-drilled holes. Panels can be angled at 45° using optional mounting brackets.
20W Frameless —
Special Closeout Price: $55.50
We have a small batch of 20W Solar Panels

without

the outer aluminum frame. They can be added into your own system, but the panels will require their own mounting frame. We are offering frameless panels at a 25% discount for those that wish to use them.
---
Specs
 
10 watt
20 watt
20 watt
Frameless
30 watt
50 watt
90 watt
Dimensions
15.375"L x
7.625"W x
1.1875"D
22.75"L x
14"W x
1.175"D
22.5"L x
13.75"W x
0.125"D
22.375"L x
14.125"W x
1.175"D
21"L x
26.5"W x
1.175"D
30"L x
26.5"W x
1.175"D
Aluminum Frame

✔

✔

✘

✔

✔

✔

Solar Cell
Polycrystalline
Polycrystalline
Polycrystalline
Monocrystalline
Polycrystalline
Polycrystalline
Rated Voltage (Vmp)
17.2V
17.2V
17.2V
17.37V
18.64V
19.66V
Rated Current (Imp)
0.58A
1.16A
1.16A
2.08A
2.68A
4.07A
Open Circuit Voltage (Voc)
21.6V
21.6V
21.6V
20.04V
22.18V
23.15V
Open Circuit Current (Isc)
0.68A
1.31A
1.31A
2.19A
2.85A
4.32A
Length of Wire Lead
70"
70"
20.5"
70"
70"
70"
Terminal Ends
Alligator
Clips
Alligator
Clips
Ring
Terminals
Alligator
Clips
Alligator
Clips
Alligator
Clips
Use a voltage regulator to prevent the battery from over-charging during long periods of sunny summer weather. Strongly advised for panels 20 watts or larger.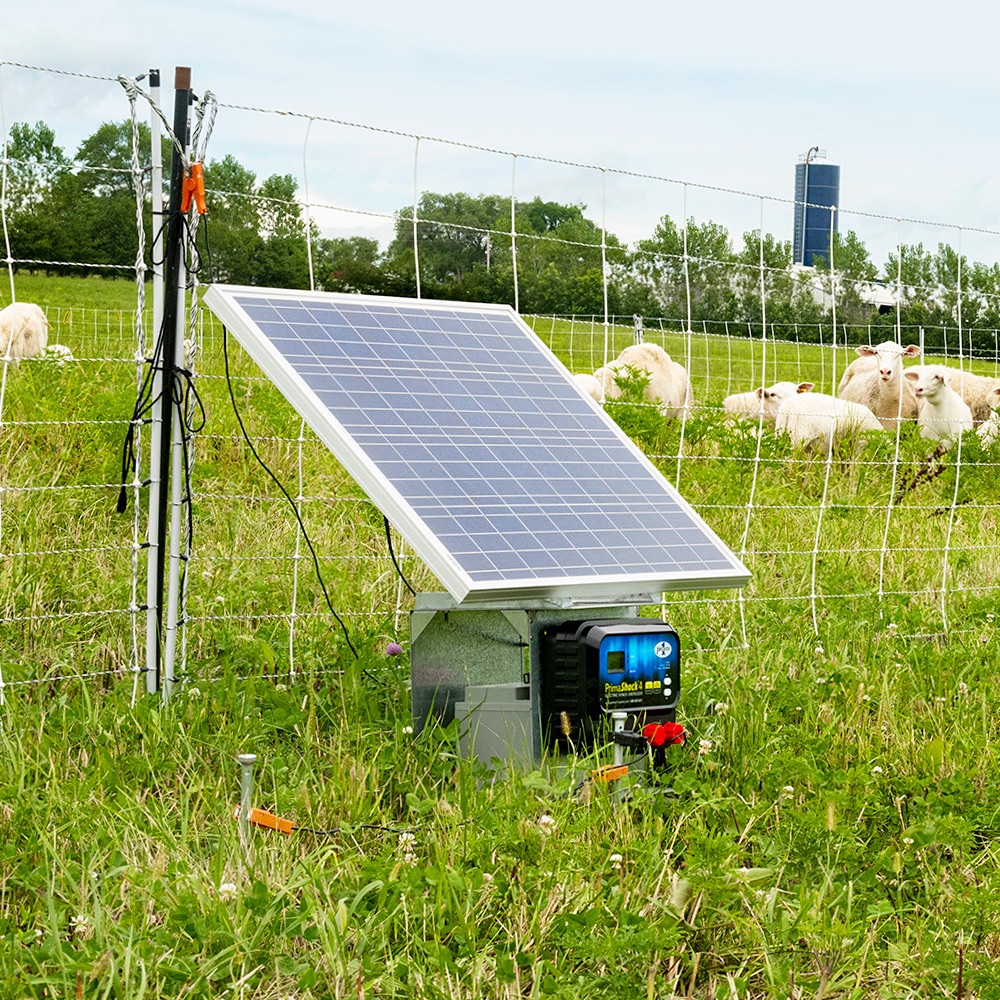 For folks willing to apply a little elbow grease, building your own solar fence energizer may be a good solution.
Kits include:
PrimaShock fence energizer
50W (or 80W) solar panel with regulator
12 volt, 44 amp hr SLA battery
Support box and solar panel brackets
Ground rods, insulated wire and clamps
Digital fence tester
---
Installation
A solar panel should be oriented due south and away from daytime shadows.
All day, direct sunlight is essential
to maximize the voltage output of the panel. In the winter, you may need to adjust the angle of the panel to better catch the sun low on the horizon.
Attach the solar panel leads directly to the 12V battery terminals, or to a voltage regulator.
Position the panel so it's facing due south. It must be exposed to full sun throughout the day.
Check all connections and test the panel's output. Solar panels should have an output of 15 to 21 volts in full sunlight.
Summer vs. Winter Sunlight
The maps below indicate the hours of summer and winter sunlight available per average day that have sufficient intensity to enable a solar panel to recharge a 12V battery. This is defined as the hours of solar "insolation".
---
Precautions
Keep the panel surface clean!
Sunlight cannot penetrate through accumulated dust, snow, ice and bird droppings. Solar panels can be used in winter, but they must remain clear. Attached batteries must remain above 40 percent charged or they will freeze.
Voltage regulators should be used in conjunction with panels larger than (or equal to) 20 watts.
---
Warranty
2-year warranty.
Warranty covers the efficiency of the cells only and does not warrant the glass, frame or cells against breakage caused from weather or abuse. Premier's
30 day guarantee
covers products that are returned undamaged and at the original functioning level.
Accessories
Listed below are recommended optional components or related items. Your particular situation may require alternative recommendations. Please call and talk to our consultants if there are any questions at 800-282-6631.
Reviews

(6)
Write a Review
You must be logged in to leave a review. Please sign in.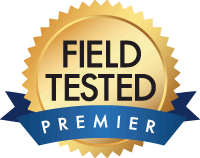 If properly sized to your battery, available sunlight, and energizer, our solar panels will not disappoint. Seldom do we have one sent in for failure. (Our Repairs department want us to stress this point; these panels do not fail.) They can take a lot of abuse and still pump a charge into your battery. Prices for solar panels are lower than what they were only a few short years ago. These panels are of excellent quality and the cost per watt hour per panel is low.
Solar Panels
Sharon H from California
I bought this 10 watt panel instead of a cheaper panel for several reasons. It had a long, 68 inch cord with battery clips already attached. It also had a package of alternate attachment hardware. There were also predrilled bracket holes in the back of the frame which I used to tie to the fence. The time to find parts and get other brand panels ready, made the additional price a bargain. Premier, you should note these positive value-added features where they are easy to see.

I have bought panels with a short cord and with nothing attached. The splice to make it longer often corroded and needs redone, and there were no clips, hardware, or attachment holes.
Solar Panels
Scott T from Missouri
Works very well. It's my 4th panel. Have had them for over 3 years and they are very durable.
Solar Panels
Bradly R from Virginia
Not sure how to rate this as I haven't received the product yet. As a word of advice if you intend to purchase a solar panel be sure to either order the voltage regulator (in the same order) or call them and let them know you already have one. I ordered the battery and voltage regulator and my uncle ordered the panel. My order arrived and the solar panel didn't ship (to the same address) because they were worried about the voltage regulator. To be fair they called and he missed the call. He also didn't return their call but he assumed they would ship the order regardless. They didn't. Now I have animals that need power to their netting and I am short one component and I will have to wait an additional (3) days for the panel.

Premier 1 I appreciate what a great company you are for doing your due diligence but you do specify the recommendation for the regulator. Please just ship the order next time.
Solar Panels
William W from Massachusetts
Works great. Haven't yet had to bring in the battery to charge it. Set it and forget it.
Solar Panels
Virginia P from New Hampshire
These panels are great — compact and easy to position. I love not having to lug batteries around to be charged and not having to remember to check the charge so often. (I do not use them in the winter.)