Tooth File
Read reviews »
For filing the teeth of sharp-toothed lambs and goat kids.
Smooth the tips of "needle-like" teeth to prevent dams from rejecting their offspring due to the pain. Also used to reduce chewing damage to latex and rubber nipples.

California Residents: Proposition 65 Information
Data
---
Benefits
A small % of lambs have sharp teeth—and ewes refuse them. Sharp teeth can also damage latex and rubber nipples. This file works to smooth off the tips.
Compact folding design stows easily into a pocket.
---
Specs
Dimensions:

5" x 1.25" x .25"
9.75" x 1.25" x .25" (unfolded)

Coarse grit
Made in USA
---
How to Use
File the sharp tooth (teeth) with 4–5 passes. If the tooth still feels sharp, continue to roughen, rechecking after every other pass. The goal is to remove the sharpness, not to completely file down the teeth.
This condition can be hereditary. Consider not using these animals for breeding.
Reviews
Write a Review
You must be logged in to leave a review. Please sign in.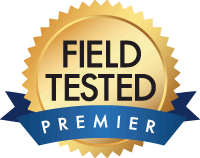 A few years ago we discovered that more than 30% of our orphan lambs had very sharp teeth—which explained why the ewes rejected them. A quick file at the right time "cures" this.
Tooth File
Luke S from Indiana
Very effective at smoothing rough teeth since it is made with diamonds; regular files don't work.
Tooth File
Vernon M from Maryland
You really need to get the word out about using this tooth file on lambs and kids. Between 1-2 weeks of age, our baby goats get these little needle-like teeth and they can really damage the dam's teats. I highly recommend this file. It has been invaluable.