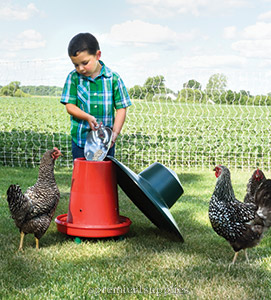 Chicken-keeping Basics
What poultry do we keep?
Premier's birds tend to change over time, as some "depart" and new ones replace them. Here's what we have (or had this past year):
Chickens: Wyandottes, Delaware, Sussex, Giants, Brahmas, Minorcas, Leghorns, Buff Orpingtons.
Ducks: Blue Swedish, Khaki Campbell, Buff Runners, Rouens.
Geese: Toulouse and Buff.
Chicken-keeping basics…
Q. How many chickens should I have?

A. For a novice we recommend 2 to 4 hens. They will provide you with experience and a steady supply of eggs spring through fall. Hens lay fewer eggs during the chilly, short-daylight winter months.

Q. Do I need a rooster for my hens to lay eggs?

A. Hens will cheerfully lay eggs for their entire lifetime without a rooster. Their happy clucks are infrequent and seldom loud. Few are as high strung as roosters. Obviously, a rooster is essential for fertilized eggs. If this is your choice, be prepared to hear crowing from predawn to dark. However, a rooster is often not a good thing—as his libido can cause disruption among the hens. Though one rooster may not be a problem, our experience is that 2 or more roosters are continually feuding, causing stress among the hens.

A word of caution: Roosters can become territorial and aggressive, especially to visitors and children.

Q. How many eggs will a hen lay?

A. A young hen can lay 5 eggs/week during peak laying season, depending on her breed. As hens age they lay fewer eggs per week/month/year.

Q. Do chickens fly?

A. That depends on how you define flying. If motivated, lighter breeds and bantams can quite easily fly over a fence or up to a tree branch or rafter, but they lack the ability of true flight that wild birds have. Most heavy breeds are content to stay on the ground—which makes them the better choice for a backyard flock.