What is poultry netting?
It's an electrifiable, prefabricated, portable fence. Arrives to your door as a complete roll with built-in line posts. It's lightweight too! Most rolls weigh less than 20 lbs. Attach an electric fence energizer (and ground rod) and it's ready to keep poultry in, and predators out. Electric netting is easy to install and move.
Electric fence doesn't have to be intimidating…
Many folks new to electric fence are "turned off" by terms like "voltage" and "resistance". Don't worry… Premier's on-farm staff will help you make sense of it.
How does netting work?
The horizontal strands are energized (except for the bottom one that rests on the grass) by a fence energizer. When chickens or ground-based predators touch it, they receive a high-voltage shock from the brief electric pulse—and learn to avoid it.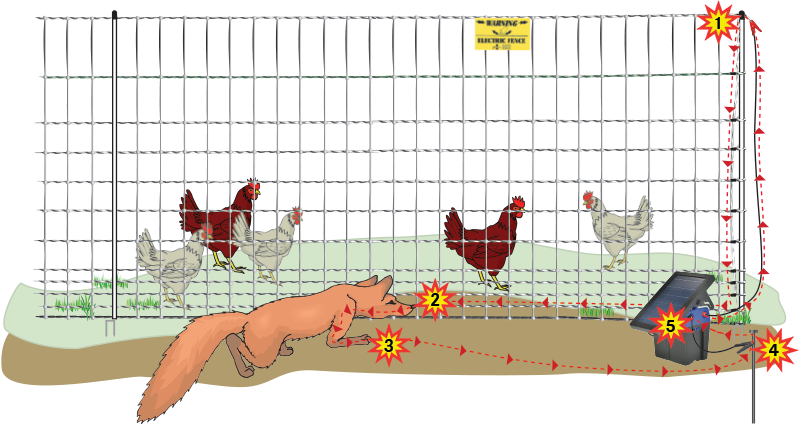 1
The energizer sends an electric pulse to the fence's horizontal conductors
2
The pulse travels through the fence until it contacts an animal
3
The pulse travels into the soil via the animal when it touches a conductor
4
The pulse travels through the soil, to the energizer's ground rod
5
The circuit is completed at the energizer, shocking the animal
The energizer sends an electric pulse to the fence's horizontal conductors
The pulse travels through the fence until it contacts an animal
The pulse travels into the soil via the animal when it touches a conductor
The pulse travels through the soil, to the energizer's ground rod
The circuit is completed at the energizer, shocking the animal
Why is electric netting so popular?
What users dislike about it...
Poultry, due to the nature of their legs and minimal body weight, have much higher resistance to electricity than a cow, horse, pig or dog. And the fence, due to its low-to-the-ground nature, is prone to high weed contact. So low output units (such as those sold in farm stores) usually disappoint. We recommend using a pulse-style 0.6 joule unit or larger for up to 3 rolls of PoultryNet®. Units with less joule output may work for 1 to 2 rolls of netting if grass contact is kept to an absolute minimum.
Energy input is battery (DC) that is recharged by a solar panel that is attached directly to the energizer case.
Solar units are very portable and quick to set up, operable in minutes
No buried lead-out wires or underground cables are required
LEARN MORE
Energy input is 110V AC (plug-in) or battery (DC).
Best for use in shaded areas
Less expensive than all-in-one solar units
Less visible for vandals and thieves
LEARN MORE
What about grass contact?
This is netting's biggest negative. Too much green grass or weed contact lowers the voltage of the fence. To overcome:
When grass gets 6" high, mow along the fence. If you mow into the fence, your wallet, the mower and the net will regret it! Move the net into the mowed strip by removing and reinstalling one post at a time. Takes approx. 5 minutes per roll of net.
Or spray herbicide in a narrow strip under the fence. No herbicide lasts forever so expect the weeds to return in time. We prefer burn-down chemicals that don't kill perennials.
Or buy an energizer with enough joule output to cope with extra weed contact.
A good rule of thumb is to buy an energizer with more joule output than you'll think you need. When the fence pleases, most folks will buy more fence—and need additional output.
Which is the best height?
While both heights contain most poultry, the 48" net is perceived as more secure against coyotes and dogs. However, the shorter 42" net is lighter and easier to handle when installing and removing. It's also less expensive.
42" tall
(best for heavy breeds)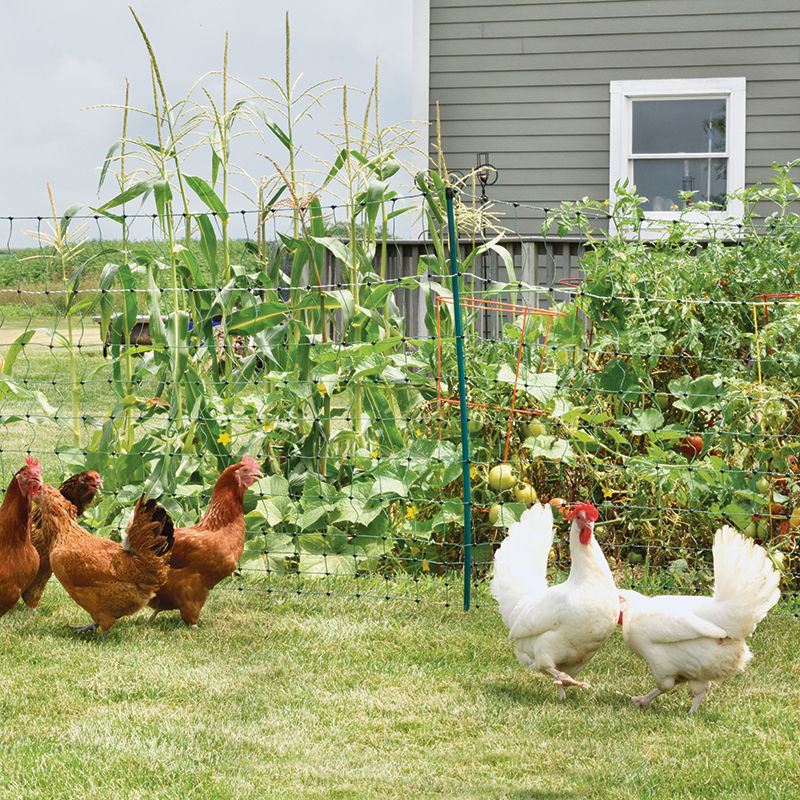 Best for heavy breeds such as Orpingtons and Wyandottes. Keeps in chickens, ducks, geese, turkeys and peacocks. Keeps out raccoons, coyotes, foxes, dogs and other predators.
---
48" tall
(for active, flighty birds)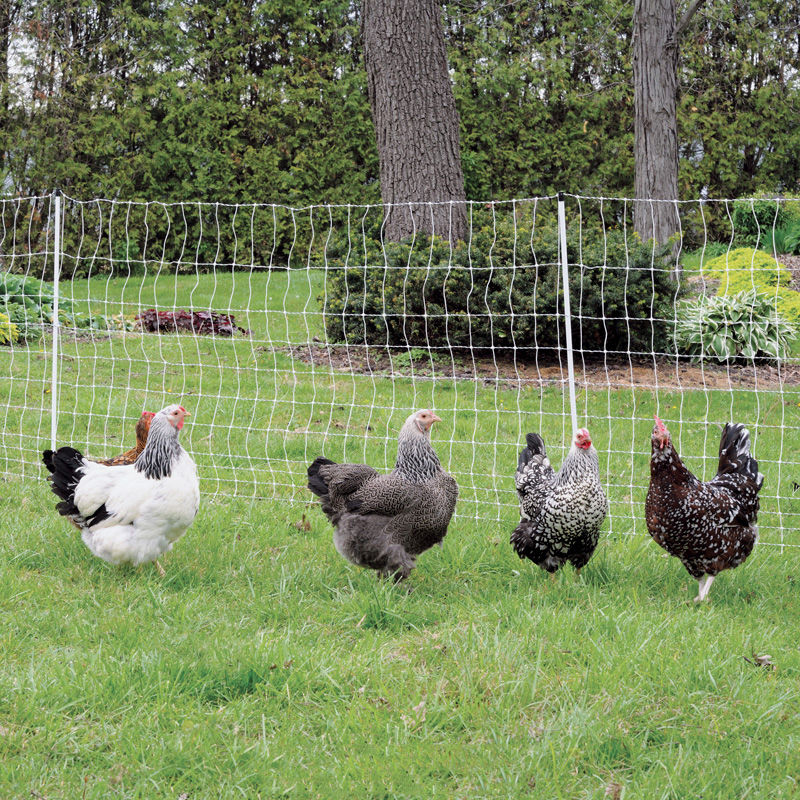 Choose this fence if you plan to move the fence daily/weekly and have light or flighty breeds such as Leghorns and Buttercups. Protects birds from predators such as foxes, coyotes and dogs.
---
48" tall
(not often moved)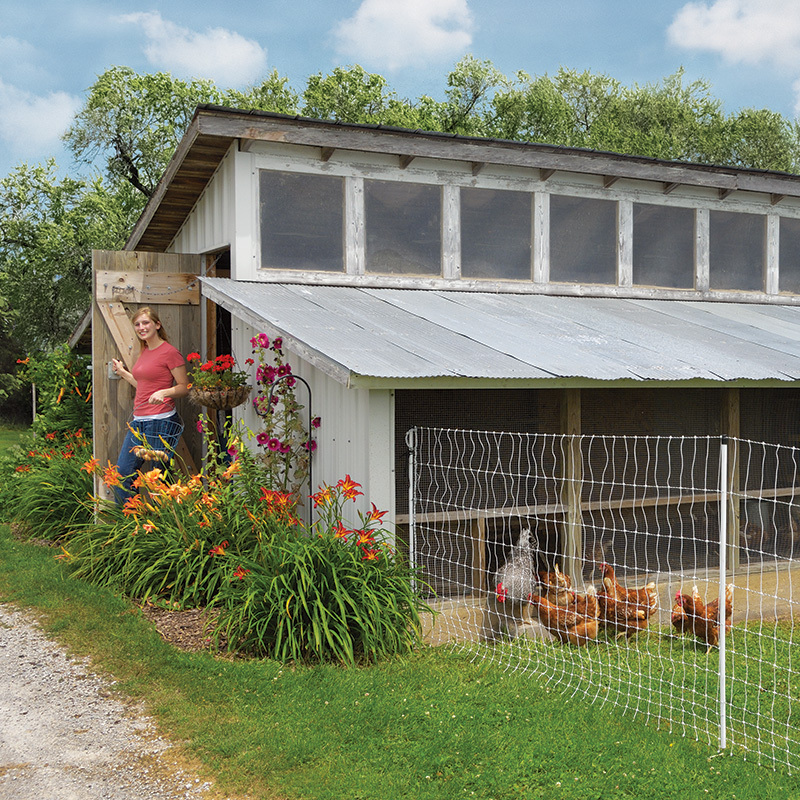 Same as PoultryNet® Plus, but has stronger, larger posts to withstand the effects of wind, rain, ice and snow much better than normal netting. PermaNet® is a "less worries" option.
---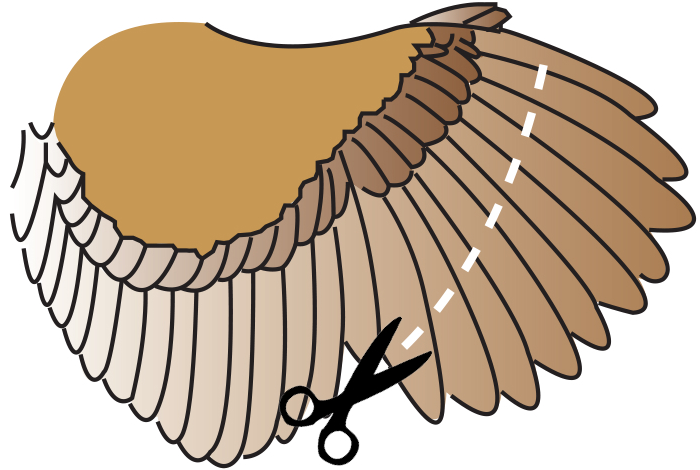 Won't chickens fly over the fence?
Birds will fly over the fence if there is insufficient feed, too crowded, or if they're trying to avoid fights. Some hens are just plain stubborn and refuse to "get with the program". When first let out in the morning, watch for the hen that gets out first. She's the lead troublemaker and prime contender for clipping.
If there's an escape problem, we find it's usually led by a hen or two with the rest simply following along. Identifying her and clipping the flight feathers on one wing usually solves this problem. This does not have to be done for the whole flock.
Clipping wings doesn't hurt the bird, but reduces its ability to take flight over 42"–48", not the 18"–24" needed to access nestboxes or roosts.
Note: Electric poultry netting won't stop young birds small enough to slip through the 2" net openings. For the first weeks when birds are small, we suggest keeping them inside the coop or making a small temporary pen with NoShock Chick Fence inside the electrified netting for predator protection. Also look to the NoShock™ Hen Pen which features a non-electrifiable chick-tight mesh along the bottom. The Hen Pen is best when used as a monitored day pen for adult birds and chicks.
Not sure what you need?
Why? Because all the parts and pieces necessary are included. You don't have to worry about overlooking the key extra items that folks new to electric fence normally need to make an electric fence operational.
If your plans involve longer fences, bypass the kit option and instead buy the individual parts and pieces—because the items needed are likely to vary considerably.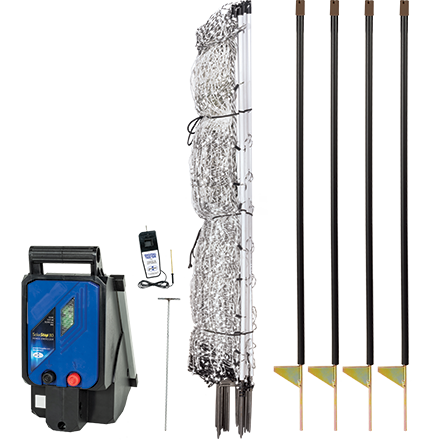 To Reduce Risk and Liability...
Are electric fences a serious safety risk to humans?
Because touching an electric fence is painful and the voltages are high, most assume that the risks from an energized fence must also be high. That's a myth. Consider that millions of people throughout the world are "exposed" to millions of electric fences every day—yet they are involved in (but are not always the cause of) less than one human death or serious injury per year worldwide. Compare that to the number of annual injuries and deaths that occur from human exposure to tractors, skid loaders, ladders, PTO shafts, balers, mowers, combines, bulls, stallions, rifles, shotguns, knives, etc. This is not to suggest that there is no risk at all. There is, indeed, a small level of risk. And with risk, there is also liability to the fence's owner.
For safer electric fences:
What NOT to do!
Warning!
In 1991 an accidental fatality occurred when a young child's head contacted an electrified fence while the child was crawling on wet grass. The fence was correctly installed and functioning properly. The energizer was a UL approved unit. As a result, Premier strongly advises against allowing toddlers access to any electrified fences. Also, due to this incident and others, experts now suggest that human contact by an energized wire to the head and neck may be the most dangerous point of contact. We urge all to especially avoid this kind of contact.