Data
---
Specs
5" long
Lightweight
Plated steel
Made by National Band and Tag Co
Installs brass tags (Does not install brass tags from the USDA Scrapie program)
---
Tips
Tag placement is critical to success!
For maximum retention and the lowest risk of bleeding and infection, place ear tags in either of the two spots shown in the illustration below. The goal is about 2-3 inches from the head of the animal.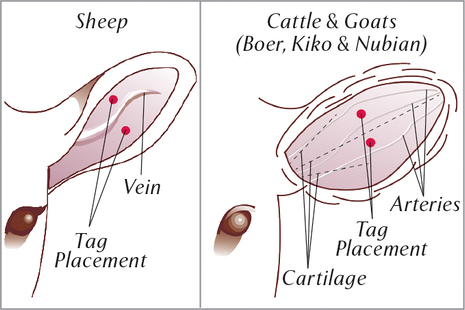 TIP: Inserting Tags in Cold Weather
Plastic tags (all brands) are much easier to install if they are warm. Why? As the temperature drops below freezing, plastic becomes less flexible (more stiff). Forcing the male point of a tag through the female takes many more lbs. of pressure (because the female must expand).
So if you care about your hands it's a good idea to keep the tags above freezing in very cold weather. It takes very little to do this. One method is to simply store them while tagging in a small bucket, cardboard box or tool box with a lid alongside a sealed pop bottle full of warm water. The warm water will keep both the air and the tags warmer in the container.
---
Precautions
This is not the most impressive tag applicator that we have ever used, but it is low cost.
Does not install brass tags from the USDA Scrapie program (different style)
Accessories
Listed below are recommended optional components or related items. Your particular situation may require alternative recommendations. Please call and talk to our consultants if there are any questions at 800-282-6631.
Reviews
Write a Review
You must be logged in to leave a review. Please sign in.
Brass Ear Tag Applicator
Patricia M from New Mexico
This brass tag applicator tool is an essential part of my small operation. I tag all my lambs for id.
Brass Ear Tag Applicator
Sharon B from New Mexico
Hopefuly will be fine, but no instructions as how to use. Finally went online and found them. Also too expensive. Each time we change tag type we have to buy a new applicator. Have a drawer full!!!
Brass Ear Tag Applicator
Earl B from Oregon
This item is over priced for the poor quality product that it is.
Brass Ear Tag Applicator
Connie P from Mississippi
Works well and simple to use. I wish it secured tag better from falling out before you tag animal. You have to be very careful it doesn't fall out.