Creep Feeder Gate
(83) Read reviews »
Gives lambs and goat kids "adult free" access to creep feed and allows guard dog puppies ability to come and go from sheep/goats and food.
Benefits:
Hot-dip galvanized products have triple the useful life in humid, acidic climates (many barns!)
Both horizontal and vertical internal bars can be altered to allow the openings to "grow" with the lambs or kids. White plastic pipe on rods spin freely when lambs move through them.
Can be attached to our PowerBilt® or Welded Wire Panels.

California Residents: Proposition 65 Information
Data
---
Specs
Height: 40" or 45"
Width: 41" (from the outside of the eye loop to the outside of the eye loop and 38" - gate itself)
Hot-dip galvanized to improve appearance and longevity
Comes with 1 horizontal bar and 5 vertical rods
Vertical bars are spaced 6" apart (shown in photo above)
Creep gate parts:
One horizontal bar

—1/2" diameter steel rod with white plastic roller. 6 height possibilities (18" to 28" with increments of 1" to 2"). Held in place with a spring-loaded clip.

Five vertical rods

—1/2" diameter rods with white plastic outer rollers. Gate has 13 holes along the bottom and top. To adjust, pull rod and drop it into any hole. (We find we need all the holes as the lambs grow.)

Eye loops

—Two eye loops at ends allow attachment with a Connecting Pin (sold separately); to wire panels, metal bar gates and/or wooden panels.
---
Accessories
Listed below are recommended optional components or related items. Your particular situation may require alternative recommendations. Please call and talk to our consultants if there are any questions at 800-282-6631.
Handling Equipment

Effectively ground energizers or firmly secure handling equipment. Galvanized pin is resilient to rust and wear.

Handling Equipment

Linking stake for connecting panels, gates, chutes of sheep and goat handling or feeding systems.

Handling Equipment

Used extensively on the Premier farms to securely connect gates and panels via linking stakes.

Handling Equipment

Sturdy, heavy duty panels for containing and controlling small livestock such as sheep and goats. Modular design for customized lengths.

Handling Equipment

Reinforced galvanized welded wire panels. Great for building lambing jugs, gates, fence lines and many other projects.

Feeding Orphan Lambs and Kids

Veterinary-formulated milk replacer with citristim that provides total nutritional requirements for goat kids. 50 lb bag.
Reviews

(83)
Write a Review
You must be logged in to leave a review. Please sign in.
Creep Feeder Gate
Linda F from California
Nice and easy to use. More stable than it looks. I felt the cost was a little high but certainly accomplished what I needed it to do.
Creep Feeder Gate
Clifton C from Texas
Works very well. I might drill another hole because the first adjustment is a bit too wide for thinner older goats. Had 2 get in.
Creep Feeder Gate
Liz T from Kentucky
Received my creep feeder gates yesterday and put one up just a few minutes ago. The babies came in even before I got grain in the bucket! The adults were not a bit amused, but they ate up their breakfast earlier. I am super pleased with how many adjustments there are with this gate. Wish I had ordered some sooner. I have different breeds of sheep in different areas of my farm so I imagine I will be getting more. Between the wool sheep and hair sheep it seems like my lambing season goes all year round. Thanks for a great product!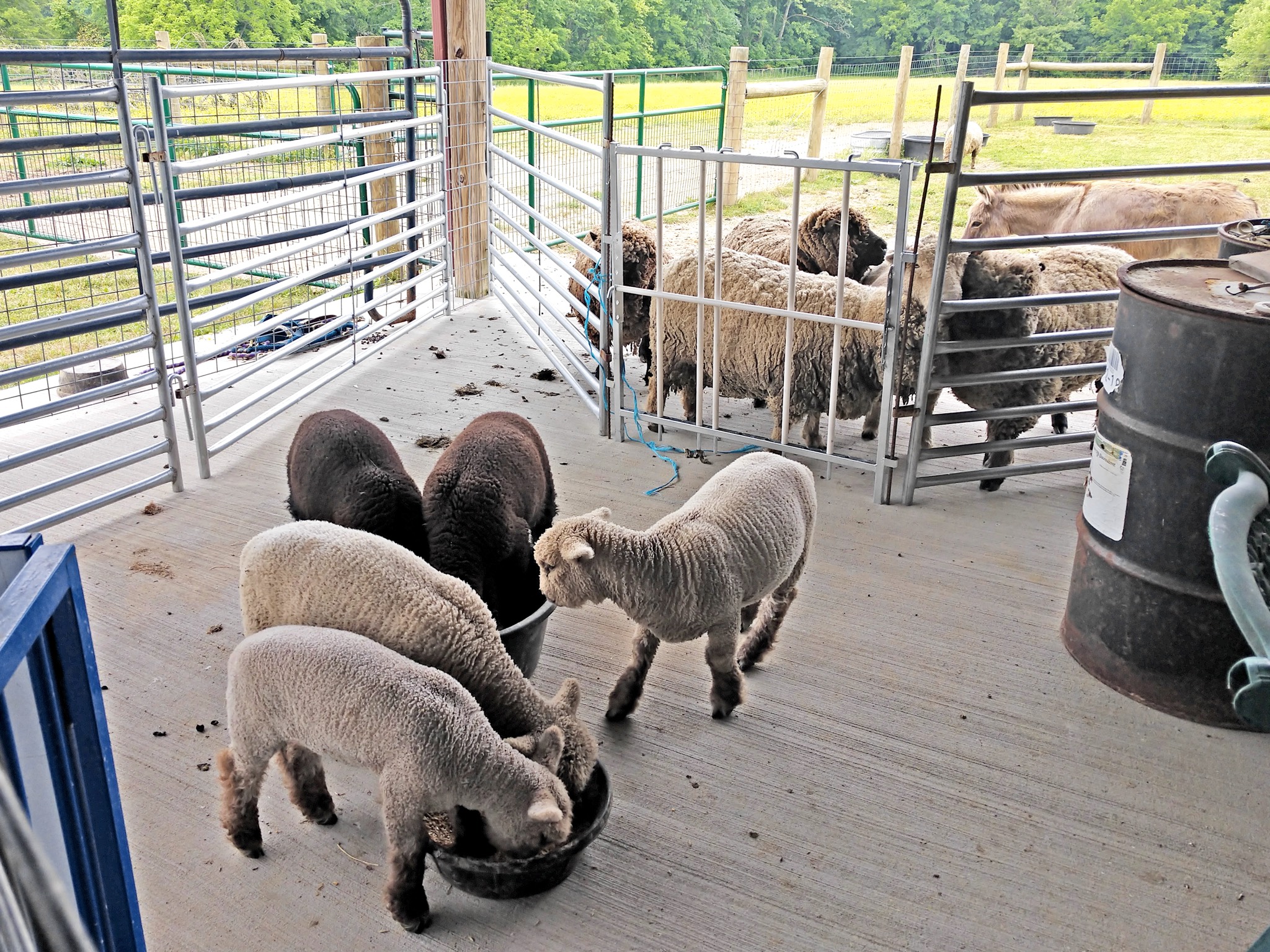 Creep Feeder Gate
David B from Minnesota
Great value and lasts a long time. I now have two of these gates and they work great (have had one for about 5 years already and there's no end in sight for its condition). The ability to change the height bar and the width of the opening as the lambs grow has been a game changer.
Creep Feeder Gate
Doni P from North Carolina
This creep gate is heavy duty and will last a very long time. It works very well and is fully adjustable. I bought two, one for the doelings and one for the bucklings. The gates keep out the large goats and allows the kids a refuge to rest and eat grain. We used cattle panels to make a large area for them. Fast shipping and high quality! I highly recommend.