Gambrel Restrainers
(11) Read reviews »
Simple, clever device. Restrains adult sheep and goats by holding neck and front legs alongside each other. Without the use of its front feet or the ability to raise its head, the animal is immobilized.
Common Uses:
For trimming hooves or tagging ears.
For transporting individual animals on ATV's and ATV trailers.
To take the "fight" out of lambing and kidding females when you need to intervene and/or leave the animal to go for extra supplies. Nearly as useful as a 2nd person (but less expensive and less interesting).
Easy to carry by hand, waist belt, ATV, motorbike or horse.
Data
---
Specs
4-1/2" neck opening
For adult sheep and goats
Made of nearly-indestructible polycarbonate
---
How to Use
Place the gambrel over the animal's neck.
Slide legs into footholds, one on each side.
Guide string under neck and secure. What's the string for? Extra security when you need to restrain an animal for longer periods. Also handy for attaching the gambrel to an ATV.
Any livestock restraint may cause some degree of stress, but they do not cause pain to the sheep when used properly.
Accessories
Listed below are recommended optional components or related items. Your particular situation may require alternative recommendations. Please call and talk to our consultants if there are any questions at 800-282-6631.
Reviews

(11)
Write a Review
You must be logged in to leave a review. Please sign in.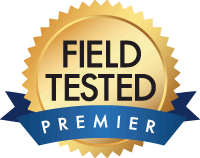 In 20 years of use on Premier's farms, very few have ever broken.
Gambrel Restrainers
Damian H from Texas
I bought the large one but it was smaller than I expected. It is too small for some of my yearling rams, but works well on lambs and ewes.
Gambrel Restrainers
Heather B from Kentucky
This wonderful contraption is like having another man on the job. I have been able to do nearly all our flock maintenance on my own with the handy help of this restraint. Absolutely love it! Would make this a must have recommendation for anyone, even those with only one head of stock. Will be buying more of all sizes.
Gambrel Restrainers
Roselyn J from Texas
Works great for solo handling.
Gambrel Restrainers
Dacelle P from Kentucky
I bought both the large and the small, I am a mixed animal veterinarian as well as a sheep & goat farmer… Well, my 50% of my Katahdins come right out of this thing. The small is too small and the large is too big for my ewes. I also have Nubians, they seem to be more agreeable to the device, but they do not love it. Mine have not broken and they have seen some wretched ram / buck fights, so in my temperatures of use, it has proven sturdy, but only the bigger rams seem to give up to the device after a hard struggle. I generally work the animals by myself, so this is useful, but I have to get creative to make it actually stay on and in place. I have used them on farm calls and not had much problem with them on Babydolls, Dorper, Cheviot, Suffolk, etc… they were all much better behaved in the Gambrel than mine, they also had much thicker coats and were worked with an assistant to help calm them. SO, I will neither recommend nor dissuade anyone from trying one, they are about the cost of a dinner in town, so you're not out much if you try one and don't like it. I don't love mine yet, but I am keeping them, they aren't my go to restraining device.
Gambrel Restrainers
Cheryl G from Ohio
Worked just as advertised when I needed it for a ewe while lambing. But mine broke when used while treating a ewe with a sore ear. She was not impressed and had the umph to prove it. Got less than a year out of it. Can't decide whether to buy another one or not.