Videos & Data
---
Specs
Outside temperature range: 40–80°F
Size: 4" length x (Front: 2" width, Back: 2 1/4" width) x 1" height
Contains wax, colorants and inert excipients; no toxic components
Metal cotter pin (hidden under the label) comes with each crayon
Plastic case protects crayons during transport
Compatible with Premier's Deluxe Marking Harness, Nylon Breeding Harness or Cross Your Heart Leather Breeding Harness. (Harnesses sold separately.)
Marking Crayons Compared
 
Premier
EZ-Mark®
Crayons
Nettex
Cold/Soft
Nettex
All-weather
Nettex
Hot/Firm
Temp. Range:
40–80°F
25–65°F
40–85°F
85°F+
Colors:
Red, Blue, Green, Orange, Yellow, Black
Red, Blue, Green, Orange, Yellow, Black
Red, Blue, Green, Orange, Yellow, Black
Red, Blue, Green, Orange, Yellow, Black
Price (ea):
$4.70
$6.25
$6.25
$6.25
---
How to Use
Change crayon color every two weeks to narrow down if/when an animal was bred, or re-bred.
How to take off the protective plastic cover:
Hold in one hand so crayon itself is facing you
Push the crayon (hole in the center) with finger or thumb
Crayon should pop out
How to install crayon into harness holder:
Remove cotter pin out of back of crayon by making a slit down middle of sticker
Place narrow end of crayon (plastic side down) in wide part of holder
Gently slide up until it can go no further
Slide cotter pin through holes on side of holder and crayon
With needle nose pliers, bend end of cotter pin to lock in place
---
Precautions
The shade of the marks on wool may not exactly match the crayon color.
Store in a dry, cool place to prevent crayons from melting.
Always check the ram every day to see if the crayon needs changing or the harness needs adjusting!
---
Troubleshooting
Remove protective plastic case before use.
Accessories
Listed below are recommended optional components or related items. Your particular situation may require alternative recommendations. Please call and talk to our consultants if there are any questions at 800-282-6631.
Reviews

(64)
Write a Review
You must be logged in to leave a review. Please sign in.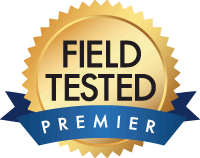 Why no hot and cold crayons?
We have been using EZ-Mark® Crayons for several years on our own farms in southeast Iowa with good success. (Weather in Iowa can change quickly between very cold and very hot.) It has puzzled us that some have indicated the same good results while others have expressed disappointment.
Regardless, enough folks have expressed frustration—especially in hot or cold climates—that we felt an alternative must be offered. So we brought in marking crayons from a reputable UK manufacturer.
COLD/SOFT
and
HOT/FIRM crayons
are available from Nettex for folks who want to try a different brand.
EZ-Mark® Marking Crayons
Rhonda H from Idaho
These crayons are just OK. They are very soft, and depending on the weight of the ram can be gone after about a dozen ewes. We only use them to determine 2nd cycle for ewes that might have not bred 1st cycle, or for a very small bunch that we can check often. Less expensive, but there's a reason why.
EZ-Mark® Marking Crayons
Janet P from Colorado
Clip is hard to use. The ends of the clip need to have one end longer than the other so it's easier to bend on the harness. Color only seems to last through 2 ewes. I like the price but the product could use some improvements.
EZ-Mark® Marking Crayons
Gillian F from New York
Fits easily into the harnesses. Too soft for warm temps, rams wore off all the chalk in the first 4–5 days of a new color even at temps less than 80°F. Because the ends of the locking cotter pins are even with each other it makes it very hard to bend the pin to keep it from falling out, the Nettex brand of chalk has the ends different lengths so it's easy to bend one.
EZ-Mark® Marking Crayons
Lynn B from Ohio
The pin to hold the chalk in the harness is a lot harder to bend than the Nettex brand, but I find the chalk doesnt fall out as easily. The chalk is more securely attached to the base it comes with (I have had the Nettex brand chalk fall out of its base. (Not the harness connection point, the actual base that the chalk is attached to.)
EZ-Mark® Marking Crayons
Crystal B from Tennessee
Great crayons! They mark well and brightly! It's important to peel off the plastic cover first. :) We use them every time we work our sheep! Great to keeping us knowing who has been "done". Enjoy!