PermaMark™ Tattoo Outfit, 5/16"
(9) Read reviews »
Permanently tattoos the inside of an animal's ear. It's a reliable identification method vs. ear tags which can fall out or be torn out.
Outfit includes:
Pliers
3 oz black paste
5/16" digits (0–9)
Videos & Data
---
Specs
Outfit includes:
Pliers
3 oz black paste
5/16" digits (0–9)
Pliers hold up to 5 digits and/or letters. Note: Digits and/or letters sold as sets only.
---
How to Use
1. Apply ink to ear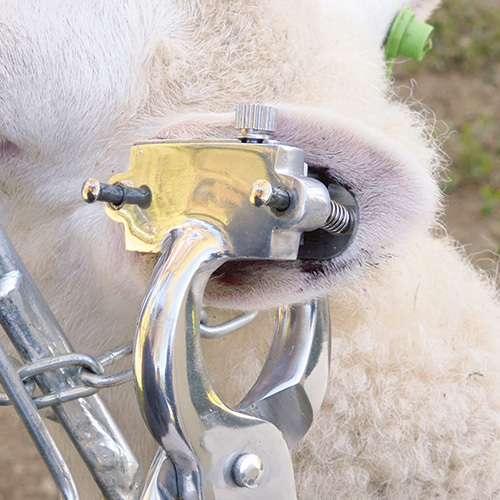 2. Insert and lock digits
Pliers hold up to 4 digits and/or letters. Firmly "apply" to the inked site.
---
Precautions
Only PermaMark brand digits and/or letters can be used with PermaMark pliers.
Not interchangeable with Stone brand digits and/or letters.
Accessories
Listed below are recommended optional components or related items. Your particular situation may require alternative recommendations. Please call and talk to our consultants if there are any questions at 800-282-6631.
Reviews

(9)
Write a Review
You must be logged in to leave a review. Please sign in.
PermaMark™ Tattoo Outfit, 5/16"
Victoria J from Idaho
First time ever tattooing a cow! Ordered this set as it was reasonably priced and had everything we needed. We ordered an additional set of letters as well. Worked like a charm, very easy to use!
PermaMark™ Tattoo Outfit, 5/16"
Donna E from California
The product works sufficiently in my already owned tatoo device. What the 5 stars for is the help I got from the sales rep. I talked with her once. Then I hung up to compare prices, when I called back it was 5 o'clock their time and almost everyone was gone. One of the remaining employees was my girl! She took the time again with me to make sure I had the correct product and did not sound like she was anxious to go. She treated me as if I was her first customer, not her last. I would recommend this company!
PermaMark™ Tattoo Outfit, 5/16"
Crystal D
This is a great tatooer for goats, especially if you are going into the tail web or dealing with small, tight ears on Alpines or Nigerians. If you are doing cattle or strong goats get the bigger set as this tatooer is not super robust. Get someone to hold the animal while you tatoo if you can - I don't have help and I noticed with the animals jumped when I was applying the tatoo it could cause the individual letters/numbers to move some. So I have kind of a wobbly K in my show goat's ear. However, the letters are so small that if you screw up a tatoo...you have plenty of space to redo it so the vet doesn't tell you its illegible when you try to get a health certificate. I have it. I like it. I will continue to use it on my French and American Alpines.
PermaMark™ Tattoo Outfit, 5/16"
Melissa M from Indiana
Purchased this item to tattoo cattle, chose it so we could fit all 5 characters on one line. Letters are very small and hard to make out and a couple of the ones I purchased in a second letter set had missing prongs. Would definitely not recommend using on cattle! On about the fourth use, one young calf jerked and broke the tabs that hold the letters in place and those can no longer be used. Overall not very durable and lower quality than hoped for. Might be okay to use on our boer goats and smaller livestock.
PermaMark™ Tattoo Outfit, 5/16"
Christopher E from Indiana
We needed a tattoo gun that had the ability to hold 5 letters, and the smaller size of this one did the trick. Also with smaller size of the gun my wife was able to grip it comfortably in her hand. The smaller size made it easier to fit in the ears of our weenling Boer goats. This is a great tool for what we needed.