PortaTrough™ 3
(18) Read reviews »
Heavy-duty 3 ft feeder used to provide grain, minerals, salt or water to animals. Portable for easy movement and stackable for storage.
Need a larger trough? See PortaTrough™ 5.
Data
---
Shipping
Please contact us for a shipping quote to AK, HI, Canada or Mexico.
---
Common Uses
Used to provide feed to a ram or two on pasture or to feed a small pen of show lambs or goat kids.
Excellent all-purpose trough for birds and small animals works well for providing feed or water to waterfowl (which consume case quantities of water!)
Feed livestock protection dogs and puppies without worrying about the feeder being tipped over by a playful puppy (or ewe).
---
Specs
Made of Polypropylene
Measures 34" long by 12.25" wide at bottom
Measures 32.25" long by 10" wide at top
Depth is 5.25"
4.5 gallon capacity
---
Benefits
Difficult for animals to tip over.
Stackable for easy movement and storage.
Side handle allows it to be inverted with a toe to tip out water or ice.
High sides prevent feed from being knocked out and wasted.
Won't break if water freezes in it.
Rounded inner base is slick so sheep and goats dislike stepping in them.
Depth of water allows waterfowl to bathe their heads to their eyes and nostrils.
Accessories
Listed below are recommended optional components or related items. Your particular situation may require alternative recommendations. Please call and talk to our consultants if there are any questions at 800-282-6631.
Reviews

(18)
Write a Review
You must be logged in to leave a review. Please sign in.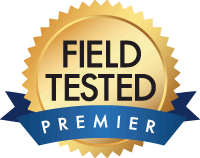 PortaTroughs fit in the back of an ATV so they are very portable. Lighter than a wood trough and they won't rot. The times we've managed to break one of these was after driving over it with our tractor (not advised). We've used these to provide feed/water for ducks, geese, puppies, sheep, goats and chickens.
PortaTrough™ 3
Ann P from Western Washington State
I bought this for all of our wild critters that we feed. The handle makes it very easy to carry, it is deeper than I thought, but it is working out really well. I do have concern about rain since it is outside, but we will see what happens. Very sturdy. The squirrels have not been able to tip it over! The cutest thing so far has been one of the wild bunnies sitting it the trough eating. SOOO CUTE!
PortaTrough™ 3
Gina S
Easy to use, easy to clean, keeps the poultry happy.

I bought one of these, and liked it so much I went back and bought another. I have an "accidental" pet duck in my laying flock of chickens, and I was looking for something easier to keep clean and sturdier than a kiddie pool.

Not only does Bernadette The Weather Duck® (she has her own Facebook fan page, silly thing!) love the troughs, but the chickens do, also.

And, as usual, great service from the team at P1. Love your products, and your catalog is Victoria's Secret for hobby farmers. Can't wait to have room for goats.

Chickens are gateway livestock, aren't they?
PortaTrough™ 3
Kristen B
I have the older style of these. These have got to be one of the best, toughest feeders on the market. I love these! Really handy, light weight, portable... and SUPER durable!!! Hold up to being "moved around" by the livestock, freezing weather, being stepped in, banging them to remove snow, ice, etc. Drill tiny holes in them if you want to keep them outside all the time, for rain to drain out easily. These are one of the few feeders I've had that have held up against the stuff dished out by big rams, and overly eager ewes, etc. Lambs will step in them alot, but overall, the sheep don't like to step in them too much. Very easy to clean. I'd highly recommend them if you have various pens, paddocks or pastures where you have to feed a variety of animals in separate enclosures. You won't be disappointed in this product.