PowerLink™ 4.0
(90) Read reviews »
For instant in-field connections. Using a PowerLink™ is an easy way to gain entry to an electric fence without turning off the energizer. Our farm vehicles always carry several because we never know when or where we might need to fix or connect a fence.
Videos & Data
---
Benefits
Large, stainless steel teeth firmly grip conductors
Excellent metal to metal contact for pulse transfer
---
Specs
30" and 48" long
Stainless steel tips
Plastic, UV treated clips
---
How to Use
Squeeze handles of one alligator clip to open jaws, then let metal "teeth" snap closed onto non-electrified conductor or netting. Release handle.
With other alligator clip, squeeze the plastic handles to open jaws, then let metal teeth snap closed onto the electrified conductor or netting. Release handle.
Accessories
Listed below are recommended optional components or related items. Your particular situation may require alternative recommendations. Please call and talk to our consultants if there are any questions at 800-282-6631.
Reviews

(90)
Write a Review
You must be logged in to leave a review. Please sign in.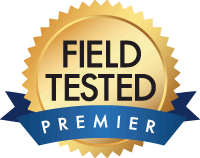 Each farm vehicle has a set or two of PowerLinks riding along with it because we find them so useful. They make for a quick fence connection and since we're always moving netting around on the farms these have become an essential part of our grazing operation. They grip thicker conductors very well and are just easy to have on hand. For some folks the metal contact points don't have enough teeth for smaller insulators (MaxiShock and IntelliTwine) but they work for us.
PowerLink™ 4.0
Kristine K
Working very well with my electronet which I connect to my high tensile. They seem to be well made and provide a great connection. I am also pleased with the short time it took for Premier to send the order to me!
PowerLink™ 4.0
Wendy/alan B from Maine
Very handy for powering temporary fence. Nice, strong clips which should last longer than the smaller varieties.
PowerLink™ 4.0
Melody P from Northern California
I havn't found any other product that even comes close to this. It works so much better than alligator clips.
PowerLink™ 4.0
Dennis B from Missouri
Good product, I use them all over the farm as I use polywire a lot for subdividing fields into paddocks. I only get a year or two usage as the UV sunlight makes the plastic brittle.
PowerLink™ 4.0
Peter P from SoNH
I have used all versions of these since netting became readily available 15 years ago. I still have 5-6 working with the alligator clips. Re soldered a few broken connections but working fine. Some of the earlier red plastic versions did discolor and crack after a year or 2 so I salvaged the good pieces, push out the white plastic hinge pin and reassemble with a good piece from another broken clip. Takes A couple minutes. Using about 3800 feet of net for pasture subdivision of ckickens, ducks, sheep, lambs, Herefords, and Maremma's I need 20 of these working and for $4 can manage to keep a couple new ones on the shelf. Another tip, I use a dab of silicone RTV where the wire comes out of the notch on each clip. Got a nice bite from 12 joules where the insulation had cracked due to use and it keeps the wire from disconnecting due to any strain.