PrimaGate™ 2
(11) Read reviews »
Modular aluminum gates customized to suit your livestock application. Portable, lightweight panels are perfect for lambing pens, field gates and lanes.
Improved in 5 key areas…
2 ft modular design system. Cuts shipping costs. You can receive a 10 ft gate kit by UPS/SpeeDee. Orders over $100 ship FREE within the contiguous USA.
36" height (vs 41" on original design). Much easier to climb and reach over.
Horizontal supports are closer together to better contain lambs and goat kids.
360º Hinge reduces bulk by allowing panels to fold flat.
Universal Connecting Hinge connects panels together to form pens, or to attach other livestock handling equipment.
PrimaGate™ 2 (Item #913701)

Complete 4 ft gate includes: (1) left and (1) right end panel, (2) joining dowels, (4) bolts and (1) aluminum connecting pin.

PrimaGate™ 2 Extension (Item #913711)

Includes: (1) 2 ft center panel, (2) joining dowels and (4) bolts.
Videos & Data
---
Benefits
A sheep and goat farm can never have enough temporary gates—for lambing/kidding jugs; sick pens; shearing pens; short-term field gates; portable handling yards or to divide larger pens.
Connect several gates together for long, adjustable mobile barriers.
When used with the 360° Hinge, assembled panels will "accordion" or fold flat for convenient storage or transport.
The Universal Connecting Hinge enables panels to fold flat for storage or transport.
Lightweight. Half the weight of comparable steel bar gates/panels.
Heavy duty. Assembled gates are as sturdy as our original one-piece design.
Vertical top bars discourage jumping and reduce risk of animal injury.
36" height, tall enough to contain small ruminants, short enough for the shepherd to comfortably work over.
Redesigned animal-resistant pin connections. (Pins no longer "pop-out" unexpectedly.)
Won't rust. Aluminum always looks new.
Ships in 2 ft sections, to save $$ on shipping. Orders over $100 ship FREE within the contiguous USA.
---
Specs
Aluminum
36" tall
Interlocking tongue-in-groove panels (24"W x 36"H) can be assembled together to create 4', 6', 8' and 10' gates
Horizontal spacings: 2.75", 3", 3.5", and 4" (from bottom to top)
---
How to Purchase
Determine total length of panels needed. Choose increments of 4 ft, 6 ft, 8 ft or 10 ft. To make panel lengths greater than 4 ft, center Extension Panels must be used with PrimaGate 2 end panels.
Item
Qty. to Purchase for…
4 ft
6 ft
8 ft
10 ft
#913701
PrimaGate™ 2
1
1
1
1
#913711
PrimaGate™ 2 Extension
0
1
2
3
---
How to Assemble
Assembly required.
When assembled, left and right end panels interlock to make one 4 ft gate. Add one or more center panel extensions to increase gate length.
(Download instructions and/or watch video above.)
Remove black end caps. (A hammer/mallet and blunt chisel/screwdriver may be required to drive them out.) Place panels welded side up. Insert connectors in one of the panels. The bolt holes in the connector are offset, so make sure the holes are up when inserting. Partially thread the bolt into the connector through the slotted hole in the panel. Repeat this on the other end of panel.
Insert the attached connectors into the remaining half of the gate, making sure that it is oriented properly.
Squeeze the two panels together. Note: The two panels have a tongue and groove feature and they must interconnect. Thread and tighten all bolts.
Reviews

(11)
Write a Review
You must be logged in to leave a review. Please sign in.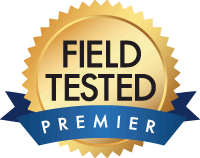 We designed the original PrimaGate in 2017 for use in our own 100-pen lambing barn. A year later, the gates look as new as the day they were installed. But our shepherds asked for several improvements: 1) Shorter in height—to ease reaching in and climbing over, and 2) Less space between horizontals—to prevent escape.
Our customers liked the gates, but disliked the shipping costs.
So we set out to solve both problems. The result is PrimaGate 2. It's a unique modular gate (assemble to suit) that is as sturdy as the original one-piece design.
PrimaGate™ 2
Deborah L from Missouri
I was hoping they were a little longer and were hard to put together.
PrimaGate™ 2
David B from Minnesota
I purchased these gates to use in my aluminum stock trailer to give me more options for penning sheep separately. The only thing that would improve things is if there were a shorter option available to fit exactly the width of the trailer, but I realize that isn't a reasonable expectation. Another nice option would be small aluminum connectors that could be welded into aluminum trailers for mounting. I was able to make do with the universal mount, but it took a bit of work to get it ready.
PrimaGate™ 2
Jane B from Virginia
Great products and even better customer service. The Prima Gates and accessories are top notch. I wasn't sure exactly what to get and someone there helped me figure it all out. Plus, the shipping and delivery was fast! I'm so happy I've found my source for the best products for my sheep!
PrimaGate™ 2
James D from Michigan
Great product, but it should come with two rod pins. Especially after you order the hinge set.
PrimaGate™ 2
Peter W from Missouri
Excellent customer service when ordering by phone. I was very pleased that the PrimaGate arrived 4 days before ETA. It is super easy to assemble and sturdy; perfect for temporarily penning up a new momma ewe with lambs.