Red Rubber Teats
(28) Read reviews »
Attach nipples to Bucket Teat Units to fed orphan lambs and goat kids. Rubber is more durable for sharp-toothed orphans than latex.
We've found rubber teats to be the better option for lambs and kids over 10 days of age—who become aggressive when nursing.
Videos & Data
---
Benefits
Tough and long lasting. Rubber will take more abuse from suckling lambs/kids, but they lack the "teat-like" feel of latex.
We prefer natural latex teats to get lambs started, and then switch them over to rubber teats after 8–10 days. Our goat kids prefer the long style rubber nipples over the short.
---
---
How to Use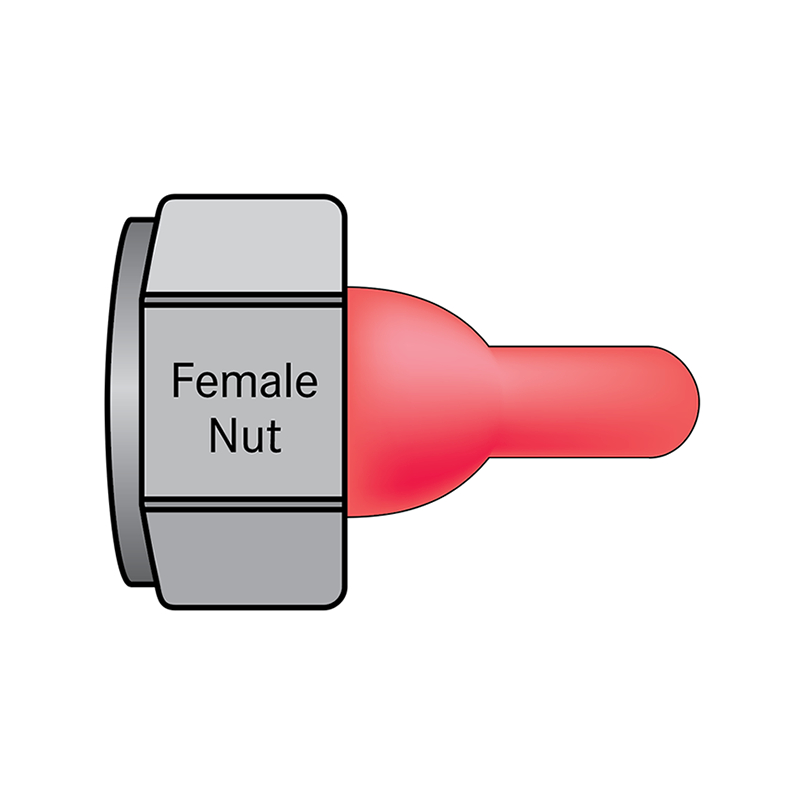 Figure 1
Insert the teat into the female nut portion of the gray bucket unit. Pull the teat through as far as it will go.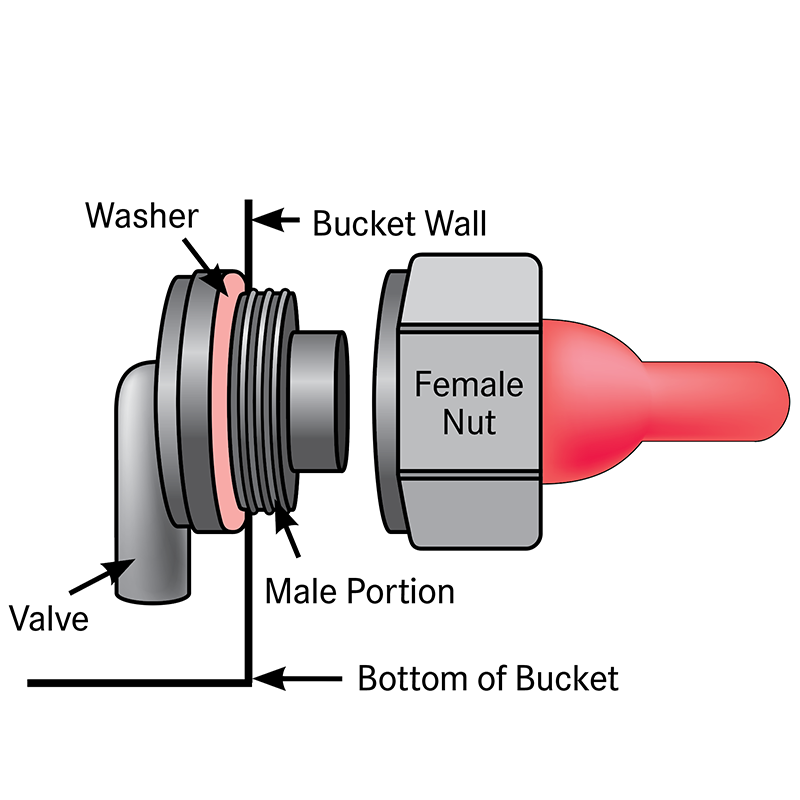 Figure 2
Insert the large male portion of the gray bucket unit into the hole of the bucket. Screw on the female nut (with the teat already inserted) onto the male portion.
---
Tips
Sharp-toothed lambs and goat kids may puncture rubber teats. Use a
Tooth File
to smooth the tips of the sharp tooth (teeth) with 4–5 passes. The goal is to remove the sharpness, not to completely file down the teeth.
(Note: Hungry barn cats may also be the root cause of nipple damage. Remove bucket feeders after use.)
If the milk flow seems too slow, take a Pocket Scalpel (or other sharp knife) and enlarge the "X" slit in the end of the teat. Be careful! Do NOT cut the end too large or the milk will constantly leak out.
---
Precautions
Store away from direct sunlight. UV light will break down rubber material.
Cannot be used on soda pop bottles.
Do NOT leave empty bottles or bucket feeders in the orphan pen. Lambs and kids will chew on nipples (in an attempt to feed) and damage the teats. A habit that is not easily reversed.
Accessories
Listed below are recommended optional components or related items. Your particular situation may require alternative recommendations. Please call and talk to our consultants if there are any questions at 800-282-6631.
Reviews

(28)
Write a Review
You must be logged in to leave a review. Please sign in.
Red Rubber Teats
Arden/rocky S from Kansas
Durable and easy to use.
Red Rubber Teats
Leanne A from Missouri
Difficult for very young kids but perfect teat for older kids, especially those that fight over the bucket teats. Durable and long lasting.
Red Rubber Teats
Caryl B from Virginia
I switch to these rubber nipples when the lambs start biting holes in the latex nipples, unless the lambs are particularly small, then I just sigh and keep replacing the latex nipples until they get a mouth big enough to use the rubber. The lamb seems to need to be a certain size mouth before they can use the rubber nipples. I also watch the lambs, to make sure all have managed to figure out the rubber nipples, before just hanging the bucket and walking away. I've also found that if the lambs are getting enough milk, that is when they tend to destroy the rubber nipples on me. I found it was important, if it is free choice milk, that the milk is always there. However, there was this one lamb who would go through a nipple in one use--I just elected to wean that lamb earlier and all was well.
Red Rubber Teats
Kirk & Kellie M from Texas
We have used these nipples for two weeks now and they are holding up fine. Our issue is that one was sent with a larger slit in the tip which has caused some consistant leakage. We would still recommend, they are working well for our six bottle babies. The system has lightened our work load.
Red Rubber Teats
William S from New York
I have also had problems with my goat kids chewing holes in these nipples. The natural latex has outlasted them at least 10 fold. Very few have lasted more than 24 hours. After speaking to a local sheep farmer, she said they had the same problem with their lambs. I believe the inflexibility of the rubber causes frustration in the lambs and kids, hence the chewing. I would not recommend. The natural latex nipples have been working great, so I'm ordering more to replace the rubber ones (they seal better, too... no tool needed). I also think the latex nipples may be more environmentally friendly (no dyes and lower carbon footprint in the manufacturing process).