Anti-Deer Barriers
The ever-growing deer population has created a demand for fences to keep Bambi and his persistent relatives from destroying personal and commercial vegetable gardens, fruit orchards, tree nurseries, tree farms, and in some areas, anything that's green.
As you might expect, developing electric anti-deer fences is an ongoing process—noting what works and what fails, trying new designs and components—all under varying conditions.
Why some deer fences work and some don't…
The only 100% deer barrier is an 8 ft tall woven wire fence or a solid wall. But these are both very expensive and very permanent. An alternative is electrified fences. They rely upon a painful shock to persuade deer to neither jump nor penetrate a fence. Because they aren't physical barriers, electric deer fences are dependent upon some key deer behavior principles: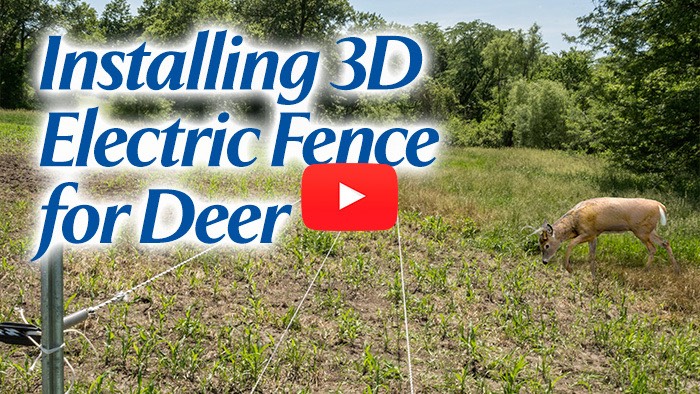 Deer, like us, are creatures of habit.
Where they choose to feed, rub, walk and breed are habits learned over time—a habit reinforced every time they do it safely. Suddenly fencing a deer herd away from an area or trail forces the herd to break a habit pattern. That is why the first day and first week of denial of use (by a fence) is critical if the fence is to succeed. Once a herd's daily pattern is broken, the change in feeding/walking/rubbing location is easier to maintain.
Deer make "risk-benefit" decisions about feeding sites, trails and rubbing trees.
Electric fences use pain to raise the "cost" (the degree of risk and effort to use an area) and persuade deer that it is safer and less frightening to feed, rub or trail elsewhere. When they are desperate they may risk the pain—which is why you can't keep out starving deer with electric fencing if the site is their only food source.
Electric fences work when deer have time to make a decision to avoid them.
That's why it's important to identify deer trails entering a new exclusion area and interrupt them with something physical (e.g. a brush pile) where the trail approaches the fence. Do this at the same time the fence is installed. Why? The trail change makes them tentative. So they move cautiously.
Don't hunt near the fence.
Why not? Because frightened deer don't make normal decisions. As prey animals they are easily spooked into leaping over or through fences. And once deer learn that they can jump the fence without pain, they're more likely to do so when not frightened, a habit that's costly to break.
Fence a small area first.
Why? The intent is to first change the herd's "habits." Install a new fence around a small area first. The local deer herd will encounter it, learn to avoid it and instead feed or rub in adjacent areas. Leave it in place for 2 weeks. Progressively expand the enclosed area until 100% is protected.
Deer interpret a fence in their terms.
Their world is black, white and shades of gray. Therefore, barriers that contrast with their view of the world are the most visible to deer—and likely to get their attention.
Anti-Deer Fence Designs:
(temporary/portable)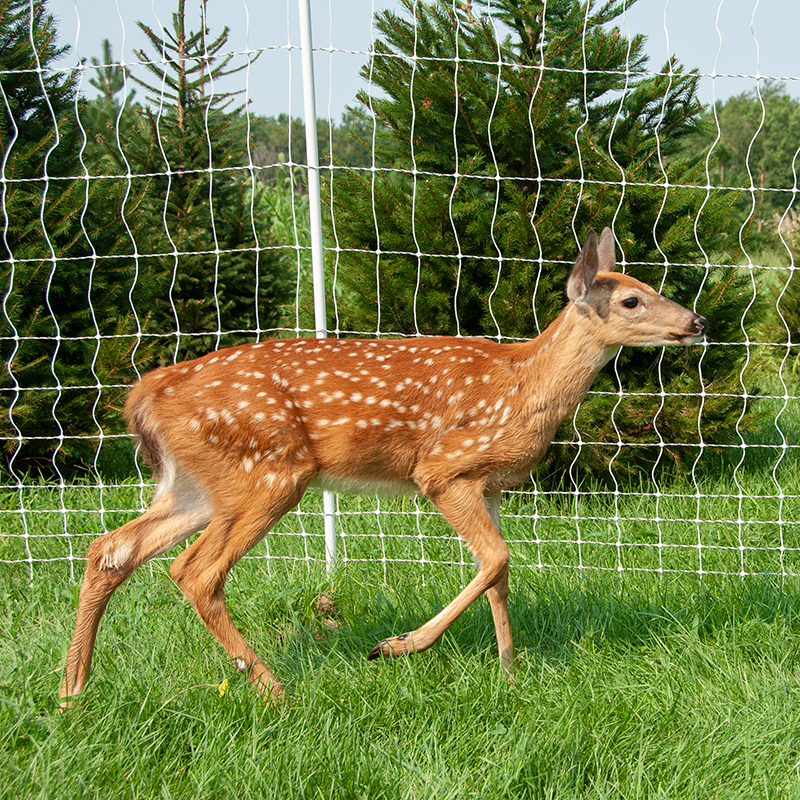 Quick to install and remove. When you need to frequently move the fence, temporary fences are the best choice.
(semi-permanent)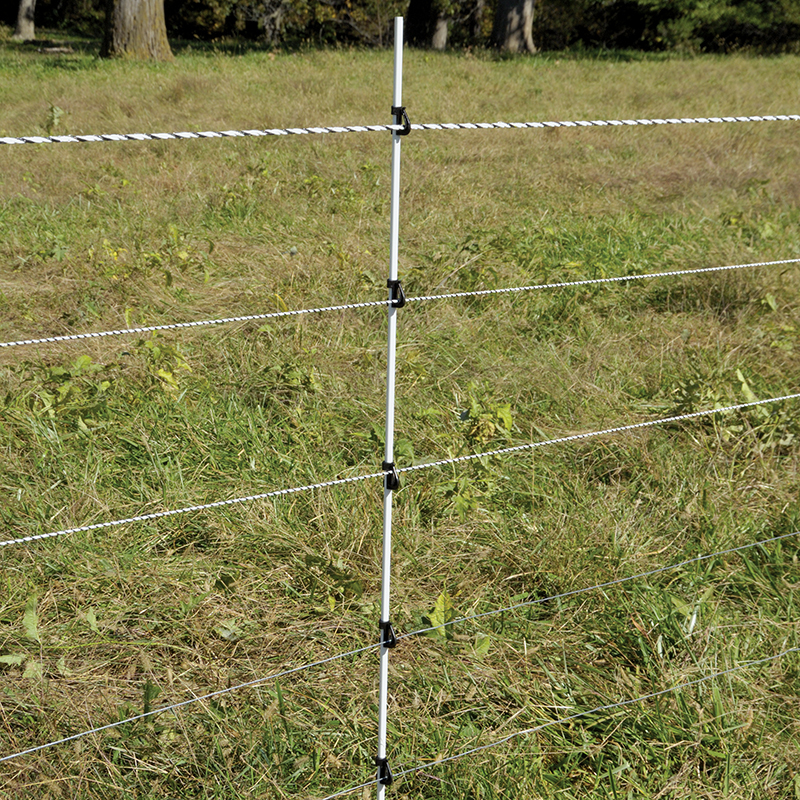 For areas where deer pressure is low-to-moderate. Multistrand fences are easy to keep free of vegetation. But deer are more likely to go under or over, compared to netting or 3D fences.
(permanent)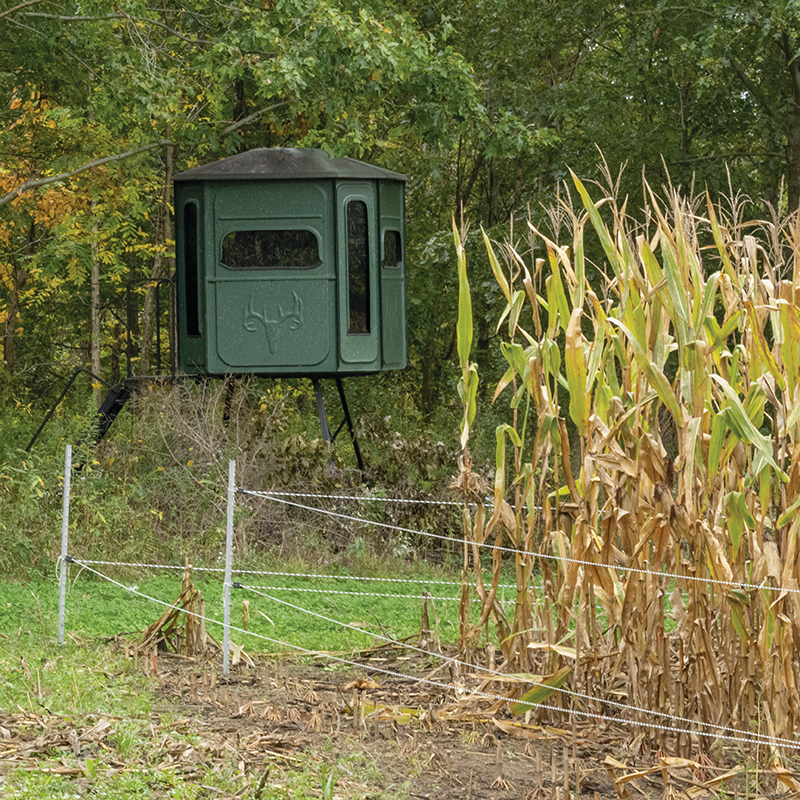 When deer pressure is high, install two parallel fences spaced 3' apart to provide both height
and
depth—hence 3D. Due to landing anxiety, deer will cautiously approach an unfamiliar fence and check it with its sensitive nose—and receive a memorable electric shock.
For gardens, flowerbeds, beehives and other valuable landscaping without deer pressure, look to Premier's garden and wildlife fences.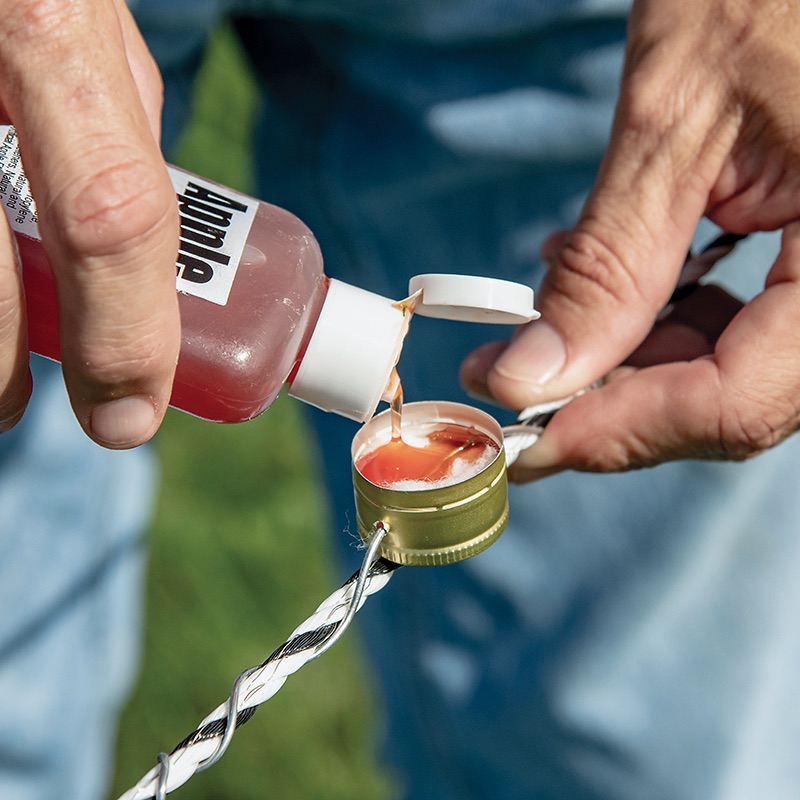 Don't forget to bait!
Deer must learn that an electric fence is a deterrent.
The best way to do this is to draw the animal in by
baiting the fence
. Once attracted to the apple scent, they will check the fence with their sensitive nose…and receive a strong electric shock. Baiting
(and rebaiting!)
your
scent caps
is worth it if you value the trees and plants that you are seeking to protect.
Putting it to use…
Premier recently visited Andrew Howard of Stark Bros. Nurseries to help install a 3D electric fence. An existing 2D fence was failing to protect a new orchard from aggressive deer.
3D fences work well in areas with high deer pressure and are adaptable to small scale plantings or for larger nursery operations like Stark Bros. Watch below for installation tips and tricks!
For safer electric fences:
Make them visible to humans and animals. Visibility is increased by contrast.

(That's why many Premier nets are black and white in color.)

Educate. Hang warning signs on all electric fences. Tell children to never touch it. Everyone should avoid head and neck contact.
Allow space for people and animals to walk easily along or around it.
Avoid high-output fence energizers (greater than 8 joules) unless they include delayed pulse technology. It's best not to use high-output energizers on short fences that have public exposure.
What NOT to do!
Never place your head or upper spine near an electrified wire. Accidental head or neck contact can occur when pushing a voltage probe into the soil. Be careful when doing so to avoid head-to-wire contact!
Never attempt to step over or climb through an energized fence of any kind.
Never encourage anyone to touch an electric fence.
Do

NOT

use an energizer that is labeled high impedance, continuous current, weed burner or weed chopper. We recommend only low or wide impedance pulse energizers.
Warning!
In 1991 an accidental fatality occurred when a young child's head contacted an electrified fence while the child was crawling on wet grass. The fence was correctly installed and functioning properly. The energizer was a UL approved unit. As a result, Premier strongly advises against allowing toddlers access to any electrified fences. Also, due to this incident and others, experts now suggest that human contact by an energized wire to the head and neck may be the most dangerous point of contact. We urge all to especially avoid this kind of contact.