Garden & Wildlife Barriers
Electric fence is an effective barrier to domestic livestock, dogs and many garden varmints. Premier's netting and multistrand fences are designed specifically to protect gardens, landscaping, orchards, tree plantings and beehives. They are used throughout our farms and tested year-round.
Installing a fence doesn't have to be intimidating. Many folks new to electric fence are "turned off" by terms like "voltage" and "conductors". Don't worry… Premier's on-farm staff will help you make sense of it.
Two basic design choices: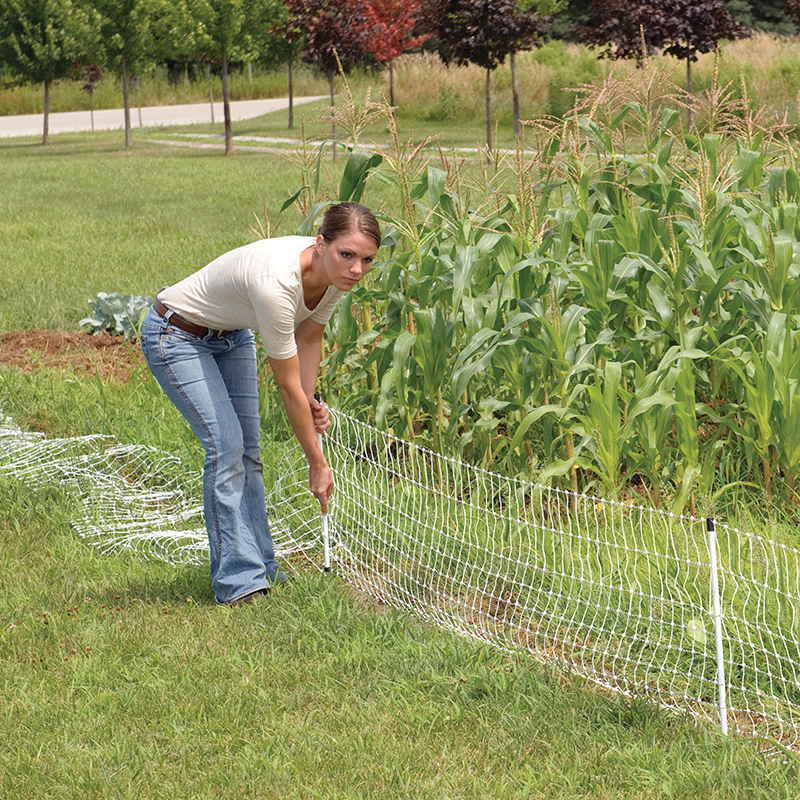 Prefabricated, portable fence that arrives to your door as a complete roll with the line posts already built in.
More expensive per ft than multistrand
Keeps out pesky garden critters such as deer, dogs, rabbits, woodchucks, raccoons, foxes, ducks, geese and chickens
Simple to install—most fences can be set up in minutes; needs no tools, strength or special skills
Pulse energy leaks away if the fence line is not mowed or sprayed when grass grows into the lower strands
LEARN MORE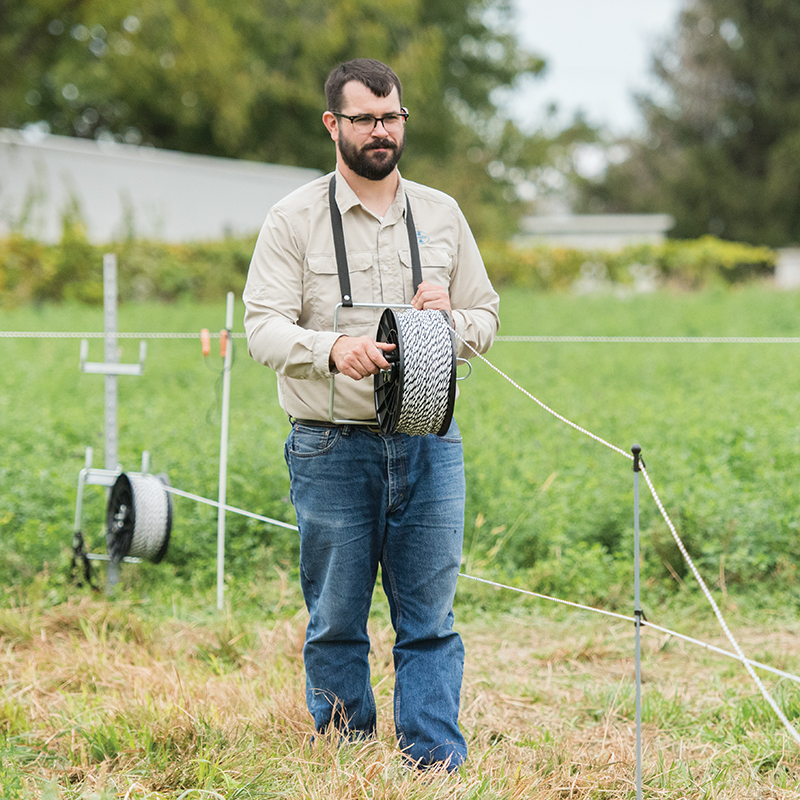 You install the line and corner posts and then string conductive rope, twine or tape at various heights.
Much lower cost per ft—which is important for long fences; cost varies according to number and type of strands, spacing and type of posts
Can be as effective as netting when fencing out larger species, but it's often less visible
Because strands are higher above the soil it is less prone to problems with growing weeds
More prone to installation errors
LEARN MORE
A fence will not do something for which it not designed. Electric fence is a pain barrier, not a physical barrier. A common mistake is not electrifying it. When an animal sees an unfamiliar fence, they are likely to approach it cautiously. They will check it with their sensitive noses and receive a memorable electric shock. The pain encourages the animal to find a less risky "meal", trail or bedding ground.
VersaNet® Plus—Protect your garden in minutes!
Raccoons, woodchucks, rabbits, dogs and other small critters are a common nuisance for gardeners. VersaNet® Plus stops them in their tracks, allowing your garden to thrive.
Key features:
Protects gardens and landscaping

Deters most ground-based garden varmints. Can also be used as a barrier to ducks and geese.
Sets up in 10 minutes. Because it's temporary, you can easily remove the fence after the growing season—no more unsightly chicken wire to wrestle.

No tools needed!

Arrives to your door as a complete roll with the line posts already built in. Posts can be inserted and removed by hand in most soils.

Choice of colors:

White/black for optimal visibility, or green/black for blending in with the environment.

Choice of height: 20", 30" or 60"

VersaNet® Plus can be matched to your situation. For areas with low deer pressure, choose 20" or 30". Most adults can easily step over it. (Turn off the energizer first!)
20" tall
Easy to step over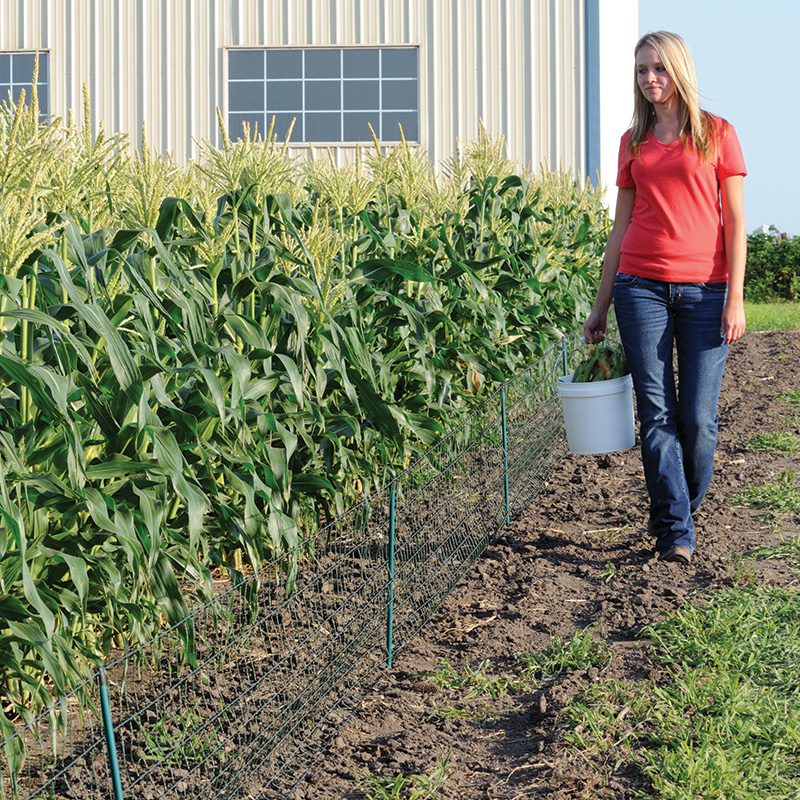 Keeps out rabbits, groundhogs, opossums, small dogs and other garden varmints. Protects your valuable plantings!
---
30" tall
Stop (or contain) dogs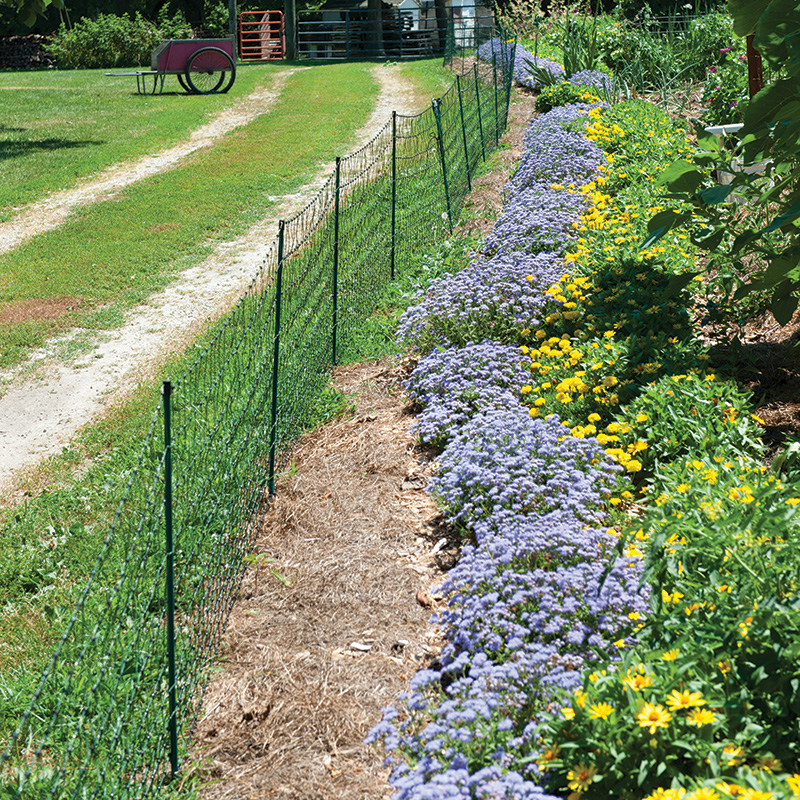 Increased height offers better visibility to passing animals, providing more deterrent. Better able to stop (or contain) dogs.
---
60" tall
Anti-deer netting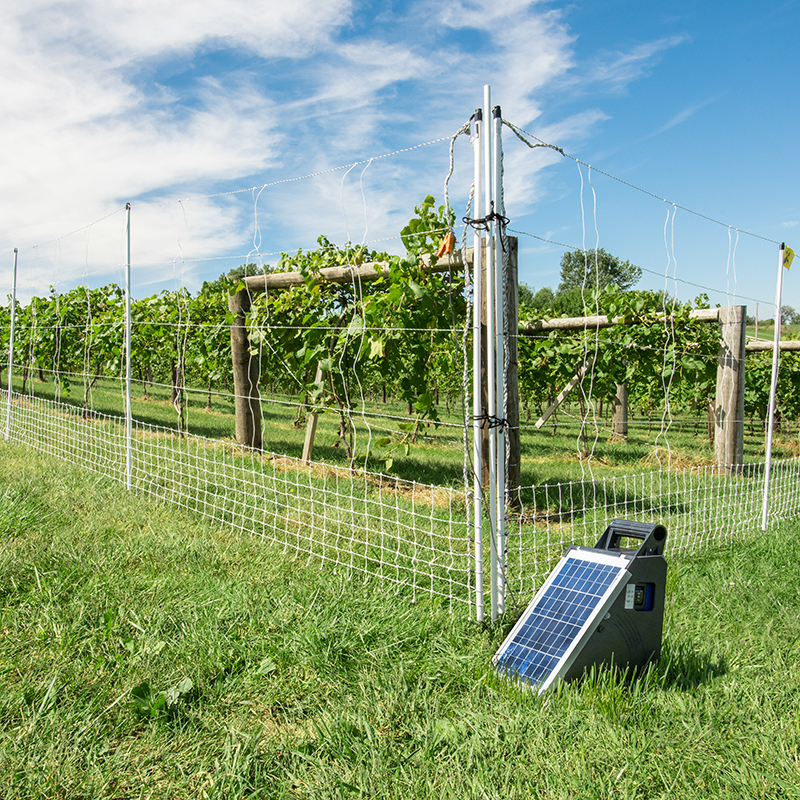 Deters large or athletic species of livestock, deer, bears, dogs, wild pigs and coyotes. Works well for orchards and vineyards.
---
A 100 ft roll of netting can be quickly installed around a 25'x25' garden. For longer fence lines, multiple rolls can be connected together to increase the fence length.
You will need a fence energizer to electrify the net. Plug-in or solar options are available, or choose a complete starter kit, which includes all the essentials for folks new to electric netting.
Note: Lightweight garden varmints, such as squirrels and chipmunks do NOT make good foot-to-soil contact. As such, these critters won't receive a memorable shock. Squirrels are especially cunning; they often jump onto the fence without making any ground contact. Without ground contact, an animal won't be shocked. (This is why birds can perch on power lines without being electrocuted.)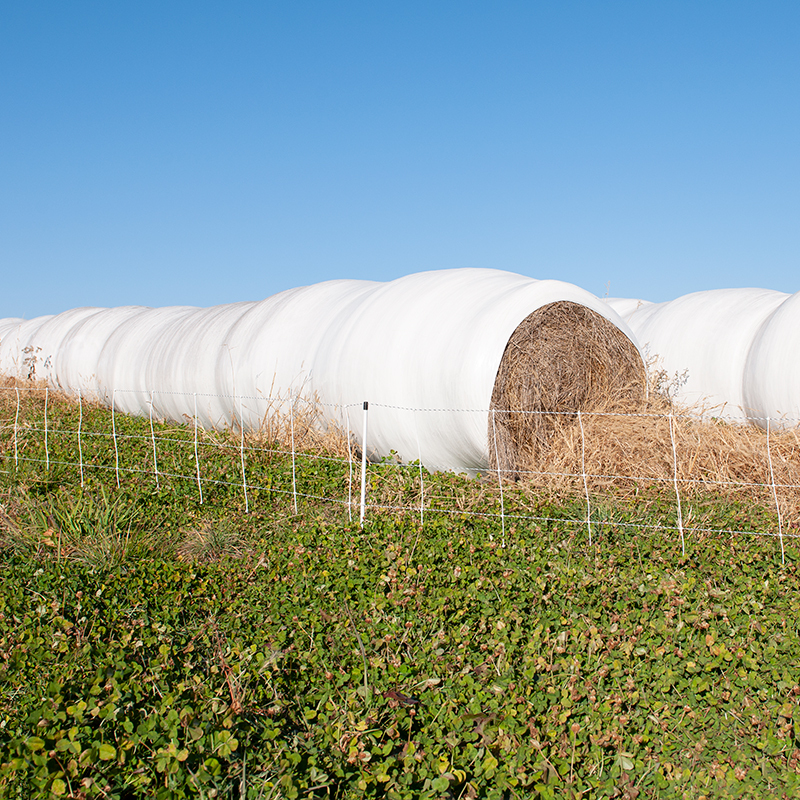 Raccoons are notorious for their addiction to sweet corn and wild berries. And they love to bed in grain cribs and wrapped silage. They can (and do!) destroy months of work in a single night. RaccoonNet® protects:
✔ Sweet corn plots
✔ Berry patches
✔ Corn cribs
✔ Wrapped silage
LEARN MORE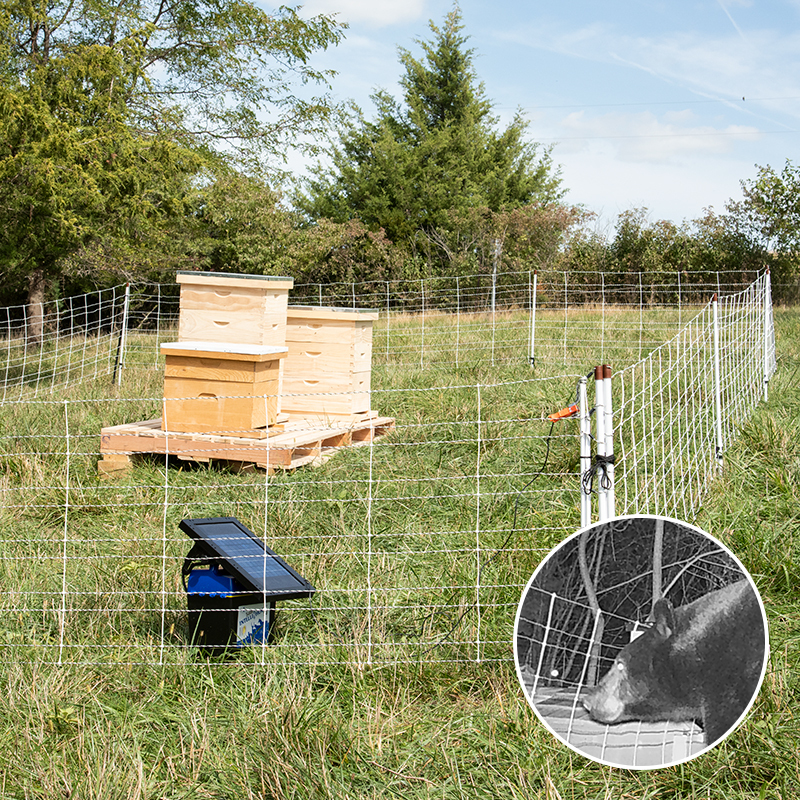 Stops bears. Really! Bears have excellent paw-to-ground contact (low resistance) and they are effectively shocked by electric fence. QuikFence® can be used as a Pos/Neg fence, which increases its success rate in dry conditions.
✔ Protects beehives
✔ Backcountry campsites
✔ Low-strand disconnect
✔ Pos/Neg capable
LEARN MORE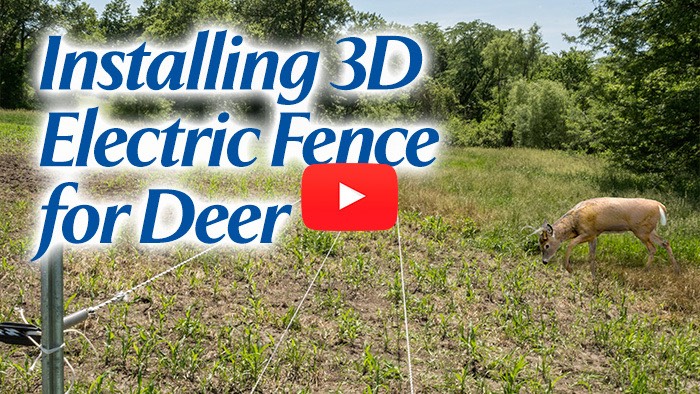 An electrifiable semi-permanent or temporary anti-deer fence with pre-installed line posts.
Multistrand fences are an effective barrier when deer pressure is low to moderate. Deer can jump 48", so we prefer tall fences. The animal's first encounter must be memorable—invest in a strong fence energizer.
Deer have "landing anxiety" before they decide to jump over something. When facing a fence that has height, length and depth, deer are more tentative than with a fence that's only "2D" (tall/wide, but not deep). 3D fences have proven record protecting food plots, orchards and tree nurseries from deer.
Deer must learn that any fence is a deterrent. The best way to do this, in addition to a memorable shock, is to draw them in by baiting the fence. Once attracted to the apple scent, they will check the fence with their nose…and receive a strong electric shock.
To Reduce Risk and Liability...
Are electric fences a serious safety risk to humans?
Because touching an electric fence is painful and the voltages are high, most assume that the risks from an energized fence must also be high. That's a myth. Consider that millions of people throughout the world are "exposed" to millions of electric fences every day—yet they are involved in (but are not always the cause of) less than one human death or serious injury per year worldwide. Compare that to the number of annual injuries and deaths that occur from human exposure to tractors, skid loaders, ladders, PTO shafts, balers, mowers, combines, bulls, stallions, rifles, shotguns, knives, etc. This is not to suggest that there is no risk at all. There is, indeed, a small level of risk. And with risk, there is also liability to the fence's owner.
For safer electric fences:
Make them visible to humans and animals. Visibility is increased by contrast. (That's why many Premier nets are black and white in color.)
Educate. Hang warning signs on all electric fences. Tell children to never touch it. Everyone should avoid head and neck contact.
Allow space for people and animals to walk easily along or around it.
Avoid high-output fence energizers (greater than 8 joules) unless they include delayed pulse technology. It's best not to use high-output energizers on short fences that have public exposure.
What NOT to do!
Never place your head or upper spine near an electrified wire. Accidental head or neck contact can occur when pushing a voltage probe into the soil. Be careful when doing so to avoid head-to-wire contact!
Never attempt to step over or climb through an energized fence of any kind.
Never encourage anyone to touch an electric fence.
Do

NOT

use an energizer that is labeled high impedance, continuous current, weed burner or weed chopper. We recommend only low or wide impedance pulse energizers.
Warning!
In 1991 an accidental fatality occurred when a young child's head contacted an electrified fence while the child was crawling on wet grass. The fence was correctly installed and functioning properly. The energizer was a UL approved unit. As a result, Premier strongly advises against allowing toddlers access to any electrified fences. Also, due to this incident and others, experts now suggest that human contact by an energized wire to the head and neck may be the most dangerous point of contact. We urge all to especially avoid this kind of contact.