Hoof Trimming and Foot Care for Sheep and Goats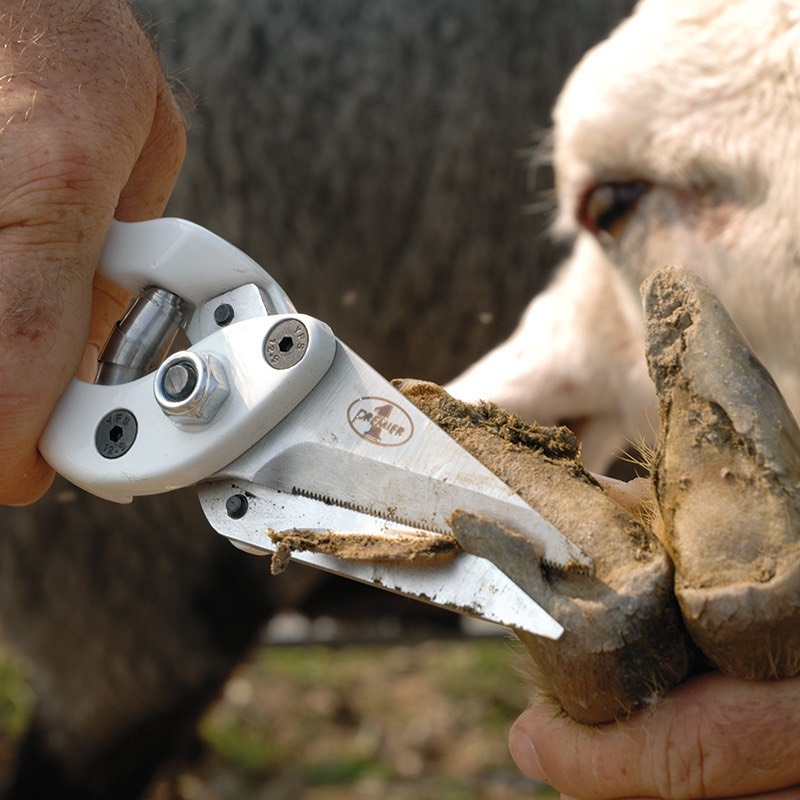 Many choices—because hoof or foot trimming circumstances vary:
Large hands?

You may like The "Premier"™ or ARS Hoof Shears.

Small hands?

You may prefer the ARS 140DXR, ExoTrim™ or ExoTrim™

BLUE

.

Most comfort?

The ExoTrim and ARS trimmers are viewed by many as equally comfortable to use.

Animals with very hard or thick hooves?

Choose trimmers with serrated blades. Serrated blades "grip" hard hooves when cutting force is applied—eliminating slippage. The disadvantage? Serrated blades cannot be resharpened.
Hoof Trimmer Comparison Chart
Length—How to choose?
The shape and length of the handles help determine the hand strength required to squeeze the trimmer. Maximum leverage isn't always desired; many shepherds prefer comfortable trimmers that fit their hands for all day use.
Longer blades may reduce the # of overall cuts needed; blades longer than 2" can clear most hooves with one cut
Shorter blades are better for precision work
Shepherd's Choice™ Management Tip
If a sheep seems to have difficulty or reluctance walking, check their feet.
Sheep and goats hooves are made from the same hard and tough protein (keratin) that comprises human fingernails. Hooves will continue to grow throughout an animal's life and must be routinely trimmed to prevent infection. Left unchecked, the hoof wall may begin to curl or grow irregularly, which can create painful walking conditions.
Premier's
Deck Chair
or
Trimming Stand
can be used to restrain the animal prior to trimming. Be sure to clean out accumulated dirt and debris that may be caught in their feet.
Always disinfect trimmers between animals to prevent spreading diseases.
---
For treating scald and footrot…
Footrot is a highly infectious disease that can affect ruminants (e.g. sheep, goats and cattle.) It's caused by a bacterial infection and typically occurs in periods of warm, wet weather. In addition to humid conditions, overgrown hooves can also make footrot infections more likely. It is a common cause of lameness and may result in serious economic loss. Once present in a herd/flock, footrot can be very difficult to control.
Zinc Sulphate vs. Copper Sulphate vs. Formaldehyde?
Zinc Sulphate (Premier FootCare or Hoof 1-2-3)—we rely on it in a Premier SureFoot™ Foot Bath for mass treating and preventing footrot and/or foot scald. But it takes longer exposure time (10 minutes) to "work" than other options.
Copper Sulphate—effective and quick. Corrodes metal gates (and even the nails and screws in wooden gates). Thus we use it only for topical treatments like FootCure™.
Formaldehyde—kills bacteria rapidly. Can make hooves brittle. Poses serious health risks to human and animal skin (particularly eye tissue).