ARS 140DXR Hoof Trimmers
(135) Read reviews »
Regarded as the gold standard tool for trimming goat and sheep hooves. Also a multi-purpose hand shears for pruning flowers and shrubs.
Choice of smooth or serrated blades. Comfortable handles for left and right handed users.
Videos & Data
---
Benefits
The ARS 140DXR Hoof Trimmers slice through livestock hooves easily.
Comfortable handles. Our left hand users rave about these trimmers.
Cutting stroke is ultra-smooth.
Steel blades truly hold an edge.
Gently rounded tips for cleaning manure from hooves without risk of injury to you or the animal.
---
Specs
7.5"L
Blades: 1-3/4"L, Handles: 3.5"L (approximate size)
Sturdy plastic handle
Smaller than our Premier's Serrated Foot Trimmer
Secure locking system
Japanese steel and rounded blade tips
The

ARS 140 DXR Serrated Trimmer

has a serrated blade (top side only) for improved cutting. Serrated blades slice through hard hoof horn without slippage. Improves efficiency and safety.
ARS Hoof Trimmers and Shears—Quick Comparison
 
ARS 140DXR
Hoof Trimmers
ARS Hoof
Trimming Shears
Tool Length
7.5"
8"
Blade Length
1.75"
2.25"
Latch mechanism
Thumb
Handle hook
Non-serrated?

✔

(#769500)

✔

Serrated?

✔

(#769501)

✘
Length—How to choose?
The shape and length of the handles help determine the hand strength required to squeeze the trimmer. Maximum leverage isn't always desired; many shepherds prefer comfortable trimmers that fit their hands for all day use.
Longer blades may reduce the # of overall cuts needed; blades longer than 2" can clear most hooves with one cut
Shorter blades are better for precision work
Accessories
Listed below are recommended optional components or related items. Your particular situation may require alternative recommendations. Please call and talk to our consultants if there are any questions at 800-282-6631.
Reviews

(135)
Write a Review
You must be logged in to leave a review. Please sign in.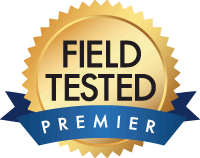 The Serrated ARS Hoof Trimmers have become our favorite trimming shears. They're easy on our hands, agile and sharp. The serrated blade grips the hoof to prevent the trimmers from sliding off while you're cutting. Safety catch is very sensitive, if the trimmers are closed and are bumped or dropped they will open.
ARS 140DXR Hoof Trimmers
Joan B from Colorado
I have been using ARS trimmers to correctly trim sheep and goat feet for decades. When I was no longer able to purchase them from Chiina, I asked Premier 1 to see if they could get them. These trimmers fit both left handed and right handed users, they remain sharp for a very long time, and they are the right size and weight for most of us to use. As a veterinarian teaching owners how to trim feet on sheep and goats, these are my go-to hooftrimmer.
ARS 140DXR Hoof Trimmers
Caroline W from New York
We found the serrated trimmer to be excellent, better than non-serrated trimmers we have used in the past.
ARS 140DXR Hoof Trimmers
Karen G from Pennsylvania
These are the best foot trimmers we have ever found. I have tried a lot of different brands, and these are by far the best! They are sharp, hold that sharpness a long time, and are easier to use, saving my hands. They are worth every penny we paid for them.
ARS 140DXR Hoof Trimmers
Shonah H from Pennsylvania
Great hoof trimmers. Bought them as a backup to my other ARS clippers. Very durable for tough goat hooves.
ARS 140DXR Hoof Trimmers
Peter J from Indiana
Wasn't impressed.