ARS 140DXR Hoof Trimmers
(126) Read reviews »
Regarded as the gold standard tool for trimming goat and sheep hooves. Also a multi-purpose hand shears for pruning flowers and shrubs.
Choice of smooth or serrated blades. Comfortable handles for left and right handed users.
Videos & Data
---
Benefits
Both ARS trimmers slice through hooves easily.
Comfortable handles. Our left hand users rave about these trimmers.
Cutting stroke is ultra-smooth.
Steel blades truly hold an edge.
Gently rounded tips make cleaning manure from hooves without risk of injury to you or the animal.
---
Specs
7.5"L
Blades: 1-3/4"L, Handles: 3.5"L (approximate size)
Sturdy plastic handle
Smaller than our Premier's Serrated Foot Trimmer
Secure locking system
Japanese steel and rounded blade tips
The

ARS 140 DXR Serrated Trimmer

has a serrated blade (top side only) for improved cutting. Serrated blades slice through hard hoof horn without slippage. Improves efficiency and safety.
Accessories
Listed below are recommended optional components or related items. Your particular situation may require alternative recommendations. Please call and talk to our consultants if there are any questions at 800-282-6631.
Reviews

(126)
Write a Review
You must be logged in to leave a review. Please sign in.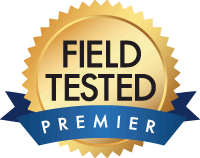 The Serrated ARS Hoof Trimmers have become our favorite trimming shears. They're easy on our hands, agile and sharp. The serrated blade grips the hoof to prevent the trimmers from sliding off while you're cutting. Safety catch is very sensitive, if the trimmers are closed and are bumped or dropped they will open.
ARS 140DXR Hoof Trimmers
Robin B
These trimmers are the best/sharpest I've ever used on goat, sheep and llama hooves and I've bought/used 6 different brands before! They are so good, I'm going to write and recommend them in my farm blog to others!
ARS 140DXR Hoof Trimmers
Curt H
Without a doubt the ARS Trimmer is the best trimmer I have used. We have always used cheaper trimmers and finally got tires of them breaking and becoming dull so quickly. I'm very happy that we went with the higher quality trimmer this time!
ARS 140DXR Hoof Trimmers
Todd E
I have owned these for just a short time, but I have used a number of different trimmers over the 30+ years I have raised goats. They are by far the best I have used for trimming hard dry hooves. At first I missed having the more pointed tips of the pair that I last used, but I quickly learned that the exceptional cutting abilities of the ARS makes up for the difference. And I agree that the rounded tips make them safer to handle.
ARS 140DXR Hoof Trimmers
Keith M
Not only do these trimmers stay sharp, They can lay on top of the goatworker for months and will not rust. These trimmers will outlast 5 pairs of the of the cheaper brands. I begged Stan to stock these.
ARS 140DXR Hoof Trimmers
Sherry R
These hoof cutters are the best I`ve ever owned. This is the second pair I`ve purchased so I`ll have a spare when the first pair I bought needs to be sharpened. The first pair is at least a year old, and I have used them on my billies, as well as my doe`s, and they are still sharp. Well worth the money.