Deck Chair
(66) Read reviews »
New design! Premier's Deck Chair holds sheep reliably in a relaxed position which allows the use of both hands to trim feet, tag ears, examine and medicate. Restrains heavily pregnant ewes without injury.
Videos & Data
---
Specs
Galvanized steel pipe with elastic webbing.
Can support large, adult sheep and goats (without horns).
Adjustable width for all sizes.
Included support rope for large/heavy sheep. (Prevents elastic webbing from over-stretching.)
Length is 40 inches.
Maximum width is 16 inches.
Minimum width is 10 inches.
Bottom "legs" are 14 inches.
Replacement webbing is available.
Can be folded flat for easy storage and transporting with some disassembly.
---
Benefits
Save yourself the backache of trying to hold the animal and work on them at the same time. By using a deck chair, you can use both hands for working on the animal. Restrain pregnant ewes without injury to them. It also allows you to walk away for more medicine or tools knowing your animal is safely restrained.
We've introduced several improvements over the previous version:
1.) Elastic webbing

A thick weave of elastic shock cord has replaced the string net we used previously. The elastic web springs back into place when the ewe leaves the chair reducing the risk of entanglement. The webbing quickly hooks over built-in rivets for easy replacement. Included support rope can be used for heavy animals to prevent over-stretching.

2.) Kick-plate

This simple device prevents the animal's hind legs from getting caught in the mesh. On occasion we've had to chase down a ewe that's made off with our deck chair because of this very reason—not often, but it has happened.

3.) Quickly make size adjustments

When using our original chair, a wrench was needed to make side-to-side adjustments. These nuts have been replaced with finger-friendly wing bolts. Kick-plate adjusts via the same method.
---
How to Use
See Deck Chair instructions above for additional information.
To load:
Best location is in the corner of a small pen, as this allows catching the animal with the least effort. Drop the top of the chair over the gate or fence at a 45 degree angle.
Catch the sheep by the head. Back the sheep into the chair. As the back legs hit the bottom crossbar, the rump (and most of the animal's weight) will fall into the webbing. Take care not to catch the rear legs in the 2 vertical chair legs.
Complete the process by lifting the head upwards into the sitting position.
To unload:
With one hand, tip the chair forward with the sheep inside it. Allow the animal to fall out onto its feet. Hang onto the chair or you may be chasing the animal/chair combination around the pen.
---
Precautions
The tighter the adjustable tubular sidebars clamp the animal, the more secure the hold. If a typically-sized animal in your flock is too loose in the chair, loosen the clamps and slide the side bars closer together.
Does not work well with horned animals. Their horns may become entangled with the webbing.
Note: Deck Chair Replacement Webbing (#807515) DOES NOT fit our Old Deck Chair (#807500).
Accessories
Listed below are recommended optional components or related items. Your particular situation may require alternative recommendations. Please call and talk to our consultants if there are any questions at 800-282-6631.
Reviews

(66)
Write a Review
You must be logged in to leave a review. Please sign in.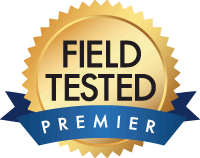 Makes the job of trimming hooves less of a chore. When we trimmed the hooves of our ram flock (Ile de France cross rams and hair rams) we used the deck chair to make the job a little easier, the hardest part was catching the rams. The chair held them and we had no escapes. Adjusting between each sheep can be a hassle (we typically skip this step) but overall it is a back saver
… Read More »
compared to sitting the sheep/goat on their hind end and trimming.
Deck Chair
Roger S from Wisconsin
I can see why this deck share for sheep was back-ordered. As a relatively new flock owner, I found it almost impossible to properly trim the hooves of my Babydoll English Southdowns, even with the help of a friend who grew up on a farm and helped wrestle my sheep to the ground. You had to almost stand on your head to inadequately trim hooves. The Premier 1 deck chair (great name) caught my eye and it has made the job a piece of cake. True, not all my sheep settle back as if in a sheep spa, but it's easy to hold down even the toughest ram. It's surprising that such a simple device can make hoofing a one-person job. Properly priced too.
Deck Chair
Kathleen A from Iowa
I love Stan and the whole staff. I've been buying from Premier for over 15 years. Get all of my fencing here. My most recent purchase was the elastic webbing for the sheep deck chair. We already had the old premier deck chair and my husband modified it just like their new one. I quit using the old one because I have Shetland Sheep that are small and very wirry. They didn't sink down in the chair far enough, or got their leg caught in the netting. I even made a canvas one for it and it was not satisfactory for my small sheep. This new net is GREAT!! Thanks for the great innovative products you carry. I'll keep on shopping here as you keep those shipping cost down too!! Thanks again!
Deck Chair
Serge K from Tennessee
Great product and well designed frame. Easy to use. I wish the webbing was more firm ... it just stretches too much under heavy weight ram so it will almost hit the ground.
Deck Chair
Michelle T from New York
Cannot say enough about this -

Once you get your netting width set correct, and the set to the right height on your gate, its hard to imagine the old way of catching, flipping, holding down, and still trimming ...

Small things we noticed - be sure to have extra cableties on hand as an active sheep can snap them quickly. Smaller sheep can get their hooves tangled if not backed in just right. So we still keep this a 2 person job, one to maneuver the sheep, one to keep the frame in place. Larger sheep could use an extra boot out when finished, if they take off with the contraption on their backs it could be YouTube worthy material to retrieve it...

Our backs, and major joints can handle all our sheep in one day now.
Deck Chair
Jason W
We have a very uncooperative ewe. We couldn't trim her hooves until we got the deck chair. The deck chair made it SO easy! Super easy to set up. Super easy to use. Got the sheep into the chair perfectly on the first attempt.