Galvanized Cone Feeders
(32) Read reviews »
Compared to metal feeders we've used in the past, we like the heavy-duty metal construction, quality galvanization and clever adjustment method. Use free standing or by hanging using built-in handle.
Available in 11, 22 and 44 lb capacity.

California Residents: Proposition 65 Information
Videos & Data
---
Common Uses
For feeding the flock, from broilers to layers. Waterfowl friendly too!
---
Specs
 
11 lb
Capacity
22 lb
Capacity
44 lb
Capacity
Item #
540055
540056
540067
Dimensions
13" W
10" H
13" W
16" H
15.75" W
18" H
Pan Depth
2-1/4"
2-1/4"
3"
Suited For
adults
adults
adults
Number Fed*
44
88
176
Hopper Lid
optional
optional
no
Feed Saver Grill
optional
optional
optional
Anti-Soil Trough Guard
no
optional
no
Rain Hat
no
optional
no
* Number Fed is determined by capacity multiplied by 4 oz (amount of feed the average adult chicken eats per day).
---
Benefits
Heavy-duty galvanized metal construction
Feeds a wide variety of food stuffs: Crumbles, wheat, barley and cracked corn
Quickly adjusts between (3) options to control feed output
Accessories (sold separately,

colors may vary

)
Feed Saver Grill

reduces wasted feed. Available for the 11, 22 and 44 lb capacity feeders.

Anti-Soil Trough Guard

protects feed in the trough. Affectionately called the "crap-flap" by Premier's staff. Fits 22 lb feeder.

Rain Hat

protects both the hopper and feeding trough from the elements. Available for the 22 lb feeder.
---
How to Use
To hang,
attach a
carabiner clip
to built-in handle. Or, elevate feeder using bricks or blocks.
To adjust feed output, release one locking clip toward the trough and lower hopper to the desired height. Repeat for each clip. Reverse to raise.
How to attach cone to base: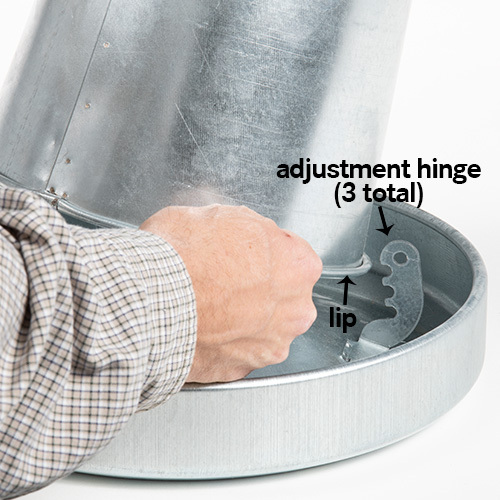 1. Tilt cone base into two of the locking clips.
Lip of the cone should fit into topmost notch of locking clip.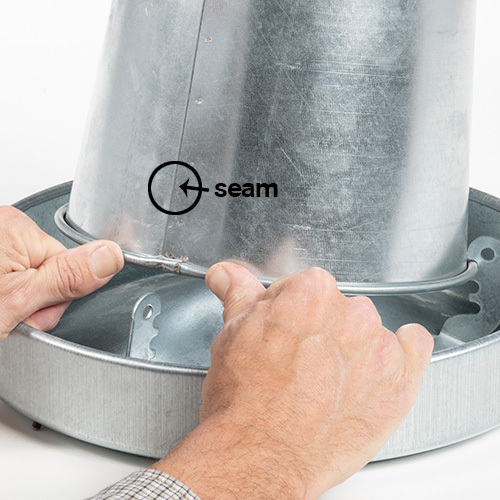 2. Rotate hopper until verticle seam aligns with empty clip.
Push on base of hopper while pulling on the trough. This counter pressure allows the lip to fit into the third locking clip.
---
Precautions
Best for layer flocks with small combs.
We DO NOT recommend the use of the Feed Saver Grill with roosters or hens that have large combs. The comb could rub on the plastic and become injured.
To reduce the risk of entrapment, breeds with voracious appetites such as Cornish Cross should NOT use the Feed Saver Grill.
Accessories
Listed below are recommended optional components or related items. Your particular situation may require alternative recommendations. Please call and talk to our consultants if there are any questions at 800-282-6631.
Reviews

(32)
Write a Review
You must be logged in to leave a review. Please sign in.
Galvanized Cone Feeders
Joel W from Minnesota
We are extremely happy with these feeders. They're a bit more than the galvanized feeders at our local farm store, but they are worth every penny. The feeders themselves are very well constructed and hold together well, but what really makes it are the feed saver rings. Our chickens used to go through a feeder in 2–3 days, spilling enormous amounts of feed on the floor. Then we'd have to keep them without feed for a day or so to make them clean up and eat off the floor. With these feeders, the feed lasts for 6–7 days, and there is absolutely no mess. We can even take advantage of less expensive feed because we no longer need to buy pellets to reduce the amount of waste.
Galvanized Cone Feeders
Jackson W from Ohio
Food saver grill for the 44 lb feeder was perfect! I have not had to scoop up feed to put back in the feeder since I put it on. No more scratching the feed out into the box! Big time saver!
Galvanized Cone Feeders
Robin R from Alaska
I purchased this for a different brand of feeder than this Feed Saver Grill was intended. I knew it wouldn't fit without modification, but it was simpler than trying to devise a DYI feed saver ring. I simply used dikes to clip the inside ring in several places to ease the ring down around the feeder until it fit. It works as intended once I modified it to fit my "off brand" feeder.
Galvanized Cone Feeders
Mark P from Georgia
We had issues with chicken feed getting wet and moldy (bad for chickens). I was looking for solutions to the wet feed and found these rain caps, it was exactly like I was imagining as a solution! No more wet feed. The 22 lb feeders also hold a good amount of feed. I like that the feeders are metal also as they're stronger and more heavy duty than my other feeders which are all plastic. This feeder works great for my backyard chicks, chickens and ducks!
Galvanized Cone Feeders
Gueary R from Mississippi
I have sadly had some flimsy, moisture attracting poultry feeders over the years. Never been satisfied, until now.

The Premier 1 galvanized poultry feeders are not your typical feeders. Just a few words to describe... Sturdy, thick steel, with the rain caps, totally moisture resistant, bottom heavy for an absolute stance. There is no way I will purchase any other metal feeder from this day forward.