Videos & Data
---
Specs
Outside temperature range: 40–80°F
Size: 4" length x (Front: 2" width, Back: 2 1/4" width) x 1" height
Contains wax, colorants and inert excipients; no toxic components
Metal cotter pin (hidden under the label) comes with each crayon
Plastic case protects crayons during transport
Compatible with Premier's Deluxe Marking Harness, Nylon Breeding Harness or Cross Your Heart Leather Breeding Harness. (Harnesses sold separately.)
Marking Crayons Compared
 
Premier
EZ-Mark®
Crayons
Nettex
Cold/Soft
Nettex
All-weather
Nettex
Hot/Firm
Temp. Range:
40–80°F
25–65°F
40–85°F
85°F+
Colors:
Red, Blue, Green, Orange, Yellow, Black
Red, Blue, Green, Orange, Yellow, Black
Red, Blue, Green, Orange, Yellow, Black
Red, Blue, Green, Orange, Yellow, Black
Price (ea):
$4.70
$6.25
$6.25
$6.25
---
How to Use
Change crayon color every two weeks to narrow down if/when an animal was bred, or re-bred.
How to take off the protective plastic cover:
Hold in one hand so crayon itself is facing you
Push the crayon (hole in the center) with finger or thumb
Crayon should pop out
How to install crayon into harness holder:
Remove cotter pin out of back of crayon by making a slit down middle of sticker
Place narrow end of crayon (plastic side down) in wide part of holder
Gently slide up until it can go no further
Slide cotter pin through holes on side of holder and crayon
With needle nose pliers, bend end of cotter pin to lock in place
---
Precautions
The shade of the marks on wool may not exactly match the crayon color.
Store in a dry, cool place to prevent crayons from melting.
Always check the ram every day to see if the crayon needs changing or the harness needs adjusting!
---
Troubleshooting
Remove protective plastic case before use.
Accessories
Listed below are recommended optional components or related items. Your particular situation may require alternative recommendations. Please call and talk to our consultants if there are any questions at 800-282-6631.
Reviews

(64)
Write a Review
You must be logged in to leave a review. Please sign in.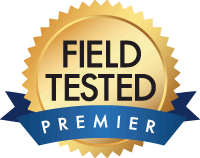 Why no hot and cold crayons?
We have been using EZ-Mark® Crayons for several years on our own farms in southeast Iowa with good success. (Weather in Iowa can change quickly between very cold and very hot.) It has puzzled us that some have indicated the same good results while others have expressed disappointment.
Regardless, enough folks have expressed frustration—especially in hot or cold climates—that we felt an alternative must be offered. So we brought in marking crayons from a reputable UK manufacturer.
COLD/SOFT
and
HOT/FIRM crayons
are available from Nettex for folks who want to try a different brand.
EZ-Mark® Marking Crayons
Sarah S from Pennsylvania
Love Premier products! Have never had any problems until this year with the breeding harness crayons! We have gone through three crayons in 4 days and he has only bred one ewe! I called and they said they already using a new company for them. I want last years crayons back. They lasted.
EZ-Mark® Marking Crayons
Sharon D from Minnesota
These crayons were awful. They were not fully filled and they only lasted a few days. Missing the ones we used to get from Pipestone Vet Supply.
EZ-Mark® Marking Crayons
Traci L from North Dakota
The service from Premier was terrific! The crayons, however, not so much. I ordered the ones for the temperature matching our region & they were instantly sticky & difficult to handle to put in the harness. Only lasted 3 days & about 15 ewes.
EZ-Mark® Marking Crayons
Kris & Brad C from Kansas
These do NOT fit in all harnesses!!!
EZ-Mark® Marking Crayons
Mark N from Utah
Works well.