Pig QuikFence® 6/30/12 Starter Kit
(11) Read reviews »
Complete fence system contains all the essentials to fence in "free-range" pastured pigs. Portable electric netting eliminates the need for heavy wire panels and is simple to install and remove. Selectively till gardens, pastures, woodlots or just about anywhere else on the farmstead. 30" tall.
Starter kit includes:

California Residents: Proposition 65 Information
Videos & Data
---
Common Uses
As a perimeter or subdivision fence for pastured pigs.
Allows pigs to forage gardens, orchards and fields after harvest.
Replacement for pens made of heavy wire panels.
Pig QuikFence® is intended for domestic pigs. To create a barrier for feral hogs, consider HogNet® instead.
---
Specs
Starter kit includes:
100 ft roll of 30" Pig QuikFence® single spike electric netting creates a 25' x 25' enclosure.
4 30" FiberTuff™ support posts
Solar IntelliShock® 60 fence energizer with U-Spike ground stake (combination ground rod and support stand) and wiring harness.
5-Light Wireless Fence Tester
Pig QuikFence® 6/30/12 is a 30" electrifiable prefabricated fence. It arrives at your door as a complete roll with the single spike posts already built into the mesh/fence. Features 6 electrified horizontals strands with vertical struts placed every 12". Add 3 more rolls (Item #208062) to create a 100' x 100' enclosure.
FiberTuff™ Posts provide additional support around curves, corners and other major directional changes. Use at end posts to help maintain tension on the fence.
The Solar IntelliShock® 60 fence energizer will electrify 3-5 rolls of electric netting depending on soil conditions and vegetation.
Use the 5-Light Wireless Fence Tester to determine if your fence system is working properly. At the end of the net, the approximate voltage should measure at least 3,000V.
---
Installation
Consult the linked products or watch the videos above for installation instructions.
---
Precautions
Experience tells us that domestic pigs
must
be trained to electric fence. Failing to do so can be expensive—in damage to the fence plus the damage the escaped pigs might create. Inexperienced pigs may decide to respond like pigs—and charge forward through the fence instead of backing away.
To train, set up Pig QuikFence® fence alongside (1 to 2 ft away) a secure permanent fence that the pigs can't get through. Make sure the netting is electrified—at least 3000V at the end of the fence. Introduce the pigs to the fence and monitor for a few hours.
Electric fence is a pain barrier, not a physical barrier. A common mistake is not electrifying it. Animals may escape or become entangled (and may die). On a % basis, entanglement is very rare, but it can and does occur. If animals are scared or starved it will not keep them in. The first time you put the animals in the net, you should be available to watch them for a while. That way if one were to get into the fence and get caught, you can turn the power off and get them loose.
Warning! Due to risk of fire, do NOT use continuous output energizers with electric netting or electro-plastic conductors such as rope, twine or tape. Use only with a low or wide impedance intermittent pulse energizer. (Fi-Shock™ brand energizers which are sold as low impedance, continuous current output should NOT be used with electric netting.) All energizers sold on Premier's website use an intermittent pulse and are suitable for use with electric netting.
Dry conditions and wintertime usage may reduce the effectiveness of electric fencing. Ice and heavy snow can flatten netting and thereby damage it.
Dry or frozen ground may cause post spikes to bend or break if inserted with force. Pilot holes may be needed. We recommend using drivable or single spike posts in hard soils. Double spike posts provide more stability when the ground is soft.
---
Warranty
With proper care, electric netting should last 5-7 years. Replacements will be prorated.
2-year warranty for energizers and solar panels cover lightning damage and defective parts or workmanship. Should an energizer fail, we will replace the unit, bill you for the cost to do so, then reimburse you for warranted expenses after we have examined the failed unit. Misuse and flood damage are not covered.
30-day warranty for all batteries.
Reviews

(11)
Write a Review
You must be logged in to leave a review. Please sign in.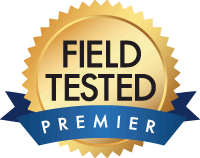 A nice feature of this net is the lowest strand is high enough off the ground to avoid most contact from weeds and sticks. And pigs have a hard time burying the strand when they are rooting near it. Pigs can quickly till the soil, so expect to move the fence and pigs often.
Pig QuikFence® 6/30/12 Starter Kit
Scott G from New York
Very good!
Pig QuikFence® 6/30/12 Starter Kit
Scott P from Ontario, Canada
The product seems great but it's all way to expensive by the time it got to me. Shipping, duty, and just the price in Ferber all is way way too expensive! I hope one day you figure out a Canadian distributor because I will probably never buy this product again due to the extremely high cost.
Pig QuikFence® 6/30/12 Starter Kit
Anna K from Pennsylvania
Was quick and easy to set up, and good quality.
Pig QuikFence® 6/30/12 Starter Kit
Michaela C from North Carolina
Great product. First time buyer. Bought based on reviews of previous customers. I wasn't disappointed. Quick service and turn around time. Easy set up as well. Pigs were curious and got shocked no more trouble. Now I'm able to move them around with ease and without worry of escape.
Pig QuikFence® 6/30/12 Starter Kit
Monica H from Pennsylvania
This fencing is perfect for my potbelled pigs. They tested it only once, got the idea and have not gone near it since. I also love how easy it is to take down when I mow and easy to go right back up. The solar energizer is ideal as it is just far enough from the barn not to worry about power cords. This fencing truly makes my life on the farm a bit easier.