PortaTrough™ 5
(62) Read reviews »
The PortaTrough 5 is long enough to enable rapid feeding or watering of animals, yet short enough that they can easily be carried by hand or ATV.
Stackable feeder for easy transport and storage
Difficult for sheep and goats to tip over
Heavy-duty construction for on-farm use in all weather conditions
Easy to clean
Need a smaller trough? See PortaTrough™ 3.
Data
---
Shipping
Please contact us for a shipping quote to AK, HI, Canada or Mexico.
---
Benefits
Feed or water sheep, goats, livestock protection dogs, ducks, geese and poultry
Difficult for animals to tip over
Stackable (up to 10) for easy movement and storage
Side handle allows it to be inverted with a toe to tip out water or ice
Won't crack if water freezes in it
Shallow water depth allows waterfowl to bathe their heads and necks
Feeds about 8 adult sheep in full fleece or 10 adult goats
Rounded inner base discourages sheep and goats from standing in the feeder
---
Specs
8 gallon capacity
Base: 60"L x 12.25"W
Top: 58.5"L x 9.25"W
Depth: 5.25"
Made of polypropylene
---
Common Questions
Do sheep or goats overturn them?

Rarely, unless the animals have horns. (Our goats have hooked the side hole on occasion.)

Can animals step in them?

We designed the PortaTrough with a slick convex base so sheep and goats seldom step/stand in them.

Do they fill up with water?

They can. We drill a hole into the bottom of troughs intended to be used outside as feeders or mineral bunks.

What happens when ice forms in the trough?

The rounded base allows ice to expand upwards as it freezes. To remove ice—lift trough, tip over and tap on the bottom with your foot.

Do they freeze down into mud?

Yes. But a quick jar on the side with a boot heel usually frees them.

Are PortaTroughs unbreakable?

They don't break easily, but like most things they are breakable. We've proven that driving over them with tractors will break them—though ATVs rarely do. Cattle and horses do them no good. They are sheep, goat and waterfowl resistant.
Accessories
Listed below are recommended optional components or related items. Your particular situation may require alternative recommendations. Please call and talk to our consultants if there are any questions at 800-282-6631.
Reviews

(62)
Write a Review
You must be logged in to leave a review. Please sign in.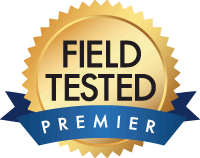 Feeder, waterer, duck bath, you name it, a PortaTrough can do it. They are a lot easier to pick up and move than a wooden feeder, plus they're easy to clean. We use them in pasture to provide extra grain to ewes who are raising triplets. They are tough to tip over and able to withstand all weather conditions + most on-farm abuse. (We did accidentally run over one with a tractor. Don't do this, it's a great way to ruin a PortaTrough.)
PortaTrough™ 5
Shawn N from Virginia
These troughs function pretty well. We have myotonics and cattle troughs were a bit too tall for the younger animals. These have had no issues with them being flipped or pushed. I may consider drilling some weep holes. One issue we do have is stepping in them, and have tried several different orientations and setups to try to limit stepping in and contamination. Some animals are worse offenders than others. Overall the quality seems good and we added several more of these to our feeding setup after the initial purchase.
PortaTrough™ 5
Jeremy B from Texas
PortaTrough works great for my goat operation. No more steel troughs for me.
PortaTrough™ 5
Carlos Z from New York
Excellent!
PortaTrough™ 5
Lane G from Montana
Very impressed so far with these bunks. Easy to move, clean, store and feed into. They take waste completely out the picture. As advertised the ewes don't stand in them I would assume they will last indefinitely. You've done it again! Great product!
PortaTrough™ 5
Karen P from California
Fast shipping...farm sturdy...a good functional item.