The "Premier" Fiberglass Crook
(37) Read reviews »
This fiberglass crook is light and strong—so it's "quick" to use even in relatively weak hands.
Benefits:
Quickly catches lambs and kids
Can close gates
Easily lifts newborns out of pens
Sorts rams from ewes
Guides livestock through handling yards
Use as an easily seen pointing device
Which crook is right for you?
Each crook has their benefits. No shepherd is complete without a crook in hand, they save time and command the flock. Visit this link to compare all crook options.
Data
---
Specs
53"L
Neck opening: 4-3/4"
Top is a tough molded plastic that holds its shape and rarely breaks.
Shaft is durable, coated fiberglass. Unlike aluminum, it does not bend or deform.
We also carry handcrafted crooks and walking sticks which make the perfect gift for any cane enthusiast.
---
Tips
For catching small breeds, lambs, sheep with wool, or goats with a neck crook:
Once the neck is inside the loop, instantly rotate the crook with your wrist. This applies pressure to both sides of the neck and gives you a second or two to pull the animal into reach of your hands.
Accessories
Listed below are recommended optional components or related items. Your particular situation may require alternative recommendations. Please call and talk to our consultants if there are any questions at 800-282-6631.
Reviews

(37)
Write a Review
You must be logged in to leave a review. Please sign in.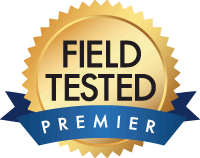 It's the most functional neck crook we've ever used. Given a choice, we always grab this one.
The "Premier" Fiberglass Crook
Dorian P from Texas
Perfect, lightweight, gamechanger for me since I did not have anything prior to getting this crook. It is black, but doesn't get hot in the sun.
The "Premier" Fiberglass Crook
Joel H from Texas
Horrible. Premier should not even sell this product. The design is not bad and works good. The two I bought came apart with very little use. Only held together with glue.
The "Premier" Fiberglass Crook
Gavin D from Pennsylvania
After having very compliant goats for many years, we got some LaMancha and Boers who did not come when called. The crook, though not magic, is an immensely helpful tool for grabbing those goats that would prefer to play an hour long game of tag.
The "Premier" Fiberglass Crook
Colter D from Montana
Absolutely awful crook. The rubber handle slips right off. the crook part completely came apart and broke the 3rd time I hooked a sheep around the neck. Do not waste money.
The "Premier" Fiberglass Crook
Patricia P from Washington
Like it. Hope it works well for trialing. I have several work crooks.