Premier SureFoot™ Foot Bath
(22) Read reviews »
Durable 4 ft foot bath to help in the treatment of footrot and/or foot scald in sheep and goats.
Common uses:
To apply hoof care treatments
We accidentally discovered that our waterfowl love to use these as a substitute for a pond
To provide water to waterfowl
Often used with Premier FootCare (liquid zinc sulphate)
Data
---
Benefits
Flexible side flanges fit most treatment chutes.
Tapered sides reduce fluid loss and stack for shipping and storage.
Unique "Y-design" floor pattern provides traction and reduces slippage.
In landlocked areas, foot bath creates a small portable (and easily cleaned) pond for ducks and geese.
---
Specs
47" long, 18" to 20.5" wide.
Tapered sides (7" tall) stack for shipping and storage.
25 gallon capacity.
Made from extremely durable, hard plastic.
---
How to Use
To help sheep "accept" a foot bath: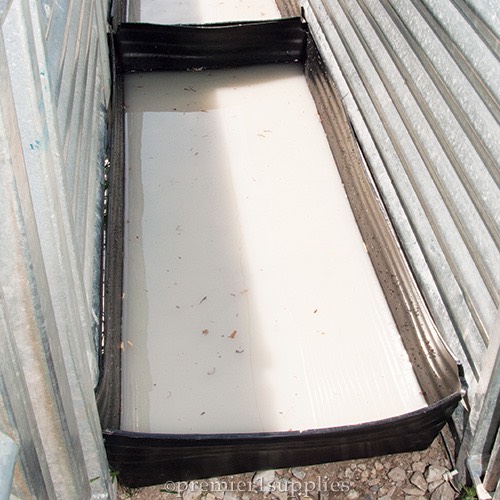 2. Add water solution
Mix 1/2 cup of
Premier FootCare
per 5 gal of water. Change mixture every 300 head.
For ducks and geese:
Add bricks or rocks so ducklings and goslings can have "steps" in and out of the bath.
Accessories
Listed below are recommended optional components or related items. Your particular situation may require alternative recommendations. Please call and talk to our consultants if there are any questions at 800-282-6631.
Reviews

(22)
Write a Review
You must be logged in to leave a review. Please sign in.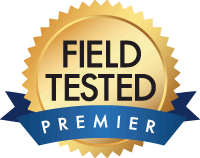 SureFoot™ Foot Baths fit within the run of our handling equipment very well. The flexible sides adapt to the different widths of our chutes (sometimes we have a narrow run in order to prevent younger sheep from turning around). We've used them for many years and they don't seem to wear out. If you're using them as a foot bath, be sure to trim your animals' hooves to ensure their feet come in contact with the
FootCare solution (liquid zinc sulphate)
. The tubs also make a quick duck or goose pond.
Premier SureFoot™ Foot Bath
Teman/Jeanette B from Oklahoma
I ordered 3 of these to make a 12 foot long foot bath. Instead of rock, we cut carpet to fit. This kept the sheep from slipping and made for easier clean out. One foot bath would not have been long enough for a continuous walk through. I had some lambs that would completely jump over one at first. I used the formaldehyde solution because a walk through instead of standing in footbath was more practical with 200 ewes and their lambs.
Premier SureFoot™ Foot Bath
Robert K from Kentucky
Just what we needed.
Premier SureFoot™ Foot Bath
Kimberly C from Louisiana
Works great for soaking sheep's feet. Bought two and very happy with them.
Premier SureFoot™ Foot Bath
Diana J from Mississippi
Very durable and functional.
Premier SureFoot™ Foot Bath
Mike W from Nebraska
Delivered on time. Fit perfectly into existing chute. Excellent suggestion from Premier's consultant/salesman on set up. Much cheaper and quicker than constructing a functional one onsite, or any alternative available.