Q-flex® Applicator
(21) Read reviews »
Used for applying all styles of Q-flex® ear tags.
Update – May 2018
Due to supply constraints, we have a limited number of Q-flex Applicators available. We offer two other applicators which can be used to apply Q-Flex® ear tags. Look to the
Allflex Applicator
or the versatile
Pro Applicator
. —Premier
Videos & Data
---
---
Tips
Tag placement is critical to success!
For maximum retention and the lowest risk of bleeding and infection, place ear tags in either of the two spots shown in the illustration below. The goal is about 2-3 inches from the head of the animal.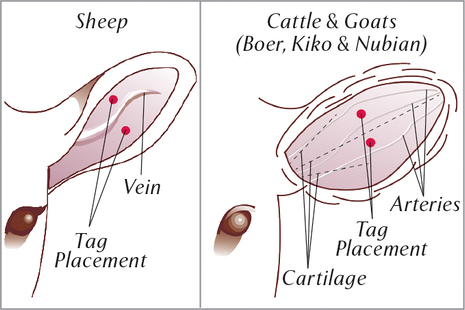 How-to: Insert Ear Tags in Cold Weather
Plastic tags (all brands) are much easier to install if they are warm. Why? As the temperature drops below freezing, plastic becomes less flexible (more stiff). Forcing the male point of a tag through the female takes many more lbs. of pressure (because the female must expand).
So if you care about your hands it's a good idea to keep the tags above freezing in very cold weather. It takes very little to do this. One method is to simply store them while tagging in a small bucket, cardboard box or tool box with a lid alongside a sealed pop bottle full of warm water. The warm water will keep both the air and the tags warmer in the container.
Reviews

(21)
Write a Review
You must be logged in to leave a review. Please sign in.
Q-flex® Applicator
Stanley from South Carolina
Worked well. No issues.
Q-flex® Applicator
Stephen B from Mountain West
These seem to be very sturdy taggers. Heavy duty.
Q-flex® Applicator
Jonathan M from VA
Only tagged 2 lambs so far but I'm pleased with ease of use and visibility of the Q-Flex tags.
Q-flex® Applicator
Donald W from California
Broke two applicator pins in the first 13 tags. Started being more careful when loading the the tags and it helped but, they still bent after ten or so tags. There are a lot better taggers out there.
Q-flex® Applicator
Aaron from Iowa
Pin needs to be redesigned. If you push the male side of the tag firmly all the way to the bottom of the pin, it works, but the pin sticks inside of the shaft of the tag. If you don't push it all the way to the bottom of the pin, the pointed part of the tag's shaft is left unsupported as you squeeze the tool and is easily bent (rather than pushed straight through the animal's ear). I've had better luck with the AllFlex "Total Tagger" (competitor) on the Q-Flex tags than with this one specifically made for them.