Rope Tensioner/Insulator
(18) Read reviews »
Innovative way to terminate and tension conductors.
Hooks easily to a P Spring. Conductor is inserted into a center spindle that's then tightened to the desired point (a P Spring half compressed).
Data
---
Common Uses
Use as an insulator and to tension polywires, polyropes, low tension wire, MaxiShock, narrow tape and braid.
---
---
Installation
Hook ring end into a P Spring.
Insert conductor through other end and through hole on center bolt.
Hold tail of the conductor to secure it and twist black knob on the side.
Once the tail of conductor is secured, let go and continue twisting knob until desired tension is reached. P Spring should be half compressed.
To loosen or remove conductor from the tensioner: unscrew the knob on the side to release.
Accessories
Listed below are recommended optional components or related items. Your particular situation may require alternative recommendations. Please call and talk to our consultants if there are any questions at 800-282-6631.
Reviews

(18)
Write a Review
You must be logged in to leave a review. Please sign in.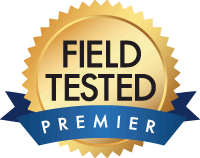 For fences that span less than 100' we use one of these instead of a P-Spring set up. We do combine them with a P-Spring on fences over 100 ft. Winding action reduces the stress and difficulty of tensioning a fence.
Rope Tensioner/Insulator
Ryan M from Colorado
I've had the same troubles as others with the plastic nut breaking. Often the first time I use them. I still order them because they're handy but it would be nice to not have to ziptie them together every time you adjust them.
Rope Tensioner/Insulator
Jeff H from South Carolina
Tensioner makes it easy to snug up the fence lines. Unfortunately, the plastic screw that holds the unit together isn't robust enough. I've had too many of them (15+) crack and you can't buy replacement screws. Premier has sent free replacements which is nice, but I'd rather not have to fool with replacement at all.
Rope Tensioner/Insulator
Larry C from Georgia
They work ok but break easily.
Rope Tensioner/Insulator
Robin A from North Carolina
I've had these on my fence for about 2 years. I didn't do the initial install so don't know if any broke out of the bag. Now, however, it seems almost every day I am repairing fence where the nut has busted off the side. It is possible one of the horses is adding pressure on the fence reaching to the other side ... voltage on the fence registers about 4 which should be enough to keep her off but don't know. Our temps here are fairly mild ... just in the last few weeks evening temps have dropped to 35-40 degrees F. So don't know if temp has anything to do with it. Or a horse leaning over top of it. Maybe just age. I am buying replacements as it has certainly worked well up to know. But it seems clear that the nut is the weak point.
Rope Tensioner/Insulator
Mary K from Oregon
These work well, but if used at a corner where you want to continue the hot fence , you will need to connect a hot wire or jumper clamps. When re tensioning the line, you may need to move the jumper. Make sure you have a square key wrench if you need to take everything apart . This product is very strong.