The "Premier" Fiberglass Crook
(28) Read reviews »
Lightweight and strong neck crook used to grab an animal around the neck as they are passing by or in a group.
Data
---
Specs
53" long
Top is very tough molded plastic
Holds its original shape and rarely breaks
Shaft is coated fiberglass. Unlike aluminum, it does not bend or deform
---
Benefits
We love everything about this crook!
It's the most functional neck crook we've ever used. Given a choice, we always grab this one.
---
Tips
For catching small breeds, lambs, sheep with wool, or goats with a neck crook: Once the neck is inside the loop, instantly rotate the crook with your wrist. This applies pressure to both sides of the neck and give you a precious second or two to pull the animal into reach of your hands.
Accessories
Listed below are recommended optional components or related items. Your particular situation may require alternative recommendations. Please call and talk to our consultants if there are any questions at 800-282-6631.
Reviews

(28)
Write a Review
You must be logged in to leave a review. Please sign in.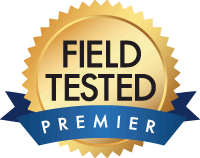 It's the most functional neck crook we've ever used. Given a choice, we always grab this one.
The "Premier" Fiberglass Crook
Brett P from Michigan
I really liked this crook ... right up until the shaft collapsed when a ewe put a little too much strain on it. Then it was pretty useless except on newly born lambs. We had to go back to using the aluminum crook. I agree with Martin S. that the shaft needs to be reinforced.
Brett P.
The "Premier" Fiberglass Crook
William K from WA
I had a similar experience as Martin S. Interestingly enough with one of my "wilder" Katahdins, those girls can generate a lot of force when they get up to speed. The shaft on my crook collapsed, fortunately I had the metal crook as a back up and was able to get the ewe into the lambing shed in time for a successful birth. If I had not had the back up crook things could have gone very badly. I'm not sure what the comment about not using it as a "pry bar" is all about. I hook a ewe, move up the shaft until I can straddle the animal and put a belly band on her so I can move her. If there is a better way to accomplish this task I'd be grateful to learn it.
The "Premier" Fiberglass Crook
Martin S from Texas
I have never used a crook prior to buying this one and I found it to be very useful. Unfortunately, the hollow fiberglass shaft broke and collapsed when I used it with some wilder hair sheep. I especially needed the crook when I was working the wilder ewes but it can not stand up to my demands. Perhaps reinforcing the shaft would make it ideal.
The "Premier" Fiberglass Crook
Greg D
The crook works great in most cases we find ourselves wondering how we got along without one. However i think we might try another brand next time we order as this one the handle on the end of the shaft slides right off. Infact the other night a ewe was bolting out of the barn and the crook was the last line of defense and the crook slid through my hand and the rubber end slid right off and the ewe crashed right through my wife trying to block her exit. Its good and usefull but not as reliable in my experience.
The "Premier" Fiberglass Crook
Zane D from Idaho
Once my 12-year old daughter figured out a technique, so was able to snare the ewes we needed to catch and put in the barn with ease, and the ewes were so much calmer than when we have had to chase them around and catch them by hand. It has saved so much work and the risk of us getting run over or falling down. This is a great crook, and I would recommend it to anyone. My daughter only has 20 head and in my opinion it has paid for itself in time saving and grief elimination.