The "Premier" Fiberglass Crook
(29) Read reviews »
Lightweight and strong neck crook used to grab an animal around the neck as they are passing by or in a group.
Data
---
Specs
53" long
Top is very tough molded plastic
Holds its original shape and rarely breaks
Shaft is coated fiberglass. Unlike aluminum, it does not bend or deform
---
Benefits
We love everything about this crook!
It's the most functional neck crook we've ever used. Given a choice, we always grab this one.
---
Tips
For catching small breeds, lambs, sheep with wool, or goats with a neck crook: Once the neck is inside the loop, instantly rotate the crook with your wrist. This applies pressure to both sides of the neck and give you a precious second or two to pull the animal into reach of your hands.
Accessories
Listed below are recommended optional components or related items. Your particular situation may require alternative recommendations. Please call and talk to our consultants if there are any questions at 800-282-6631.
Reviews

(29)
Write a Review
You must be logged in to leave a review. Please sign in.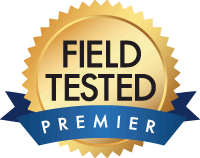 It's the most functional neck crook we've ever used. Given a choice, we always grab this one.
The "Premier" Fiberglass Crook
Zane D from Idaho
Once my 12-year old daughter figured out a technique, so was able to snare the ewes we needed to catch and put in the barn with ease, and the ewes were so much calmer than when we have had to chase them around and catch them by hand. It has saved so much work and the risk of us getting run over or falling down. This is a great crook, and I would recommend it to anyone. My daughter only has 20 head and in my opinion it has paid for itself in time saving and grief elimination.
The "Premier" Fiberglass Crook
Stewart H from Stewart from Alabama
This is a very good, light weight crook. When used correctly will last for years. Use it as an extention of your arm, not as a pry bar. I use mine daily while handling 300+ sheep. A real good Border Collie helps too :-)
The "Premier" Fiberglass Crook
Jane A. O from Central Texas
I have three (oldest is 4) and keep one by each gate. I bent the aluminum ones when catching sheep (we think there are better methods and equipment for that) and these lightweight crooks are easy to carry while feeding, moving a flock, catching lambs, opening gates, or for safeguarding against rams when ewes are "calling". A wonderful everyday shepherd's tool!
The "Premier" Fiberglass Crook
Crystal E from California
This crook is lightweight and works great for catching ewes, even wooled ewes. It was my first crook and after having it, I don't know why I waited so long to get one. They are very helpful tools. The reason for only three stars? I've had two and they both only lasted about a year before the fiberglass handles broke. One broke when a 70 lb lamb that was caught ran by a post, breaking the shaft in the middle. A good wrench, but it wasn't a big lamb. The other had something set on the end, splitting it. So no, it wasn't like I just dropped them and they broke, but I did expect something used for handling livestock to hold up a bit better. I think next time I'll try a different crook.
The "Premier" Fiberglass Crook
Danielle L
durable and lightweight