The Premier Serrated Foot Trimmer
(18) Read reviews »
Great for cutting tough hooves of larger sheep and goat breeds.
Best hand trimmer (in value, ability and quality) for large hands. Precision-ground fine serrations slice through hooves with minimal effort and no slippage.
Videos & Data
---
Common Uses
Cutting tough hooves of larger breeds.
---
Specs
9.25"L
Blades: 3"L, Handles: 4"L (approximate size)
Aluminum handles are powder-coated with white epoxy paint
Serrated top blade
---
Benefits
Very strong—important for breeds, conditions and species that are prone to or produce very hard hooves (fine wooled sheep, adult goats, dry climates). Excellent feel and balance.
---
Precautions
Premier cannot sharpen serrated blades. Replacement blades are available.
Accessories
Listed below are recommended optional components or related items. Your particular situation may require alternative recommendations. Please call and talk to our consultants if there are any questions at 800-282-6631.
Reviews

(18)
Write a Review
You must be logged in to leave a review. Please sign in.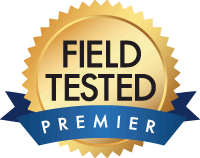 Better suited for those with larger hands rather than smaller. If you have small hands these may make trimming a little more difficult. They are well constructed and of quality materials. Are larger handed shepherds prefer them over the smaller trimmers. Once again the serrated blades make trimming a hoof much easier.
The Premier Serrated Foot Trimmer
Ksenia G from TX
In SE TX, hoof trimming is important to control hoof rot as well as improve conformation of the leg set in our goats. So it is best to trim often. I don't look forward to trimming with these, as the thin handles are hard on my hands, and there isn't much leverage near the tip. I can't get them to work for small cuts, and on nigerian dwarf goats, we often want to do more detailed work for our show and sale trimming. These probably do work better for our boer goats. We have a couple of draft boers here at Flying G Farm, in addition to the Nigerian Dwarf show stock. I recommend using heavy gloves when trimming with these, but usually I trim on the milkstand when it is needed and don't have gloves. I hope to invest in better clippers soon. The blade is good on them.
The Premier Serrated Foot Trimmer
Wade D from Iowa
The trimmer is to big and clumsy. Can not keep going with a smooth tranistion to the next cut. Even let a friend try it out and after one hoof he put it down and went back to his old one.
The Premier Serrated Foot Trimmer
Robie & Rhoni S
I love these trimmers for big jobs. They are sharp and very effective. We have sheep and use them for hooves that are quite overgrown. They are tough and trim thick, hard, or long hooves with ease. For regular maintenance and more precise trimming we use the SureTrim trimmers but these are EXCELLENT all around trimmers.