Keep Your Animals Warm This Winter
By Premier 1 Supplies
Even though most barnyard animals are well adapted to handle cooler climates, winter can be a real struggle for livestock and poultry. Rain, sleet, snow, ice and freezing temperatures can adversely affect animal health. That's why Premier offers a variety of winter equipment to keep animals warm, dry and comfortable.
Livestock

(small and large)
---
Livestock Heaters and Heat Lamps
A safer, effective alternative to common lamp designs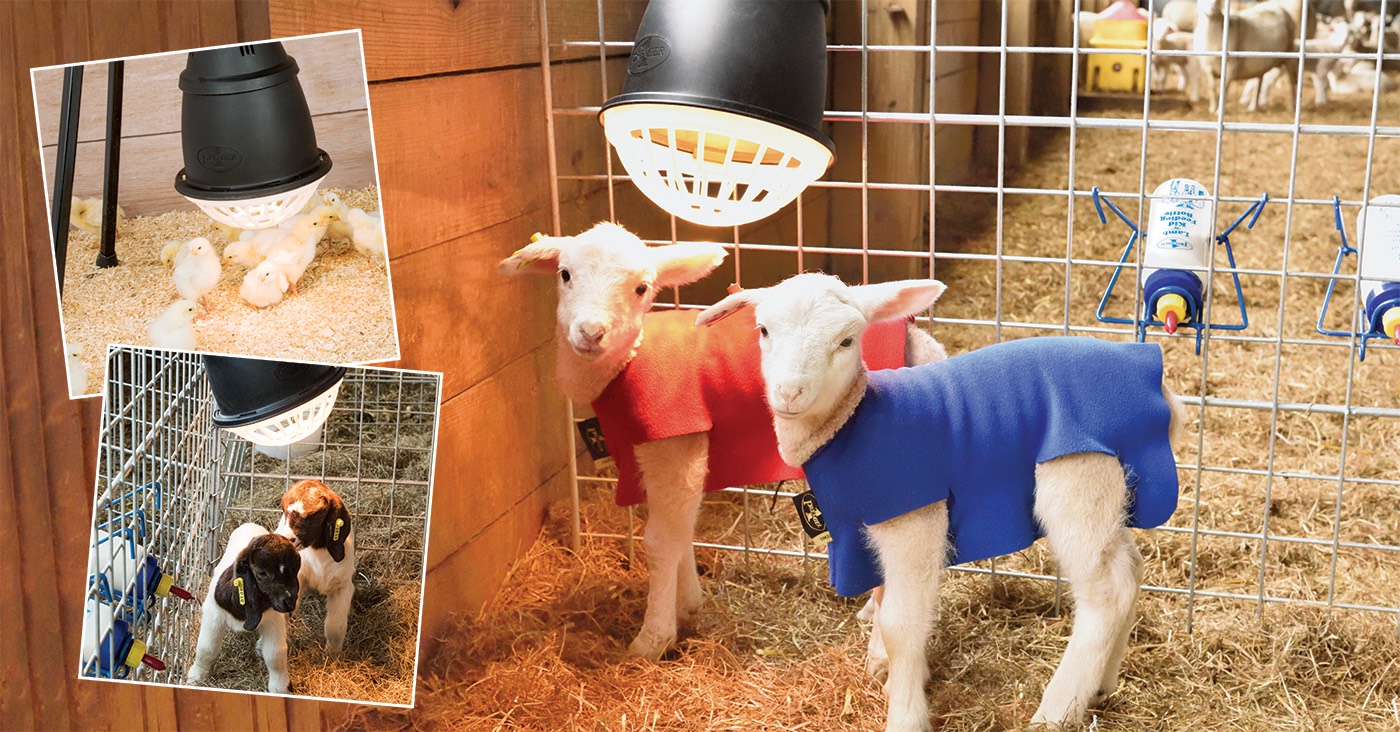 Livestock heat lamps assist in the brooding and rearing of lambs, goat kids, chickens, ducks and puppies. Originally designed for our lambing pens, the Prima Heat Lamp® can be used to warm any animal that is sick or cold.
Even though we find our lamps safer than common metal lamps, we still take every precaution to reduce fire risk. Keep the lamp at least 20″ away from the ground and periodically check that the bulb is securely tightened in situations where the heat lamp may be jostled by animals.
Features
Vented chimney system allows greater heat displacement.
Glass-reinforced plastic—resistant to high temperatures and ornery animals.
Recessed ceramic fixture and protective grill reduce risk of direct bulb-to-animal contact. (Bulbs sold separately.)
Compact size allows for installation in pens at a safe height.
Anti-chew spring wire on cord.
---
Most commonly available infrared bulbs cost less but they usually fail within a few months. Why?
The base breaks away from the bulb.
The glass degrades (due to the heat).
The glass and filament are so fragile that minimal impact shatters them.
Premier's bulbs, by intent and design, address all 3 of these issues. If a never-loose base becomes loose or broken, contact us for FREE replacement.
Smooth Glass Infrared Bulbs
175 watt clear (2 pk)
$18.00
175 watt red (2 pk)
$21.00
250 watt clear (2 pk)
$18.00
250 watt red (2 pk)
$21.00
---
Warm the whole coop or pen…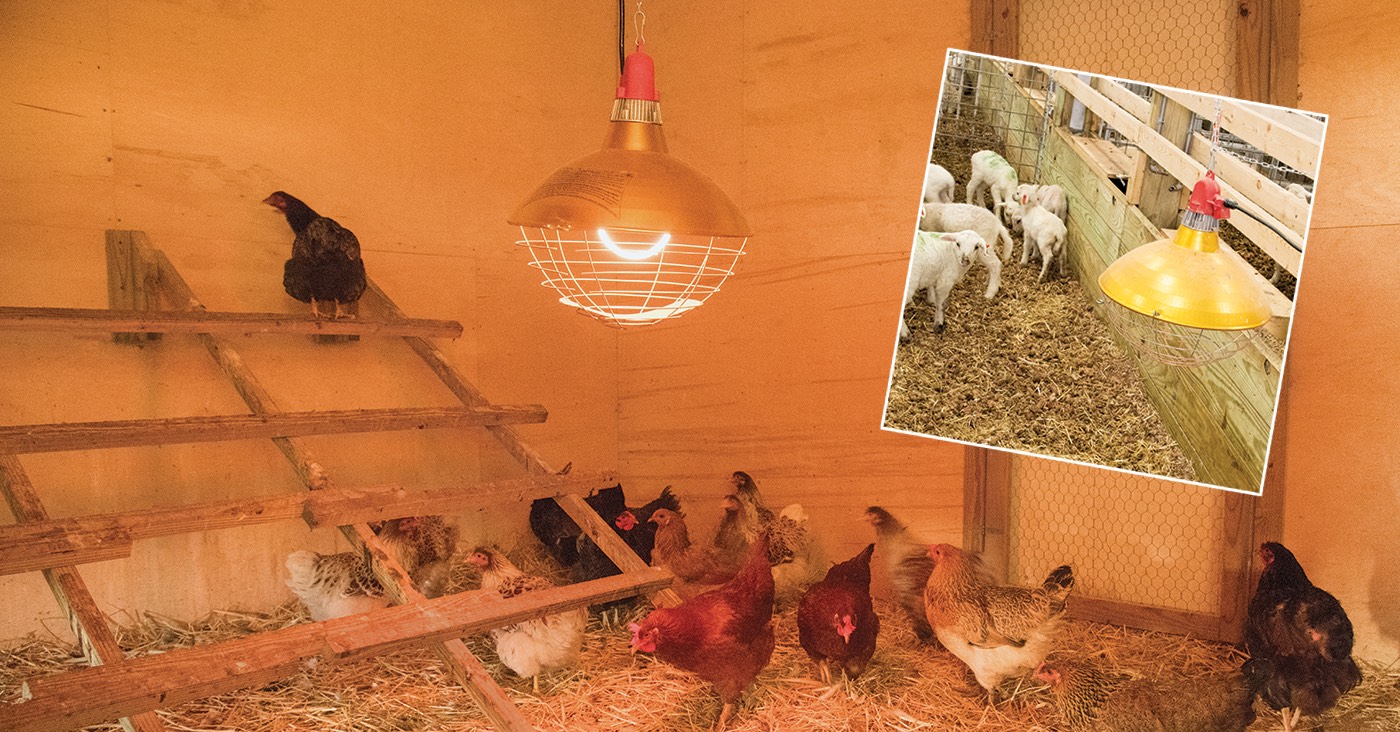 Consider a carbon fiber heater for sites that need heat spread over a wide area. Warm entire rooms, pens, chicken coops or horse stables. Radiates heat in all directions, unlike a heat lamp which directs heat downward. High-output carbon fiber bulbs produce 4–6 times more heat than conventional bulbs.
Built-in "kill switch" turns the unit off if an unsafe angle occurs. So if it falls or is smashed, the heater is immediately disabled. Protects your buildings, livestock, poultry and pets. Available in 600 or 1200 watt configurations. (Bulbs and lamps are not interchangeable.)
Carbon Fiber Heaters & Bulbs
600 watt Heater
$96.00
600 watt Replacement Bulb
$30.00
1200 watt Heater
$113.00
1200 watt Replacement Bulb
$35.00

Even though we find our heaters safer than common metal lamps, we still take every precaution to reduce fire risk. Secure the lamp several feet above the ground and where it cannot be jostled by livestock.
Provide clean water to the flock year-round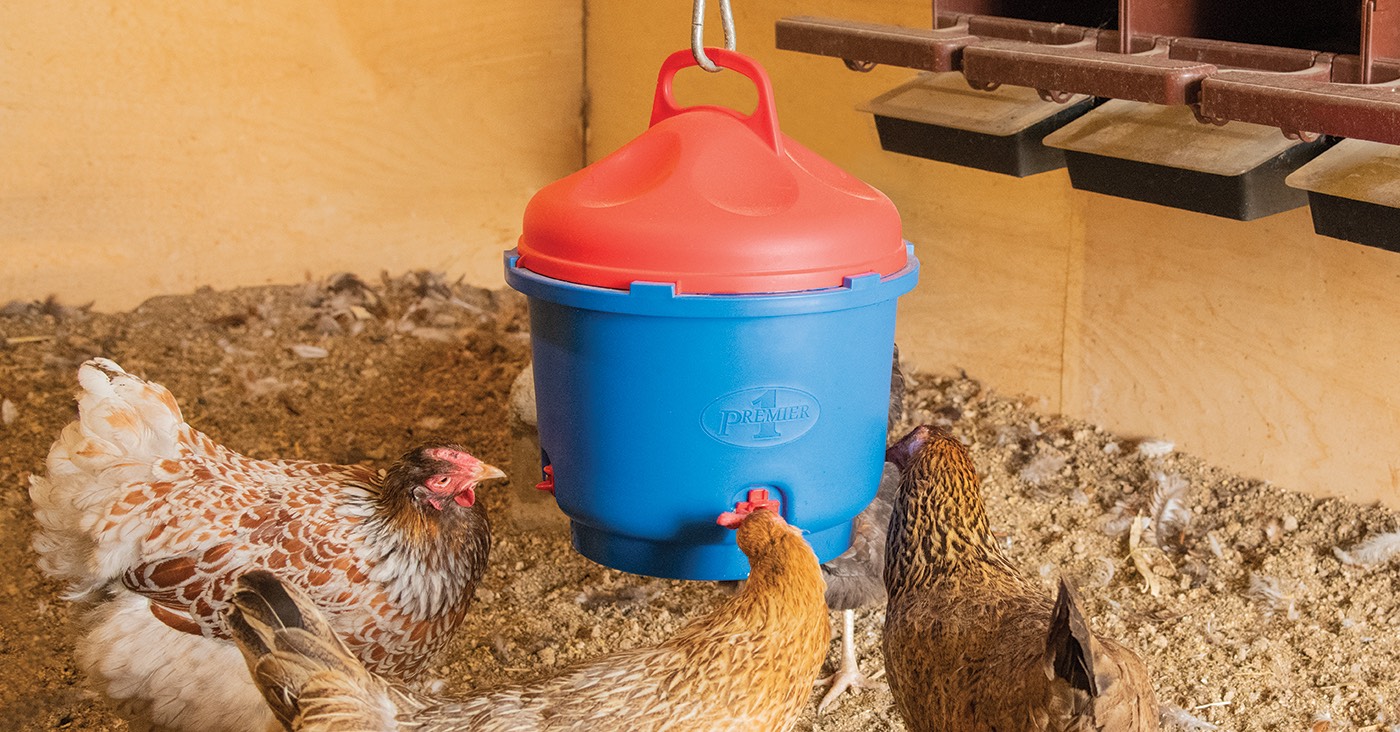 The necessity of a clean and reliable year-round source of water for your birds cannot be overemphasized. That's why we set out to build a better nipple waterer—one which provides access to fresh, unfrozen water during winter, with a detachable cord for non-winter use.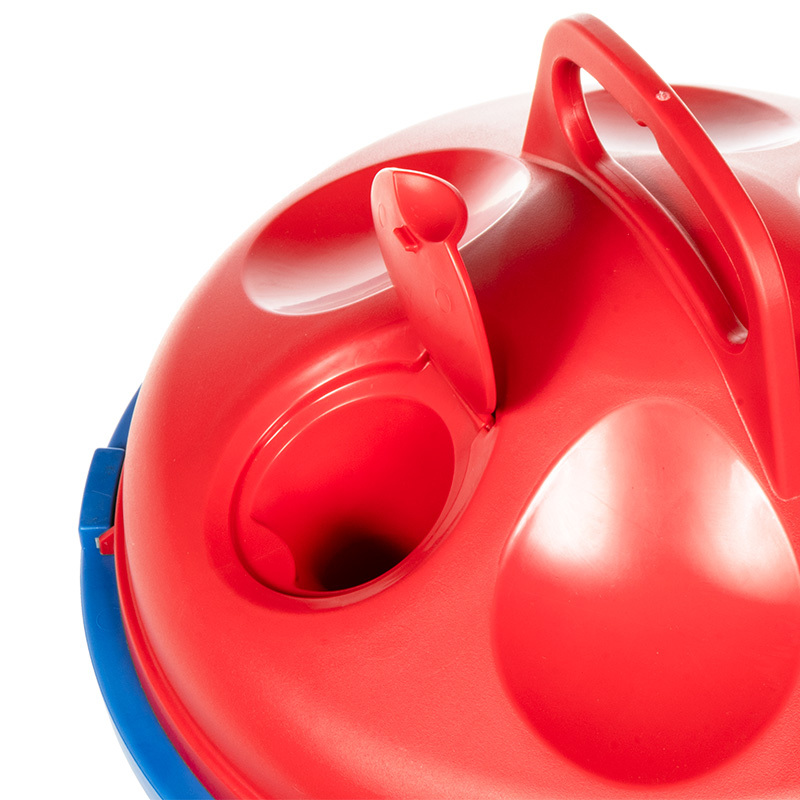 Improved for 2023!
Refill without removing the lid!Quick-fill cap is just the right size for a garden hose or watering can.
Training chickens to use nipples:
Remove all other sources of water. Place the new nipple waterer in the old waterer's location.
Nipples should be positioned just above the birds' heads. The birds should stretch up slightly to drink.
Bring a bird's beak directly to the nipple waterer and flick the nipple. You may have to activate the nipple with the bird's beak to demonstrate the new water source. (See video below.)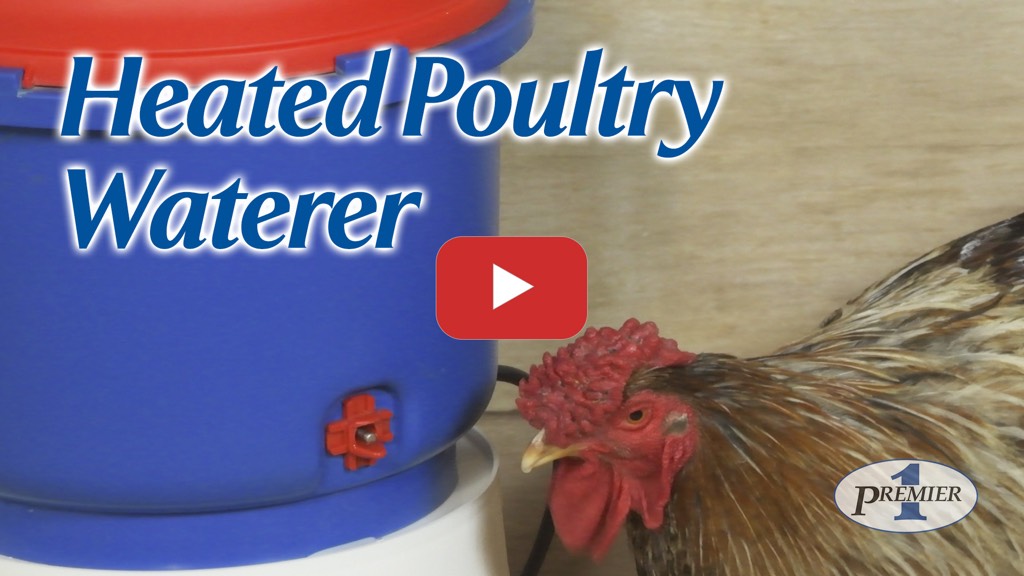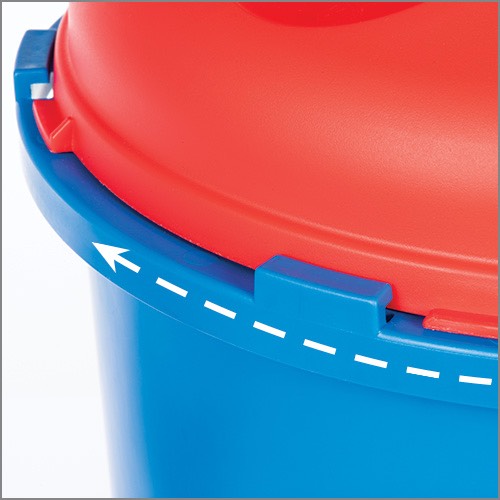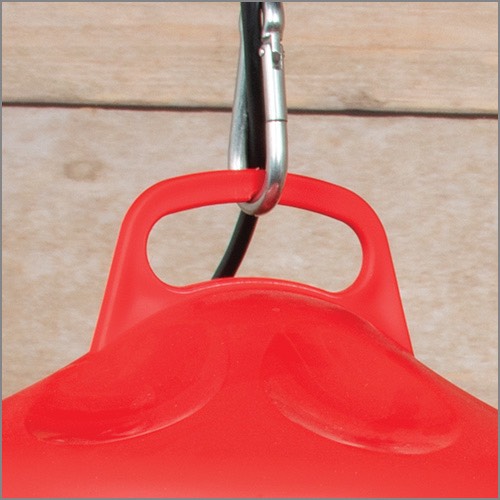 ---
Provides exceptional ventilation while keeping out the elements
A permanent windbreak for livestock is a good investment, especially when animals are exposed to inclement weather and wind. That's why Premier uses UltraScreen™—a heavy duty PVC-coated polyester screen for our sheep barns. Attractive and long lasting, it stops 80% of the wind and 90% of rain and snow. Animals like it because it satisfies their natural desire to be outside. We like it because comfortable animals are healthier and more productive.
Benefits
Allows about 20% of light through. Shady but not dark.
Can be used for a multitude of applications: Sheds, barns, chicken tractors, carports, porches, etc.
Tear resistant; 3.6 tons tensile strength.
UV stabilized for long-lasting color. Available in black, green and tan.
PVC-coated polyester has lasted 20 years (so far!) on Premier's sheep barns—maintenance free! We add it to every new barn and use it to upgrade old barns.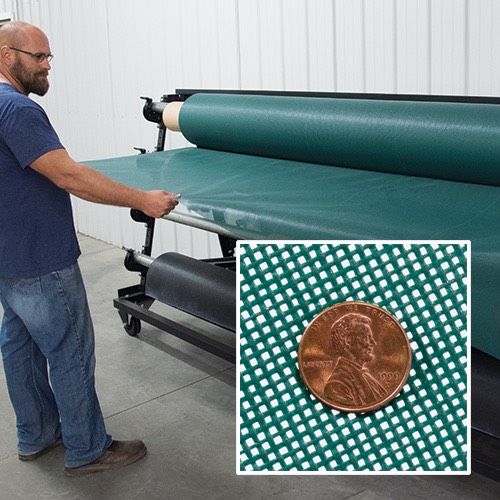 ---
Other "Winter-ready" Solutions