Heated Poultry Waterer
(11) Read reviews »
In essence, it's a proven, heated 2.25 gal bucket with our own insulated lid and 3 special recessed nipples. (Nipples are a drip-catch design.)
Waterer cannot hang.
Top-fill
No messy trough
Water is always clean
Unique insulated cover
Low electrical consumption
Videos & Data
---
Common Uses
A reliable heated poultry waterer.
---
Specs
2.25 gal (9 qt)
9" x 11" x 9"
50-watt heater
Thermostat turns 50-watt heater on in mid-40° and off in mid 60°. Six-foot protected cord.
---
How to Use
Simply fill the bucket, set it on a concrete block or on our 2 gallon round bucket (sold separately, under Accessories tab above), place the lid, plug it in and it's ready to water your birds in below-freezing temperatures.
Set the waterer so the nipples are just above head height—the birds should stretch up slightly to drink.
Chickens will take to the nipple drinkers more readily when there is no other water source available. We recommend removing your current waterer and placing the new waterer in the same location. Then, bring a bird's beak directly to the nipple drinker and flick/activate the nipple to demonstrate the new water source.
---
Reviews

(11)
Write a Review
You must be logged in to leave a review. Please sign in.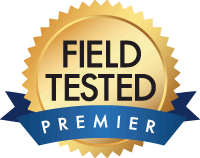 This waterer does its job well—which is providing access to fresh, clean, unfrozen water during winter. Nothing fancy. We find it best to set on a cinderblock so the nipples are at about head high for the majority of the flock (lower if bantams are mixed in).
Heated Poultry Waterer
Elizabeth E from Maryland/Eastern Shore
I have 6 (8 month old) IRA's and I have both type of waterers for them. The dish kind inside the porch area of the coop and the nipple kind outside the coop. I wanted to see how easy it was to teach the hens how to drink form the nipple waterer. To my surprise as I tapped the nipples to release water they are were so curious and actually went up to the waterer and as soon as the water dripped they saturated pecking. Sometimes I will sit and watch and they all go up to it and drink. Now that winter is here I bought the heated bucket and I am happy because now my baby girls will have water as soon as they get up. We put chicken curtains up on the porch area to keep the wind out. We don't have to close the small door into the coop now, so all food and water is on the porch. We have a closed in coop and a porch area that is screened in to keep all varmints out and my girls safe.
Heated Poultry Waterer
Carrie N from Colorado
I read a lot of reviews that said people couldn't get their chickens to use this waterer. I have 7 laying hens and had no problem at all transitioning them. The water never freezes, which is exactly why I purchased this and I didn't have any issues with my hens learning to use it. I simply removed all other water sources and stuck each of their beaks in the nipples until water came out. They all use it and we are very happy!
Heated Poultry Waterer
Spencer F from Idaho
It might worked for some but after 4 days of "training" my hens, I quite and went back to simpler way. I really wish it could have worked. The first just could not seem to get enough water.
Set the waterer so the nipples are just above head height (the birds should stretch up slightly to drink). — Premier
Heated Poultry Waterer
Nicholas R from Indiana
We have always used niple style waters. They keep the water clean, which help keep the birds healthy. The side mount niples work great in a deep bedding system. They keep the bedding much dryer then the dripping vertical mount niples. The niples have not frozen yet seems to be working good.
Heated Poultry Waterer
Fred L from Vermont
Am not able to teach my hens it's use and therefore is a big waist of my money.
Chickens will take to the nipple drinkers more readily when there is no other water source available. We recommend removing your current waterer and placing the new waterer in the same location. Then, bring a bird's beak directly to the nipple drinker and flick/activate the nipple to demonstrate the new water source. — Premier