FlockLeader™ Poultry Supplements
Read reviews »
New! FlockLeader™ poultry supplements are formulated with good probiotics for all chickens' life stages, stressors and overall health. Tailor-made for backyard flocks. Simply mix into your bird's water supply.
Probiotics for a Healthier Flock:
Source of good gut bacteria
Reduces Salmonella + other pathogens
Promotes healthy digestion and natural immunity
FlockLeader™ utilizes plasma, which works alongside probiotics to speed recovery. Plasma (mix of both bovine and porcine spray dried plasma powder) contains beneficial proteins and components required to support immune system responses such as antibodies, salts, and enzymes. This dual approach jumpstarts new immunity in chicks and rapidly reduces stress in established birds. Plasma has been shown to reduce mortality up to 50%.
Smelly coop? Healthy Coop from Perdue® contains an additive to manage odor and bacterial growth in your flock's home.
Data
---
Benefits & Specs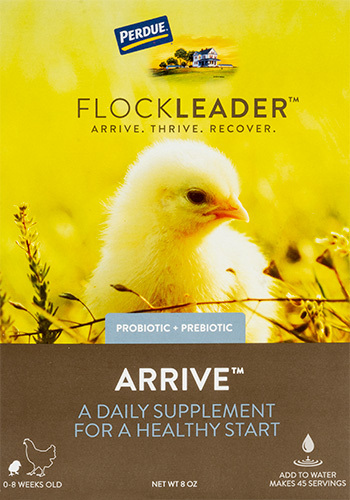 ARRIVE™
— #540330
For young chicks up to 8 weeks of age
Aids in addressing Pasty Butt, Diarrhea, and pathogens like Salmonella and Coccidia
Plasma provides essential proteins and nutrients needed to ensure a healthy immune system during the growth stage
8 oz package (45 servings)
---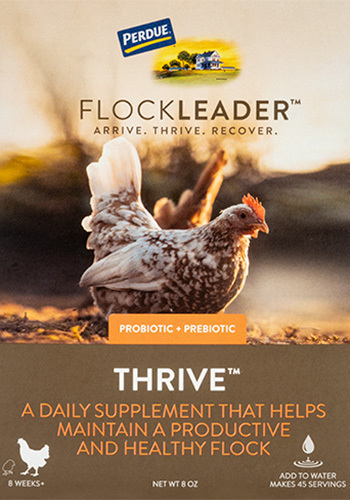 THRIVE™
— #540331
For established flocks over 8 weeks of age
Boosts immunity and helps address health issues related to stress
Improves egg production
Increases food absorption to reduce costs, waste and odor
8 oz package (45 servings)
---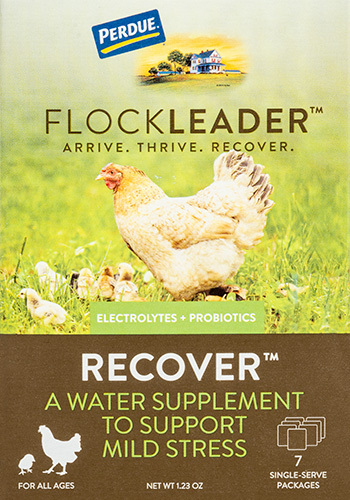 RECOVER™
— #540332
Formulated to help overcome the effects of

mild

stress, such as inflammation or digestive issues, in all life stages
Mild stress is exhibited through:

Panting and/or rapid breathing
Lifting wings away from the body
Mild reduction of appetite
Loose feces

1.23 oz package contains 7 single-serve packets (0.18 oz)
---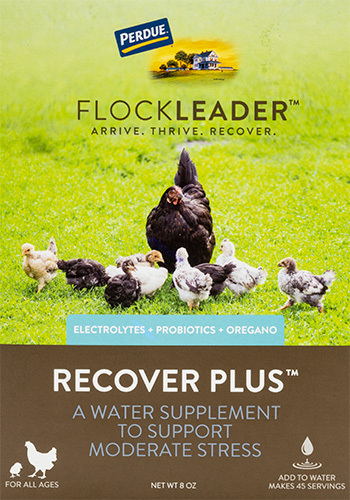 RECOVER PLUS™
— #540333
Formulated to help overcome the effects of

moderate

stress, such as inflammation or digestive issues, in all life stages
Moderate stress is exhibited through:

Significant panting and/or rapid breathing
Negative changes in behavior, reduction in appetite
Loose feces and dirty eggs

8 oz package (45 servings)
---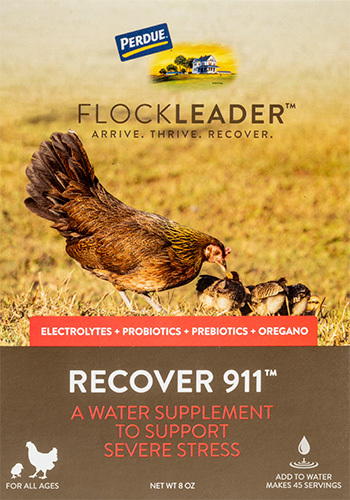 RECOVER 911™
— #540334
A unique blend of prebiotics, probiotics, electrolytes, oregano and plasma designed to alleviate

extreme

stress, in all life stages
Extreme stress is exhibited through:

Labored breathing, loss of appetite and thirst
Lethargy and/or isolation from the flock
Stops producing eggs
Severe digestive issues (Pasty Butt)

8 oz package (45 servings)
---
How to Use
Arrive, Thrive, Recover Plus & Recover 911:

Add one teaspoon per gallon of water.

Recover:

Mix one 0.18 oz package per gallon of water.
Discard any unused solution after 24 hours. Keep product at room temperature or cooler for extended shelf life.
---
Precautions
Please read all directions for use found on package.
Reviews
Write a Review
You must be logged in to leave a review. Please sign in.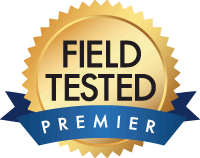 We've been hesitant to offer flock supplements in the past. Why? Because many of them are not backed by research or based in science. We've heard good things about FlockLeader™ and found that these formulations have a proven track record of promoting development of newly hatched poultry and reducing stress in established birds. Since we began using FlockLeader™ supplements with our own flocks (April 2022), we've noticed an improvement in egg production and the overall health of our birds.
FlockLeader™ Poultry Supplements
Tracy K from Michigan
My flock has had a rough few months (sickness, loss of a hen, strange weather). They were snapping at each other and very agitated. I think this supplement was very instrumental in making them feel better about everything! Much more calm, eating well, back to their normal sweet selves. I would highly recommend.