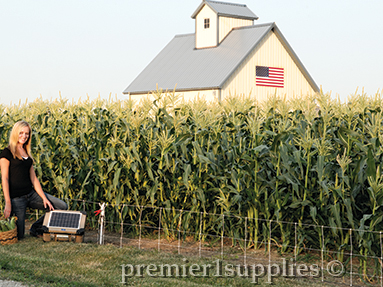 Garden & Wildlife
Select The Best Fence Design For Your Site
Let Premier help you decide which fence can be used to keep the wildlife out of your gardens, backyards, orchards, tree plantings and beehives. Choose from:
---
Fence Solutions for Wildlife Barriers... 2 Basic Design Choices:
Netting:
More expensive per ft than multi-strand.
Best solution to keep out small animals such as dogs, rabbits, woodchucks, raccoons, foxes, ducks, geese and chickens.
Fast and simple to install. For a typical fence line, 500 ft can be installed in less than an hour.
Needs no tools, strength or special skills.
Pulse energy leaks away if fence line is not mowed or sprayed when grass grows up into the lower strands.
Multi-strand:
Much lower cost per ft—which is important for long fences. Cost varies according to number and type of strands, spacing and type of posts.
Can be as effective to fence out certain larger species (e.g. raccoons).
Because strands are higher above the soil it is less prone to problems with growing weeds if fence is to be left in place for weeks.
More prone to installation errors.
To Reduce Risk and Liability...
Are electric fences a serious safety risk to humans?
Because touching an electric fence is painful and the voltages are high, most assume that the risks from an energized fence must also be high. That's a myth. Consider that millions of people throughout the world are "exposed" to millions of electric fences every day—yet they are involved in (but are not always the cause of) less than one human death or serious injury per year worldwide. Compare that to the number of annual injuries and deaths that occur from human exposure to tractors, skid loaders, ladders, PTO shafts, balers, mowers, combines, bulls, stallions, rifles, shotguns, knives, etc. This is not to suggest that there is no risk at all. There is, indeed, a small level of risk. And with risk, there is also liability to the fence's owner.
What NOT to do!
Never place your head or upper spine near an electrified wire. Accidental head or neck contact can occur when pushing a voltage probe into the soil. Be careful when doing so to avoid head-to-wire contact!
Never attempt to step over or climb through an energized fence of any kind.
Never encourage anyone to touch an electric fence.
Warning!
In 1991 an accidental fatality occurred when a young child's head contacted an electrified fence while the child was crawling on wet grass. The fence was correctly installed and functioning properly. The energizer was a UL approved unit. As a result, Premier strongly advises against allowing toddlers access to any electrified fences. Also, due to this incident and others, experts now suggest that human contact by an energized wire to the head and neck may be the most dangerous point of contact. We urge all to especially avoid this kind of contact.