Allflex® Applicator
(10) Read reviews »
Universal ear tag applicator from Allflex is designed to ease hand fatigue from repeated use. Compatible with Premier's Q-flex® and RFID Electronic ear tags.
Deep jaw makes proper placement easier
Durable, will remain in use for many years in any livestock operation
Replacement applicator pin located in handle
New! The UTT3S (blue/gray)—a lightweight applicator with an easy-squeeze mechanism that reduces hand stress. Ergonomic design is well-suited for use by almost any adult. The result is a faster, quieter tagging process than with red units.
Data
---
---
Tips
Tag placement is critical to success!
For maximum retention and the lowest risk of bleeding and infection, place ear tags in either of the two spots shown in the illustration below. The goal is about 2-3 inches from the head of the animal.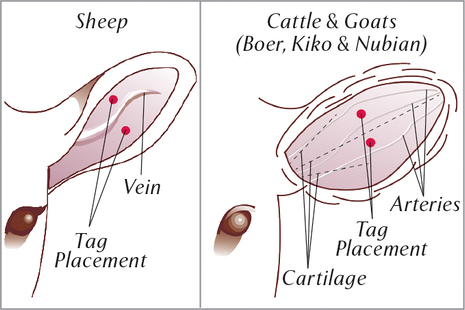 TIP: Inserting Tags in Cold Weather
Plastic tags (all brands) are much easier to install if they are warm. Why? As the temperature drops below freezing, plastic becomes less flexible (more stiff). Forcing the male point of a tag through the female takes many more lbs. of pressure (because the female must expand).
So if you care about your hands it's a good idea to keep the tags above freezing in very cold weather. It takes very little to do this. One method is to simply store them while tagging in a small bucket, cardboard box or tool box with a lid alongside a sealed pop bottle full of warm water. The warm water will keep both the air and the tags warmer in the container.
Reviews

(10)
Write a Review
You must be logged in to leave a review. Please sign in.
Allflex® Applicator
Karen M from Michigan
Good quality and works great!
Allflex® Applicator
Gerald D from Kentucky
Works fine till you try and release the tag, back of the tag is locked in place and you have to release it to get the tag out all the time you have a lamb fighting you in your arms. I'm using the mini-tag not sure about other tags but it looks like it would be the same.
Allflex® Applicator
Daniel T from New York
We have used Premier's products for so many years. We wore it out. The new applicator looks good. Hopefully it will be as good or even better.
Allflex® Applicator
Heidi H from New Hampshire
❤️ this with the tags involved! See my review on the Q-flex® 3 Ear Tags, it says it all.
Allflex® Applicator
Tomi S from Colorado
Works great! This applicator was recommended to buy to use with the tags I ordered and it does not disappoint. Nice made and it will likely last for years.