ARS 140DXR Hoof Trimmers
(93) Read reviews »
Regarded as the gold standard tool for trimming goat and sheep hooves.
Choice of smooth or serrated blades. Comfortable handles for left and right handed users.
Videos & Data
---
Common Uses
Trimming hooves on sheep and goats.
Multi-purpose hand shears for pruning flowers and shrubs.
---
Specs
7.5"L
Approximate Sizes: Blades: 1-3/4"L, Handles: 3.5"L
Sturdy plastic handle
Smaller than our Serrated Foot Trimmer
Secure locking system
Japanese steel and rounded blade tips
Note: ARS 140 DXR Serrated Trimmer has a serrated blade (top side only) for improved cutting. Serrated blades slice through hard hoof horn without slippage. Improves efficiency and safety.
---
Benefits
Both ARS trimmers slice through hooves easily.
Comfortable handles. Our left hand users rave about these trimmers.
Cutting stroke is ultra-smooth.
Steel blades truly hold an edge.
Gently rounded tips make cleaning manure from hooves without risk of injury to you or the animal.
Accessories
Listed below are recommended optional components or related items. Your particular situation may require alternative recommendations. Please call and talk to our consultants if there are any questions at 800-282-6631.
Reviews

(93)
Write a Review
You must be logged in to leave a review. Please sign in.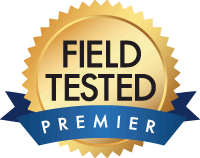 The Serrated ARS Hoof Trimmers have become our favorite trimming shears. They're easy on our hands, agile and sharp. The serrated blade grips the hoof to prevent the trimmers from sliding off while you're cutting. Safety catch is very sensitive, if the trimmers are closed and are bumped or dropped they will open.
ARS 140DXR Hoof Trimmers
Terri A from Texas
Absolutely the best hoof trimmers I've ever used and I've raised dairy goats for the past 9 yrs. I agree w/the other reviewer who said they cut right through hard, dry, summer hooves like butter, even the older bucks! Great product worth every penny spent. Thanks Premier1 for offering such a quality trimmer.
ARS 140DXR Hoof Trimmers
Brian D from Oregon
These are very good quality trimmers with nice sharp, good quality blades. They are a little small for my hands and the blades are just a little too short to trim the whole hoof with only only bite. The other problem is that the latch is not secure and the blades often spring open when in my pocket.
ARS 140DXR Hoof Trimmers
Samuel P from Mississippi
These are the best trimmers I have ever used. The serated edge realy gets a bite and the trimmers do not allow hoof material to twist betwwen the blades. They are well engineered. I would like to see the serated edge in the 3 inch blades.
ARS 140DXR Hoof Trimmers
David D from Texas
I have owned the standard trimmers for about two years now and have been very satisfied with the performance. They stay sharp and slice through the tough hoof on my Boer buck. I recently bought the serrated trimmers and can honestly say that they are an improvement over the standard DXR. The serrations bite into the hoof material keeping them from slipping and sliding off the hoof during the cutting operation. This reduces fatigue and allows me to concentrate on making a more precise cut. My goats constantly jerk their rear feet when trimming and the serrations help keep the trimmer in place. These trimmers look like they will last a lifetime. Don't forget the glove on the hand holding the hoof. Once again an excellent product from the folks at Premier.
ARS 140DXR Hoof Trimmers
jennifer F from INDIANA
LOVE THESE SERRATED TRIMMERS BEST PURCHASE I HAVE MADE SO FAR. NO PROBLEMS EASY TO USE FITS MY HAND WELL. MAKES TRIMMING GOAT HOOVES A BREEZE. WILL NEVER USE FARM STORE TRIMMERS AGAIN.