Heated Poultry Waterer
(60) Read reviews »
In essence, it's a proven, heated 2.25 gal bucket with our own insulated lid and 3 special recessed nipples. (Nipples are a drip-catch design.)
Waterer cannot hang.
Top-fill
No messy trough
Water is always clean
Unique insulated cover
Low electrical consumption
Videos & Data
---
Common Uses
A reliable heated poultry waterer.
---
Specs
Capacity: 2.25 gal (9 qt)
Size: 11"H, 9" dia
Suited for: adults
Number of birds: 26
Waterfowl: yes
Can it hang: no
50-watt heater
6 ft protected electrical cord
---
Benefits
Coned lid to prevent birds from sitting on the waterer and soiling the water
Bucket includes heavy-duty carry handle (not for hanging)
Built-in thermostat turns 50-watt heating element on at 40°F and off at 60°F
---
How to Use
Simply fill the bucket, set it on a concrete block or on our
2 gallon round bucket
, place the lid, plug it in and it's ready to water your birds in below-freezing temperatures. We have used these buckets in temps as low as -20°F (in the coop and protected from the wind).
Set the waterer so the nipples are just above head height—the birds should stretch up slightly to drink.
Handle is used to carry the bucket (unplugged) to and from a hydrant for filling. Some may find the bucket handle fits too loosely underneath the lid. For a better fit, gently squeeze the top of the bucket inward while attaching the lid. The lid will snap into place over the handle.
Chickens will take to the nipple drinkers more readily when there is no other water source available. We recommend removing your current waterer and placing the new waterer in the same location. Then, bring a bird's beak directly to the nipple drinker and flick/activate the nipple to demonstrate the new water source.
---
Accessories
Buckets and Troughs

Item #564400 -

An inexpensive all-purpose bucket for feeding or watering lambs, goat kids or chickens. They stack without sticking and are easy to clean.

Waterers and Accessories

Item #540352 -

Use this all natural additive to keep your poultry and livestock waterer systems clean.

Waterers and Accessories

Item #620501 -

A natural source of energy and nutrients. Produces healthier, more productive chickens, turkeys, ducks and guineas.
Reviews

(60)
Write a Review
You must be logged in to leave a review. Please sign in.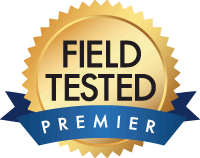 This waterer does its job well—which is providing access to fresh, clean,
unfrozen
water during winter. Nothing fancy. We find it best to set on a cinderblock so the nipples are at about head high for the majority of the flock (lower if bantams are mixed in). We have used these waterers in temps as low as -20°F (in the coop and protected from wind). The bucket handle is useful for carrying water from a
… Read More »
hydrant.
Heated Poultry Waterer
Gerald W from Idaho
Rhode Island Reds took right to the red nipples. Very nice transition. It must be in the genes!
Heated Poultry Waterer
Debra I from Illinois
I have not used the heater yet since its summer, but it's a great additive to this waterer. Love the ease of filling, easy fir chicks to use, and cleaner water.
Heated Poultry Waterer
A R from Maryland
I bought this after the nipples on my "Hen Hydrator" kept freezing up (despite the birdbath heater inside the bucket) in very cold weather. For some reason it took my hens a while to get used to it. Once they did, though, they *greatly* prefer it to the "Hen Hydrator" (even when the latter is working right). Works like a charm - even during our coldest weather this winter (single digits), it didn't freeze. I'll be selling off the "Hen Hydrator" this fall. Agree with another reviewer - it'd sure be nice if I could hang it in the run rather than sit it on a cinder block - easier to adjust the height. Adding a handle to the base would make this possible. Then I could zip-tie the cord to the chain I hang it with to reduce the risk of its getting unplugged by a chicken trying to perch on it. Torn between giving it four and five stars. In terms of something that works and saves me from hauling water on cold mornings - it's worth ten stars! I'm giving it 4/5 just because it could have been that tiny bit better if I could hang it.
Heated Poultry Waterer
David R from Michigan
-10° outside and this heated waterer is still flowing. Thanks to the lid and nipple system the water is also kept clean. Outstanding product.
Heated Poultry Waterer
Randy C from Pennsylvania
This is a heated bucket with chicken water nipples installed on it. The red cover DOES NOT attach to the bucket. If you are thinking you will be able to hang this in your coop, you will NOT. I am not sure why they threaded the eye loop into the lid, but again it does not attach. It seems to be there solely to prevent the chickens from perching on the bucket and soiling the water. You could buy your own bucket and put nipple waterers on it for much less.
As stated in our catalogs and website, our Heated Poultry Waterer is not intended to be hung via the eyebolt on the lid. We find it best to set on a cinderblock so the nipples are at about head high for the flock. — Premier