IntelliTape™
Read reviews »
Because of its contrasting colors, it's the most visible narrow tape on the market.
That's why it is so effective at stopping deer, horses and "spooked" cattle—and why many prefer it for temporary cattle fences.

View a comparison chart »
Data
---
Common Uses
For portable and semi-permanent electric fences.
---
Specs
1/2" wide
3 years probable life
white/black/white color
Very good visibility
Good portability
36 ohms per 1000
200 lb breaking strength
---
Benefits
Black/white alternating colors increase effectiveness by offering contrast to animals against both light and dark backgrounds.
---
Cost
Approximate cost per ft 5¢
---
Installation
Attach a terminal insulator to end post.
Tie end of tape to terminal insulator.
Unroll tape along the fence line. (Using Premier's reels makes this easier.)
Insert line posts.
Insert tape in line posts at the right height(s) for your animals (see below).
Attach insulators (preferably the notched PI 21n, see accessories tab above) to corner and end posts.
Tie tape to terminal insulator at far end post. By hand, pull it tight enough to eliminate sagging between posts. Tie off by hand, or leave extra tape on the reel.
Use one of our reels to rewind and store tape.
Install and connect energizer to a ground rod and the fence. Turn on energizer. Check to make sure voltage is over 2000 volts.
Suggested Height:
For Sheep:

3-strand fence—35", 24", 12"
5-strand fence—36", 27", 20", 13", 7"

For Cattle:

3-strand fence—40", 27", 15"
2-strand fence—34", 22"
1-strand fence—34"

For Horses:

2-strand fence—48", 24"

For Gardens:

2-strand fence—15", 6"
---
Precautions
Tape should be kept fairly tight. Loose tape will move in the insulators and wear through in those spots.
Accessories
Listed below are recommended optional components. Your particular situation may require alternative recommendations. Please call and talk to our fence consultants if there are any questions at 800-282-6631.
Reviews
Write a Review
You must be logged in to leave a review. Please sign in.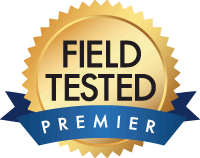 Has very good conductivity, 36 ohms of resistance per 1000 feet. Used mostly in garden settings to keep out raccoons and other garden pests. Light and easy to handle. The downside is it only has 3 years of probable life though we have used it on our horse corral for more than 3 years.
IntelliTape™
Brian N from Arizona
IntelliTape lasts, hands down, YEARS beyond any feed store tape I have bought—even at the same price.
The Arizona sun and wind takes its toll…I don't use anything but Premier1 products any more. Thank you for keeping my horses safe!
IntelliTape™
Elizabeth V from Virginia
Since I started using the intelliTape for my cattle's temporary pasture divisions, I no longer have a problem with deer or cows accidentally running into the line. The tape's extra visibility make it so worth the extra price. I've even used it confidently in place of exterior fences without a problem. I leave up my pasture divisions all season so this adds to the tape's lifespan.
IntelliTape™
c s from washington state
This is tape is very affordable and easy for horses to see in snow, green grass, yellow wheat fields, and dirt! My weanling had gone through our high tensile fence three times. She would just run for fun and I think she couldn't see the fence. I bought t post caps that also hold tape and intellitape. It was very quick and easy to install on the tops of our existing fence. Now the tops are safer and the fence is very visible. she has spent the entire summer (still running) safe in our fields. Money well spent.