PortaTrough™ 3
(28) Read reviews »
Heavy-duty 3 ft feeders used to provide grain, minerals, salt or water to animals. Portable for easy movement and stackable for storage.
Excellent all-purpose trough for small barnyard animals. Also works well for providing feed or water to waterfowl.
Compact size allows PortaTrough™ 3 to be used in a small pen of show lambs or goat kids
Won't crack if water freezes in it
Easy to clean
Need a larger trough? See PortaTrough™ 5.
Data
---
Shipping
Please contact us for a shipping quote to AK, HI, Canada or Mexico.
---
Benefits
Feed or water sheep, goats, livestock guardian dogs, ducks, geese and poultry
Difficult for animals to tip over
Stackable (up to 10) for easy movement and storage
Side handle allows it to be inverted with a toe to tip out water or ice
Shallow water depth allows waterfowl to bathe their heads and necks
Rounded inner base discourages sheep and goats from standing in the feeder
---
Specs
4.5 gallon capacity
Base: 34"L x 12.25"W
Top: 32.25"L x 10"W
Depth: 5.25"
Made of polypropylene
---
Common Questions
Do sheep or goats overturn them?

Rarely, unless the animals have horns. (Our goats have hooked the side hole on occasion.)

Can animals step in them?

We designed the PortaTrough with a slick surface and convex base so sheep and goats seldom step/stand in them.

Do they fill up with water?

They can. We drill a hole into the bottom of troughs intended to be used outside as feeders or mineral bunks.

What happens when ice forms in the trough?

The rounded base allows ice to expand upwards as it freezes. To remove ice—lift trough, tip over and tap on the bottom with your foot.

Do they freeze down into mud?

Yes. But a quick jar on the side with a boot heel usually frees them.

Are PortaTroughs unbreakable?

They don't break easily, but like most things they are breakable. We've proven that driving over them with tractors will break them—though ATVs rarely do. Cattle and horses do them no good. They are sheep, goat and waterfowl resistant.
Accessories
Listed below are recommended optional components or related items. Your particular situation may require alternative recommendations. Please call and talk to our consultants if there are any questions at 800-282-6631.
Reviews

(28)
Write a Review
You must be logged in to leave a review. Please sign in.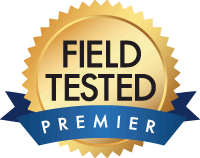 PortaTroughs fit in the back of an ATV so they are very portable. Lighter than a wood trough and they won't rot. We managed to break one after driving over it with our tractor (not advised). We've used these to provide feed/water for ducks, geese, puppies, sheep, goats and chickens.
PortaTrough™ 3
Crystal U from Kentucky
Very well made. Will be buying more.
PortaTrough™ 3
Ann S from New York
I love my PortaTrough. I use it to water my ducks. I like it since they can not tip it over and so far no ducks are in the trough.
PortaTrough™ 3
Cindy L from North Carolina
I love the PortaTrough! I bought one just to see if I liked it for my two piggies, the verdict, I love it! The pigs do not knock it over, it is easily emptied because the trough has a very well placed handle on the side and it is made of a very durable plastic material. Now that I have seen one and put it to good use, I will consider buying more for some of my other livestock animals.
PortaTrough™ 3
Nancy V from Massachusetts
These are great! I love them for feed and this year I'm trying them for waterers.
PortaTrough™ 3
Linda M from Delaware
I am a breeder of Shetland sheep dogs, so with multiple dogs I need a water trough. I had been using a goat trough for quite a while but it was supposed to be hooked onto a fence not sit on a floor. After one too many times of the dogs tipping the trough over and flooding the kitchen, I found PortaTrough and replaced it. So far the dogs have found it to be good. Great size too.