PowerLink™ 4.0
(100) Read reviews »
For instant in-field connections. Using a PowerLink™ is an easy way to gain entry to an electric fence without turning off the energizer. Our farm vehicles always carry several because we never know when or where we might need to fix or connect a fence.
Videos & Data
---
Benefits
Large, stainless steel teeth firmly grip conductors
Excellent metal to metal contact for pulse transfer
---
Specs
30" and 48" long
Stainless steel tips
Plastic, UV treated clips
---
How to Use
Squeeze handles of one alligator clip to open jaws, then let metal "teeth" snap closed onto non-electrified conductor or netting. Release handle.
With other alligator clip, squeeze the plastic handles to open jaws, then let metal teeth snap closed onto the electrified conductor or netting. Release handle.
Accessories
Listed below are recommended optional components or related items. Your particular situation may require alternative recommendations. Please call and talk to our consultants if there are any questions at 800-282-6631.
Reviews

(100)
Write a Review
You must be logged in to leave a review. Please sign in.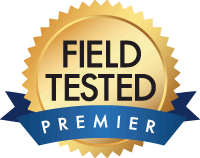 Each farm vehicle has a set or two of PowerLinks riding along with it because we find them so useful. They make for a quick fence connection and since we're always moving netting around on the farms these have become an essential part of our grazing operation. They grip thicker conductors very well and are just easy to have on hand. For some folks the metal contact points don't have enough teeth for smaller insulators (MaxiShock and IntelliTwine) but they work for us.
PowerLink™ 4.0
William B from Texas
I've been purchasing various brands through Amazon. Those would last less than a season and then crack and split.

Premier's are made from a different material. They seem more solid and sturdy. I am optimistic these will perform much better.
PowerLink™ 4.0
Angelia R from North Carolina
Purchase along with your fencing to make electric connections safe and simple.
PowerLink™ 4.0
Petra C from Georgia
Great product! I keep these on hand for when I need to reconfigure some of my temporary pastures.
PowerLink™ 4.0
Benjamin F from Wisconsin
PowerLinks work great for connecting fences together and making a makeshift "gate" to get into the pen. Just detach from the energizer side and pull the stake. Also works great for connecting the solar energizer and grounding rod.
PowerLink™ 4.0
Timothy H from Ohio
Always works. I move sheep from pasture to pasture and I always carry a PowerLink in my pocket.